The Real Estate Investing For Real Blog cites 7 Creative Ways to Market Your Property in a Cold Housing Market:
Properties are not getting multiple offers and selling within hours of listing anymore. Things have calmed down a bit across most of the country, and properties are now sitting on the market. The traditional method of listing your property with a real estate agent and waiting for people to buy isn't going to cut it anymore, unless you price very aggressively.

What can you do? The market has gotten a bit cold – showing a definite slowdown. If you insist on holding out for top dollar, you may get a bit creative…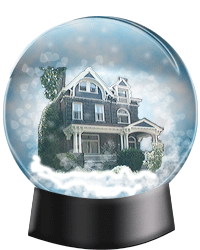 Some of the ideas suggested are better than others. Here's my deal: For every one I don't like, I'll post a replacement suggestion. At the end, we'll have seven for seven, just not necessarily the same seven.
Auctions.
I don't love this. If you come in without a minimum bid, you risk giving up the house for peanuts. If you do have a minimum, you risk getting no bids. Auctions work well where demand is high or price is low. My alternative idea: Auction the house (with a reserved minimum bid) on EBay.com. Reveal this fact to every starry-eyed reporter in town. The buzz could sell the house if the auction doesn't.
Use all the mania in social networking to create buzz.
Among whom? And assuming there's a whom, why would they be buzzed about a house for sale? Try this instead: Put a great ad on CraigsList.com every other day. REIFRBlog continues:
Create a simple website for your property, then post creative titles on the social sites like del.icio.us or reddit.
Okay, but better yet, create a nice, clean weblog for the property, with an extensive web site as ancillary support — with dozens of photos — then promote it as a part of every other bit of marketing you do. This REIFRBlog list suggest many types of internet social marketing among distant strangers, but, in fact, your marketing should be targeted to people who really are likely to buy your home — for example, people currently living nearby in homes 60% – 80% of your list price, or people living in rentals if yours is a starter-home. As with an auction, a weblog documenting the ups and downs of selling your property could create buzz that might swing the balance.
Use that myspace or linkedin network to let people know about your property.
Ahem. Teenagers and the young adults who yearn to rape them, if only statutorily. Not the best-qualified pool of buyers. Here's something we do: Prepare a business-card-size collateral marketing piece. That size because you can buy huge quantities for small dollars. Print front-and-back (half of an ordinary business card is wasted and the other half is boring), full color, I like high-gloss finishes. Big photo of the house on the front with the address, weblog address and your contact number. The back has copy that uses the benefits of living in the home to illustrate the value of its features. If you can't write this, hire someone who can. Ideally that person would be a really smart Realtor, because he'll wait until the house sells to get paid. When the cards are ready, canvas every likely house, car and passer-by.
Make a short film about the property and post it on YouTube.
I actually like this one, but post it on the house's weblog, serving it up from YouTube.com. The Future of Real Estate Marketing has cited some very cool ways to make do-it-yourself virtual tours, which may be both less cumbersome and more professional-looking.
Buy a billboard in the neighborhood.
Huge expense a lot of lead time. How about having an Open House Marathon (and Blogathon!): "I'm not leaving this house until it's sold!" Again, this could excite press attention.
Get a picture of a celebrity on your property.
For this one, I really like cutting the price a lot better. Or repairing and repainting the fascia. Or doing anything that adds palpable, tangible value to the home. People impressed by celebrities probably hang out at MySpace.com.
Offer a year of free Pizza to the buyer.
Offer to pay the buyer's closing costs.

And just in the spirit of generosity, I'll offer an eighth creative idea, one that should be deployed by any homeowner in any kind of market:

Clean the house so thoroughly that your mother-in-law couldn't find a single thing to sneer about.
If you were just to do numbers 6, 7 and 8, you might be able to skip creative ideas 1 through 5…

Technorati Tags: real estate, real estate marketing
2 comments