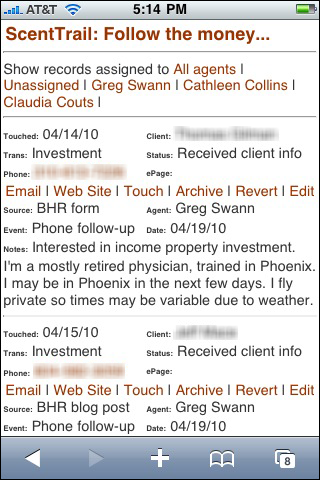 The iPhone screen shot is from a piece of software I've been playing with since Thursday. We got the gross idea from Redfin's agent-monitoring software. Their stuff is simpler and prettier, but ours is robust and mission-critical.
What is it? Basically an automated tickler, the relationship-management part of Customer Relationship Management software. I'm still massively ambivalent about saddling on a big new piece of software like Salesforce, but I've been less than whelmed by cheaper products like Heap.
What I need, I realized, is this: Something to keep me on track every day. The records we're showing are very brief, but they can contain every mission-critical detail we need to make contact with the client. The software runs on our file server, so it will work from any web browser and also from the iPhone. On a desktop machine, you can also do manual data entry, but typing on the iPhone is so painful that I left that feature out of the iPhone version.
But on the iPhone the phone number is "hot," as is the ePage number if we have one. Likewise the email link, obviously. The Web Site link will take us to any URL we have linked to that record — with the most obvious destination being a cloud-based transaction-management page.
(I have plans there, also, with an iPhone-ready contact sheet for the entire transaction — agents, lender, title, inspectors, etc. On the iPhone, any PDF file is accesible, so the Web Site link will give us instant remote access to every live transaction.)
Here's what it looks like on a desktop browser: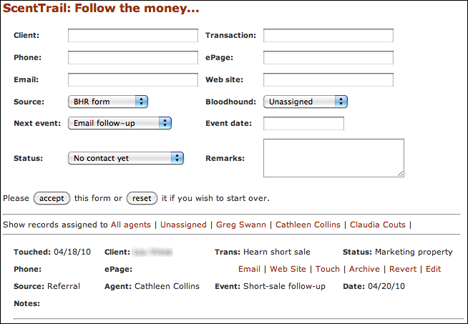 This doesn't solve our larger CRM problem, but it's built to harvest data from a real CRM system, once we have one. I have plans, too, to integrate it with Google Calendar — to calendar those events automatically — and with our existing web-based forms. Very soon, if you fill out a form on our web site, the form will create a record in this software automatically. I also want for it to tickle us by email on event days. Tickling us, too, to let us know when we're not keeping in touch with people — which idea also comes from Redfin's software.
But: This does not solve our total CRM problem, just relationship-management for live clients. Even so, the real deal, for Realtors, is making the best possible use of junk time — driving, waiting, etc. This is CRM minus contact management, just mission-critical relationship-management.
In fact, anyone could use this software for any business. All four pop-ups are done from separate initialization files. Change those files and you've changed the software. Lo-tech don't mean no-tech.
Bottom line: The more accountability we build into our systems, the more we get done. This little piece of software could make us a lot of money — and keep our clients happier.
4 comments