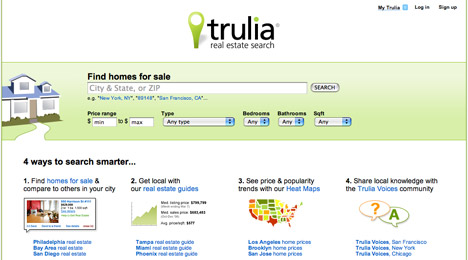 Come with me to the newly-reconfigured Trulia.com, freshly emerged from beta status. Let's search for an ideal house. The criteria we can use are limited — location, type of structure, price range, bedrooms, bathrooms, square footage — but we can still scare up some results. Plus which, if you really know what you want — for instance, by winnowing the location down to a particular zip code — you won't have a huge number of listings to sort through.
My search turned up four houses. Not a big number, but all of them are reasonably well-suited to my needs. But: None of them is a perfect fit. Here's the cool part: I can instruct Trulia to send me email updates or an RSS feed of changed data in that particular search. When a new home matching my criteria is listed at Trulia.com, I'll learn about it right away. Or, if I like a particular house, but I don't like the asking price, I can subscribe to get an email notification of future changes made to that one listing.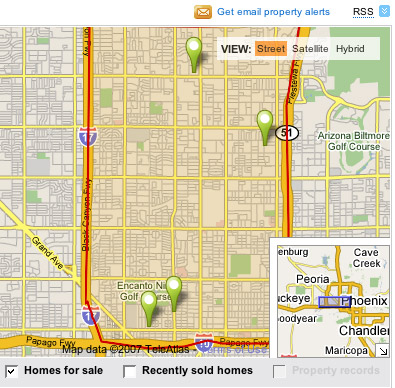 I can set up any number of tightly focused searches, each with its own email alert or RSS feed. That much is not news to Realtors. We do this every day, with much more robust search tools. But we do it for clients. The clients themselves don't have direct access to the MLS system. Some added-cost IDX systems permit saved searches with email updates, but then the search is not terribly more robust than Trulia's.
But wait. There's more. The new improved Trulia.com, will alert me when the house of my dreams becomes available. This is essentially the complementary counterpart to Zillow.com's "Make Me Move" feature. Using a database of tax records, you can select a particular residence and ask Trulia to inform you by email or RSS feed when that home comes on the market.
Neither of these features is without problems. For example, where Trulia turns up four homes that match my criteria, either Realtor-listed or For Sale By Owner, the Arizona Regional MLS system unearths 146 active listings for the same search. And, at least on the development system I have been using to test this software upgrade, many if not most tax records are absent.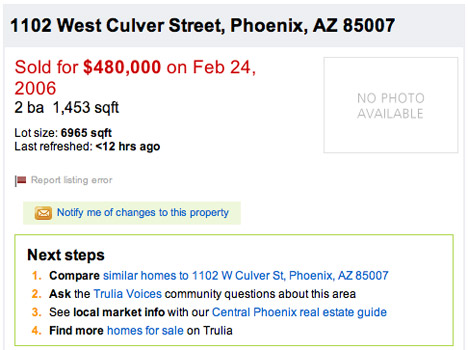 Even so, a push-based Realty.bot is a genuine and much-needed innovation. Taking account that Realtors, brokers, franchisors and third-party vendors can push listings into Trulia.com by XML feed, enabling a system to push listings back out to users makes a great deal of sense.
Who uses Trulia.com, at least right now? Buyers, this per the company's own internal research:
70% of all Trulia users are looking to buy a home in the next year, over 50% in the next 6 months
60% of Trulia users aren't yet working with an agent
40% are current home owners
Taking account of that, take note of this: With this release, Trulia.com adds a community contact interface called "Trulia Voices." This has similarities to Zillow.com's Q&A feature, but where Zillow tends to focus on particular properties, Trulia is encouraging conversations at the neighborhood or town level.
There are other differences. For example, unlike Zillow's Q&A, this is another feature supporting email alerts or RSS feeds. I can focus on all questions asked about Phoenix. Or, if my interests are more narrow, I can subscribe to updates on a particular question.
This is outreach to Realtors, of course, along with other real estate professionals: If you subscribe to email alerts for questions from your geographic farm, you stand an excellent chance of forging a relationship with the mostly unrepresented Trulia.com end-users, most of whom are potential buyers.
What is Trulia doing? They're providing agents with an incentive to create value-added content for their brand new social network. This is Zillowish, too, of course, but Trulia out-Zillows Zillow: The email alerts provide you with instant notice of the opportunity to rush in and put out a fire. Moreover, by means of an internal rating system, respondents can be judged — and ranked — on the quantity and quality of their answers to questions. In time, authoritative voices will rise to the top of the rankings. Competition, the ActiveRain secret, could lead to a very high level of conversation.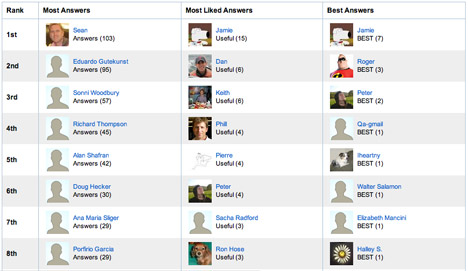 Elaborating on this feature, the "My Trulia" section of the site has been expanded to permit the entry of a detailed user profile. Presumably most consumers will do little or nothing with this feature. Silhouetted avatars are available as an alternative to uploaded photographic portraits, for example. But Realtors can add as much content as they like, including links to up to two external web sites. In his podcast interview with Trulia.com Director of Marketing Heather Fernandez, Brian Brady explores the SEO implications of these links. As with Zillow, the intent of the user profile is to permit prospective clients to have a chance to give professionals a closer look — and to give those professionals the opportunity to put their best feet forward.
Every page in the system has been substantially revised — not always in a way that is intuitively obvious to the end-user. The familiar green Trulia property marker has a blue brother, denoting fee-paid featured listings. Those two are joined by a red marker, the talisman of recently sold listings. The marker for homes identified in the tax records is black. The visual cues add up — and that's just on the map. The pages can be packed with teeny-tiny links, and sometimes you have to read very carefully to find what you're looking for. On the Macintosh, Safari doesn't love the map search in the development version I've been working on, and Firefox is sometimes reluctant to work with the site in multiple tabs. Presumably these kinds of issues will be dealt with in the coming weeks.
In addition, Trulia has set up a brand new site, Housing Widgets, as a sort of rate 'em and date 'em site for real estate-related sidebar widgets and API clients. Visitors can add their own widgets and try out and rate tools added by other users.
We thought we'd give back to the community and help cut through the noise by collecting this information on one simple site where everyone can upload, find, rate and review the best real estate widgets available.
I don't know that there's any actual huge need for the Hot Or Not of real estate gizmos, but it can't do any harm.
I have three Deep Thoughts about the overall Trulia.com upgrade. First, while I love all the email alerts and RSS feeds — and I'm sure there are many more that I've missed — I wonder how this idea will fare on a site whose monetization strategy is based on advertising. Unlike Zillow.com, Trulia.com also makes money from added-cost featured listings, but it remains that Zillow has been very careful so far not to absolve users from the need to return to the site. Obviously email and feeds are going to encourage clicks back into Trulia.com, but it remains to be seen if this results in more or fewer unique visitors and page-views per month.
Second, while I like a lot of the new features in Trulia.com, this feels like a bullet-points upgrade to me, along the lines of the seemingly plausible but ultimately bogus we-do-that-too claims made by sales reps for substandard products. Zillow has Q&A? We do that, too. Zillow has a database of every property in the United States? We do that, too. Zillow lets sellers pre-announce their terms? Well, Trulia lets buyers pick out the home they want to buy before it's even for sale! So there! Trulia has its own value proposition, one very different from Zillow's, but many of these changes feel to me like keeping up with the Joneses. Still worse, Zillow will have a much easier time me-tooing these added features, if it wants to, than Trulia will have in duplicating the balance of Zillow's functionality. Give Trulia this much credit, though: They're doing a better job of keeping up with Zillow than the consumer-oriented Automated Valuation Models that tried to match Zillow's original product offering.
Third, where Zillow.com is still hugely seller-centric, Trulia.com is still predominantly buyer-oriented. I believe that Zillow.com is not an acquisition candidate. My expectation is that the its founders and key investors plan to take it public or maintain it as a closely-held company. Zillow has about seven times Trulia.com's modest $8 million in start-up funding. If there is a natural candidate for acquisition among the Realty.bots, it's Trulia.com. And if there is a natural suitor, it's Zillow.com. Trulia's move to add tax-records for all available homes is a smart tack, but it probably won't bring them the kind of long-term repeat visitors Zillow is working so hard to attract. Being a home-buyer is a temporary if very intense mental affliction. Being a potential seller is essentially a permanent condition. Combining the two populations under one roof makes sense to me.
(Reading between the lines, it is plausible to me that that Trulia.com's upgrade is a variety of greenmail, becoming enough like Zillow.com to induce an acquisition from Zillow in self-defense.)
Trulia has perhaps ten times as many listings as does Zillow, but neither one of them have anything like an actual inventory of listings. Trulia argues that it can help introduce buyers to agents, and this is probably true. Zillow may or may not be able to introduce sellers or buyers to agents. The difference — and it remains to be seen if this makes any difference at all — is that Trulia's current end-users are evanescent, where Zillow's end-users are enduring. Presumably, the market for Realty.bots in general will grow as hard-core use of the internet spreads. But where Trulia's user-base will tend to grow arithmetically — more people who come for a while and then stop coming when their needs are met — Zillow's will tend to grow geometrically — more people who come and keep coming back to satisfy on-going needs.
I like the people at Trulia.com, and I think they're very smart. As much as Trulia Voices feels like a clone of Zillow Q&A — with clever mutations — I am gratified to see Trulia moving to support individual agents, as opposed to brokers, franchisors or corporate conglomerations. With both systems, Realtors stand a decent chance of controlling their own leads, rather than paying a gaggle of mendicants selling their own listings back to them.
By the time you read this, the upgraded site should be active. Go and play with it to see for yourself the improvements Trulia has made.
More: Brian Brady's podcast interview with Trulia.com's Heather Fernandez, Brian Brady: Trulia.com V. Zillow.com: The RE.net Cage Match, Joel Burslem: Trulia Finds Its Voice, Matrix: Voices Carry: Trulia Launches New Tools For Users, Realty Thoughts: Trulia Goes Social and Loses the Beta Tag, Jim Duncan at Real Central VA: Trulia launches new features, Trulia Blog: A big day, Trulia.com press release, The Boston Real Estate Blog: Trulia adds Trulia Voices to its website, Search Engine Land: Real Estate Search Engine Trulia Redesigns, Adds Community, Transparent Real Estate, a Trulia consultant: Real Estate Q&A – an Overview and Trulia Voices reviews, Neighboroo: Trulia: More Than a Face Lift, TechCrunch: Trulia Out of Beta with New Features and Widgets.
23 comments