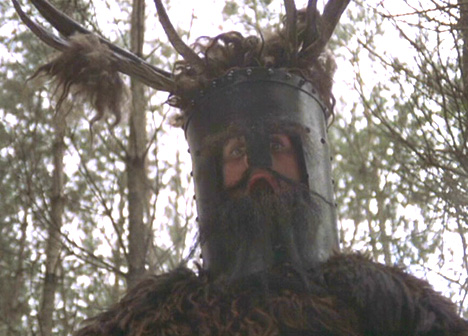 Todd Carpenter, the National Association of Realtors' official In-House Social Media Judas Goat, has announced that he is leaving that charnel house of corruption for the slightly-less-corrupt Trulia.com. Carpenter, who almost immediately proved himself to be much too goaty for the refined nostrils of Michigan Avenue, managed to last three years with the NAR.
His new position at Trulia is entitled — I kid you not — Senior Manager of Industry Engagement (SMIE). In an earlier, more circumspect age, a job title like this would have implied carefully-honed skills in affable-cocktail-drinking, check-grabbing and barely-losing-at-golf. In the Realty.bot era of the dot.com epoch, Todd's function will be to be well-known to thoughtless TwitBook time-wasters in the real estate business, thus to provide "social proof" that advertising on Trulia is an unbeatable waste of money.
Carpenter's announcement is the fourth in a recent series of similar "news" stories. Todd will be following Bob Bemis, Jay Thompson and Duane Fouts into exciting, challenging leadership roles in the burgeoning Realty.bot Judas Goat industry. In light of Carpenter's utterly implausible new job title, I have denominated all of these sellouts great guys "The Knights Who Say SMIE!" They may not actually say "SMIE!," mind you, but you can bet they'll say what they're told to say. To do less would be cheating the shareholders, when the job description clearly calls for gulling the yokels.
As always, if you don't know who is the yokel — it's you. If you don't believe me, check for blood in your underpants.
I have warned you about all this for many years. You didn't listen then, and you won't listen now. But if all the mad monkeys of the TwitBook mob "decide" to tee me up for a Two Minutes' Hate, could y'all please go the extra mile and hate my new book and web site, too? Chapters 10 and 11 explore the mob mentality thoroughly, so there's plenty to rant about.
But: Still: My heart goes out to Todd Carpenter, easily the most easy–going of The Knights Who Say SMIE! I always thought he was redeemable, and I still do. And look at the bright side: He may still be saying, "SMIE!" for a living, but at least the money he takes home will have been proffered by volunteers, not MLS-slaves. And unlike the other KWSS-asses, Todd is at least moving up on the ladder of moral character.
(Hat tips: Lani Rosales and Teri Lussier.)
11 comments