A couple weeks ago we got together with an old friend whom we had not seen in some while. She made a huge point of remarking that my appearance had not changed at all, which I dismissed as a kindly untruth, sweet but surely very far from being accurate.
It turns out she was closer to the truth than I had guessed. I am speaking about Man Alive! at The 21 Convention in August, and I had to come up with a head shot for the event.
This is me on April 15, 2001, the photo I've used at BloodhoundBlog since its inception: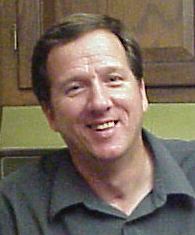 This is me on July 9, 2012, a week ago today: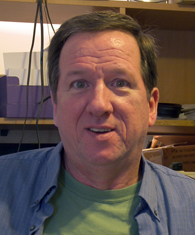 A little more weight on me, and a little jowlier, but not much difference. The set of my features is a constant, a reflection of the world I see outside my mind.
This is me from Man Alive!:
Your mama told you, when you glared and grimaced at her, that your face would freeze like that, but neither one of you knew she was right: The facial expressions we wear most often – habituated Mothertongue emotional reactions – inscribe themselves into our skin.
We listed an actual equity sale on Friday, and we're getting ready to do another one Friday next. I'm waiting right now to get the signed contract on a buyer side, also an equity sale. That much is good, since we have fared very poorly in ForeclosureWorld. But I just lost a buyer side that we need very badly, and I have not had any confidence that we can hold onto our own home for the past four years. Desdemona died, Shyly died, and Odysseus is making his last orbit around the sun. I've had family shit, and Cathy lost her father and is slowly losing her mother.
In short, I could wish for more triumphs and fewer tragedies. But the world you find is the one you're looking for, and the reality of my own life is that I have to make a conscious effort to remember pain as soon as it's over. I love my life best when I'm too busy to think about anything but what I am doing right now, and I think that attitude is written all over my face.
What does all this have to do with you? If you don't like the face you see reflected back to you in the mirror, try looking for a world you like better outside your mind: The map to the world you expect to discover every day is written in the lines of your face.
4 comments