Coming back to this, I wanted to spend a few minutes on photo composition techniques. That's almost absurd: Who doesn't know how to take a picture? Almost everybody, it turns out. We're not talking about Ansel Adams levels of perfection, we're talking about taking real estate photos that sell the property but don't require a lot of back-end effort on your part. That means that we want to take a photo we're ready to show off as-is, not one that requires cropping or re-touching in PhotoShop.
Here's an obvious rule first: A camera is not a gun, and a house is not its target. If you look at published real estate photos, again and again you'll see the house centered in the frame with miles and miles of do-nothing sky above it. This is wrong. Fill the frame with whatever it is you're drawing attention to. If you think you might want to crop the image later, why not crop it now by filling the whole frame?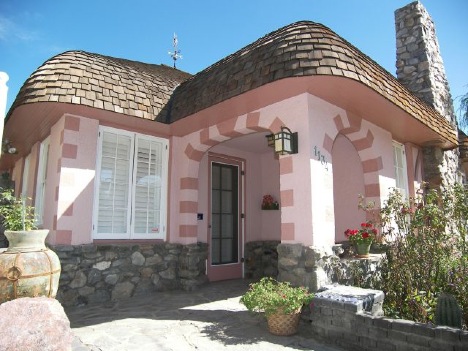 We like drama, so often we'll get in really close at a point of view much lower than normal (it's called crouching or kneeling; even old people can do it). In this case we also blasted hard with an electronic flash — even in bright sunlight outdoors — in order to bring out the details that would otherwise be in shadow.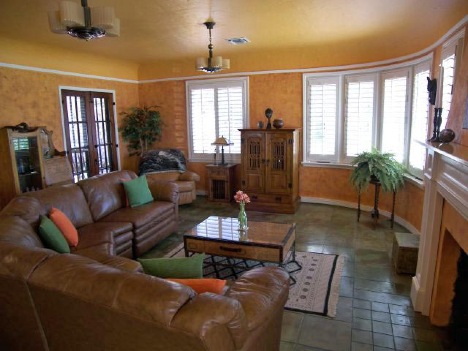 Another way to lend drama to a scene is to go higher than eye-level and look down. Most digital cameras have a video viewfinder, so it's easy to frame photos while holding the camera overhead.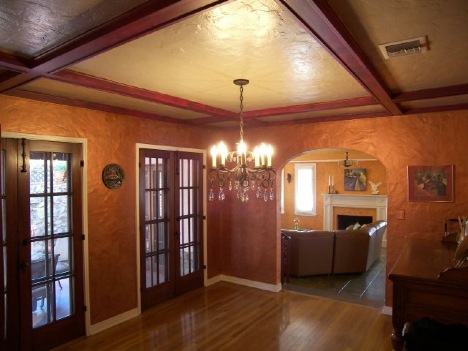 If the ceiling is interesting, it should be in the photos. The wide angle lens on your camera will include the floor and ceiling of your interior shots, so you should be watching for things to bring out. Here in Arizona, ceiling fans are worth money, so we make sure we show them off.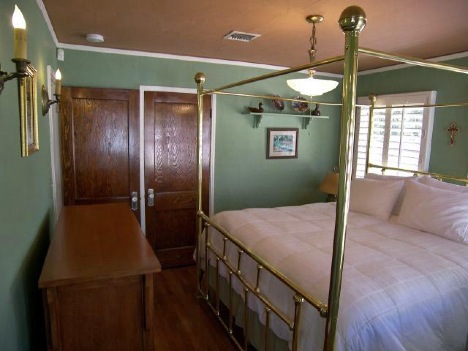 Here is the value of a very wide angle lens: We can see this whole bedroom in two photographs. The human eye is much more adept at apprehending visual information than any camera. Our eyes-forward range of vision is huge, our peripheral vision is even more immense, and our eyes are darting around all the time, pulling in absolutely everything. Photography is a crude approximation of vision, but the closer you can emulate human sight, the more satisfying the experience.
We sell homes, not houses. We devote dozens, sometimes hundreds, of photos to the little things that make a house a home. It's not too wide of the mark to say that women buy houses, men buy garages (there's the title of my real estate book!), but every potential buyer should be able to see every detail that might be important to that buyer in your photographs.
Which implies the ultimate best rule I know of for real estate photography: Take a lot of photos. You might need to throw away a huge portion of those you take, but you will bring great added value by marketing your home with a lot of photos. It argues that you care about what you're doing, a subtle marketing message. It effects the passive salesmanship of the home — and that may be all the salesmanship you will be able to exert. And a great quantity of photos can cause potential buyers to commit to the home you are selling simply because they have committed so much time to looking at it. At a minimum, the more time they spend looking at your house, the less time they have available for others.
Doing real estate photography this way takes time, and that's why you want to maximize your effort by taking exactly the pictures you want. But no matter how much time I might have spent inside a home, invariably someone will point out something in a photo that I had not seen. That's how carefully your prospects are looking at your photos, and that's why making this effort pays off so well.

Technorati Tags: arizona, arizona real estate, phoenix, phoenix real estate, real estate, real estate marketing
16 comments