Lani Anglin lost a brother yesterday, and his children lost their father. April Groves has the details at Lani's site.
We can count the beads later, but now is the time for practical action.
Aaron Anglin is survived by a wife and two very young daughters. The way I'm reading things, he died without life insurance, which puts those three ladies on a very hard road.
If you can spare something for them, put it in the form of negotiable funds — cash, cashier's check or money order — and overnight it to:
Aleisha Anglin
c/o Lani Anglin
2719 Costa Azul Cove
Leander, TX
78641
April is working on setting up a donation account with Bank of America, and I'll amend this post when that account becomes available. In the meantime, Jay Thompson has set up a donation system using PayPal.
But: I will promise you that there are people who will want to be paid now, and this young family will have immediate and ongoing needs. There was a time in your life when fate could have hit you this hard. Now is your chance to redeem that good fortune.
More: At GeekEstate Blog, Michael Price is auctioning a tricked-out 30GB iPod, with the proceeds going to the Anglin family.
Benn Rosales reflects on these tragic events, finding grounds for hope despite everything.
Jay Thompson has a rundown of today's activity on the RE.net, including links to many other posts. I am always very proud when I have the privilege of setting my shoulder beside his to get something done. Jay is honor made manifest, and I am honored to know him.
Here is trust fund information:
A trust fund has been set up for the children:
Guaranty Bank, Acct# 3805908914
Checks payable to James Johnson (grandfather)
ITF Eleanor & Mackenzie Anglin
And: if you have the ability to donate a big chunk of money, here is a discussion of how you might make a huge and enduring difference in the lives of these children.
Here are a couple of buttons, large and small, that you can use on your own weblog/web site. These incorporate Jay's PayPal donation interface, so your readers can make donations online by credit card. Copy everything inside the text box and paste that into your sidebar file:
160 pixels wide:
125 pixels wide: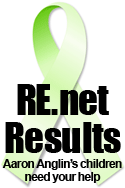 Technorati Tags: real estate
38 comments