Okay, now we have the full treatment, a big sign at 24×36″ plus the two smaller signs. The two custom signs were made at one-sixth scale in QuarkXPress, then scaled up in Illustrator, then rasterized at 300 DPI in PhotoShop. I want to do it differently the next time, because I think I'm losing too much saturation in these steps. I think if I save the photos as PhotoShop CMYK EPS files, then scale and rasterize in the same pass when I come back to PhotoShop, I can retain all the color from the original photos. The finished raster for the big sign is 449 megabytes. These had to move on CD-ROM by sneakernet. It would have been too slow to FTP them — and I have a 3MBS broadband connection. Turnaround at the sign printer: 28 hours. Color is spot-on, so if I get it right on my end, I'll have it right on theirs.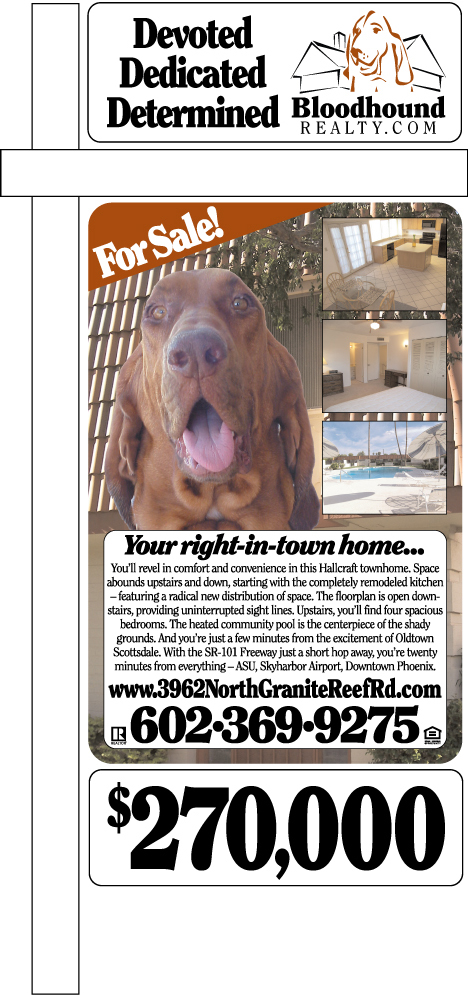 The 'For Sale!' snipe is Richard Riccelli, who argues that you can't be too clear about your objectives. I think the headline and body copy are too small. (You're seeing this at about 21.67% scale.) I can stretch the headline, but I'll have to cut the word count on the body copy. You have to be able to read it when you're sitting in your car near the sign, and I think I'm just a little too small for that right now.
But: It does what I want it to do: It stops traffic. I sat up the street and watched people. Most slow down to check it out, and many stop to read it and pull the flyer. This is good for our seller and good for us.

Technorati Tags: arizona, arizona real estate, phoenix, phoenix real estate, real estate, real estate marketing
10 comments