[I'm kicking this back to the top. I posted this a week ago Saturday, but I think it might have gotten lost in the shuffle. If you saw it then, carry on with my apologies. But Mike Farmer's comment to my Arizona Republic column about single-property weblogs made me think we might want to revisit these ideas. –GSS]

We talk in pictures, Cathleen and I do, as Realtors.
We've shown you this before, a lot of different times, but I don't know if the point has sunk in.
We always have our digital cameras with us, and we're always prepared to use photographs to illustrate what we are saying — whether we're talking to sellers, to buyers, to relocators, to investors or to our vendor partners.
That much is as it should be — we all should be talking in pictures as much as possible.
It's at the next step where I think we have a real advantage.
We've shown you our slide-show-based web sites before. We do these for single-property web sites/weblogs, but we also use them to preview homes for buyers, to document construction on new builds, to give sellers staging advice or to make a record of our staging efforts. We begin with the idea that we are going to talk in pictures, and then we do that comprehensively, in the most efficient way we can.
And how would that be?
We do it with software, of course.
I've written quite a bit about the application we call Slide Show Marge, but when I started doing things this way, I built my pages by hand, using search-and-replace tools and typing a lot.
We've been through Slide Show Bob, Slide Show Mel and several versions of Slide Show Marge, producing thousands of web pages, hundreds of discrete web sites. We knew we would be best able to communicate ideas about real estate in pictures, and we did that with alacrity.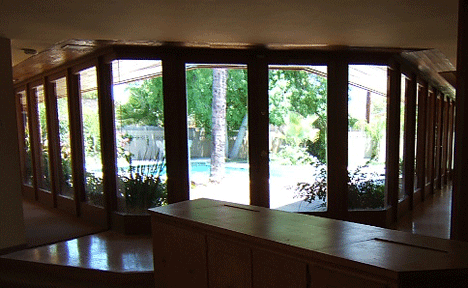 Okay. With that as introduction, take a look at this website I made for a Usonian home in North Phoenix. I took these photos in July of 2005, and I hand-crafted a very similar website then. We were previewing this home for a friend and client who was considering a move to Phoenix.
We call it The Not-Quite-Wright House, because it was built by a Frank Lloyd Wright aficionado who did some of the work note-perfect and much of the rest with a sometimes disconcerting tone-deafness. Worse, the home had been remodeled in ways that added to the square-footage but strayed from the Usonian ideal.
I made this site today because I wanted to talk about the idea of talking with pictures, and, as luck would have it, Cathy was planning to talk about it on DistinctivePhoenix.com. Fortune favors the prepared mind.
In any case, what I'm actually talking about is a piece of software called engenu, Slide Show Marge's replacement. An engenu (it's pronounced Latinly, as en-gay-new, but you can say en-jen-you if you want) page starts as a folder on a file server, at a minimum. That folder can contain photos, PDF files or other folders, each of which can in turn contain photos, PDF files or other folders. A web site, to engenu, is just a hierarchy of folders. (That's what it is to a file server, too, for what that's worth.)
So: To create a web site like 101 West Seminole Drive, we need to take pictures. Then we need to sort them out into folders. And then we need to FTP them up to the file server. This is what the 101 West Seminole Drive folder looked like on my Mac this afternoon: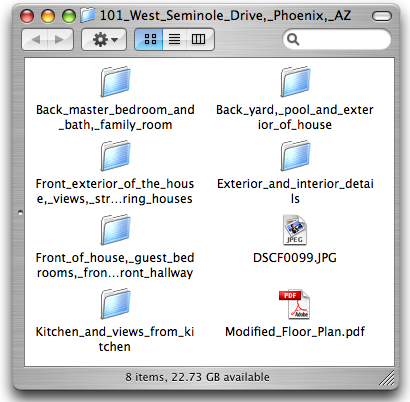 That much is pretty basic. If you were going to email photos to a client, you probably would have taken fewer photos. And then you would have prayed that your email made it through without glitches, without being rejected on the other end, without having your attachments stripped. All of this is why, when we talk in pictures, we talk in web sites. There are more than 100 photos in this little site, and all I have to email when I'm done is the finished site's URL. I get to show everything that I want to be seen, I get to make sure my message is communicated — and I get to look like a damn smart Realtor on top of everything else.
And so: Here's the important question: How long did it take to do this?
Taking the photos took me less than an hour. Sorting them took me maybe ten minutes. Cathy would have taken longer, but she would have done a better job. Moving the folders by FTP took less than five minutes — while I was doing something else. All that is overhead. If you're going to do things this way, that time is a given.
The question is: How long to make the pages? The top-level page, six sub-pages, each with its own Javascript slide show, the PDF file showing the remodeling plans — an internally-linked eight-page web-site with over 100 photos. How long did it take to build it?
The answer: Almost two minutes — but that's because I swiped the body copy from the older site, resequenced the links in the sidebar on the main page and omitted some of the photos. Had I taken the site just the way I had set it up, the time to build the entire web site would have been infinitesimal — a fraction of a single second.
There's a lot more that engenu will do than I'm showing you here. Even so, it's simple to use. For most jobs, you can inherit everything you did in the way you set up your folder hierarchy. FTP your files and a second later you have a finished web site.
I'm telling you all this because I'm going to make engenu available to you in the next week or two. The software is in testing now, and I need to write user documentation. But in a little while, you'll be able to talk in pictures just as we do.
So: Start thinking that way. Have your camera with you when you go out in the world, and take the photos you want to share with your buyers, with your sellers, with your inspectors and landscapers and handymen.
This post is full of examples of the kinds of sites we build, so take a look at them to see what kind of work you can do with engenu.
And then, once you think you've got it down, at BloodhoundBlog Unchained, I'll show you completely different way to talk — not just in pictures but in web sites.

Technorati Tags: blogging, real estate, real estate marketing, real estate photography, technology
12 comments