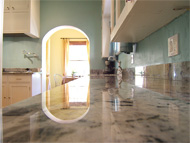 Very early on in BloodhoundBlog's history, I argued against blogging listings. The argument actually concerned styles of anti-blogging that were common then: Stealing and reposting newspaper articles verbatim, for example, or posting listing after listing with nothing to engage the reader in any way.
Later on, when I was working on the posts that became Real Estate Weblogging 101, I reversed that position in a big way:
So what are we looking for? Hmmm… There's no place like it, and, when you go there, they have to take you in…

We're looking for home, of course. If I could lay one blanket complaint against locally-oriented real estate weblogs — allowing for particular exceptions — it's that they are way too much locale-oriented and way too little focused on — what? — on homes and families.

Russell Shaw is beyond brilliant, and BloodhoundBlog is very lucky to have him as a contributor. But if no one learns anything else from Russell, please read, learn, mark and inwardly digest this sliver of his genius: Buyers don't want agents, they want a house.

The very first thing I want to see at your neighborhood/community/town-focused real estate weblog is a house. A nice, big, homey house, with a welcoming front door. I want to see a gleeful little girl on a swing-set and a Chocolate Labrador playing Frisbee with her brother. I want to see the Spring flowers and the Autumn foliage and the glowing of Christmas candles — all at the same time. I know you can't do all that, but I want to feel that way anyway.

I want for you to have made me feel instantly at home.

At a minimum, that means adapting the stock weblog theme you've adopted. Okayfine. Get on it or hire it out. First impressions are lasting. If you don't sell me on the idea that there is no place like your home on the web, I'm movin' on. Buyers don't want agents, they want a house.

In truth, I think your target market should be sellers, not buyers, but it's going to be people with their buyer's hat on — even if they need to sell their current home to buy the next one — who are going to come shopping at your weblog. All is not lost. Even when your buyers put their devastatingly logical seller's hat back on, they want to know that you can market to buyers. Plus which, they want to believe that you have plenty of buyers to bring. Buyers should hate Dual Agency, even though for the most part they don't. Sellers love Dual Agency — at least in the abstract.

In any case, what I want to see are houses, lots and lots of houses. When I'm writing at BloodhoundBlog, I tend never to use an image except when I have to for clarity's sake. I abhor the notion that readers — that would be you — can't read without interstitial graphic relief. But there is no better passive tool for selling a house than photography. Here's my outline of the ideal locally-oriented weblog post:

Headline
Photo
Brief copy
The "more" tag
Many more photos
Much more copy
Links to relevant sites and documents

This is nothing like a BloodhoundBlog post. I don't even know how to use the "more" tag. But what we're doing, essentially, is building a single-page website for the home with the weblog entry as its teaser. Buyers want houses. Sellers want to see houses being marketed. Give the people what they want, for goodness' sakes.

The headline is address-specific and locale-specific, along with giving the reader a promised benefit for reading the copy: "Are you longing for country living without the commute? Beavercreek's 517 North Pastoral Lane is a mini-ranch in the midst of everything." The copy should emphasize those long-tail keywords again, and the photos should be big and beautiful.

(How big? I really like 640 x 480 pixels, and this is a factor you should take into consideration when picking your weblog theme. Unfortunately, there are still a lot of small video monitors out there, so you probably need to limit yourself to a theme no wider than 800 pixels. Ergo, you may need to lay hands on photo editing software that will reduce whatever your camera produces to whatever your weblog can support. Do not scale images in HTML. You'll waste your readers' bandwidth and the results can be hideous, especially in Microsoft Internet Explorer.)

You can do other stuff — news, upcoming events, community involvement — but I want to see a lot of houses. Your own listings, your competitors' listings — even homes that you just happen to like and want to draw attention to. Everything is done with permission, of course, and I would make all comments moderated, so you can kill the graffiti before anyone sees it. But I don't think there is any content that is as important, overall, to a locally-focused real estate weblog than the regular promotion of well-photographed houses.
Repeat that for emphasis: I don't think there is any content that is as important, overall, to a locally-focused real estate weblog than the regular promotion of well-photographed houses.
That post is worth printing out and taping to your monitor, but here is my take on the matter today:
If you are able to produce one post a day of "text" content — buying or selling tips, local real estate news, sales stats, new ideas you are implementing, etc. — then you should also do one listing a day — your own or someone else's. Too many houses will make you look lazy, no matter how much work it takes. But a "House of the Day" feature tells buyers that you know what they want, and it tells sellers that you understand buyers. If that's too much work, or if you can't produce enough text-oriented content, make it the "House of the Week." But right here, right now, I will give you the mantra of truly effective real estate weblogging: Nothing sells houses like houses.
I talk about a weblog post structure in the matter quoted above, but engenu (when I get it done; I've been sick for weeks) makes the whole strategy even richer.
Like this:
One morning a week you can preview and photograph houses — with the permission of the listing agents, of course, and I would say with the further permission of the sellers for occupied homes. You're going to be showing their stuff to random strangers; they have a right to decline that risk.
Which houses? The ones you want to sell, of course. Whatever is your niche — a geographic farm, modern or period homes, investment properties — these are the houses you want to show off.
For each house you preview, build an engenu page. That way you can show all the photos, captioned as needed, if someone wants to see everything. You can also link to appropriate offsite resources. This engenu page will be a permanent asset in your inventory of on-line content.
Then write your post as discussed above using two or three of the best photos. Link back to your engenu page for those people who want to see more. Don't forget the call to action — and make sure you give buyers and sellers some easy way to contact you.
That's that. If you overdo it, it won't work. If you just phone it in — a bad picture with a list of features — it won't work. But if you blog listings the way I'm talking about here, you'll do yourself all kinds of good:
You'll give buyers what they came to see — houses
You'll show sellers you're nobody's fool
You'll demonstrate your knowledge of, your love of, and your passion for the homes you represent
Over time, your long tail search results for the houses you document will soar
The engenu page will make you look wicked smart — and it will search well forever
Your weblog will always be visually interesting
The beautiful thing about doing houses in batches is that you can knock out a ton of future weblogging in just a little bit of time. As you go along, you will also be accumulating an historical database of photos of homes that you can use in future marketing efforts. Just by blogging about houses, you're going to look very attractive to other sellers in your niche.
(As always, I'm better at talking about ideas like this than I am at following through on them. Learn from my bad example and do the opposite. But: If you go to our Phoenix real estate web site, the local weblog I am putatively responsible for, you will see three different houses every time you refresh the page. Cathy does a better job at showing off houses at our weblog devoted to historic Phoenix homes. But the fact is I am much better at having these ideas than I am at executing them. If you think that makes me wrong — your competitors will know better.)
Todd Carpenter has further thoughts on this subject. He's doing great blogging listings — and he's not even a Realtor!
Here's the bottom line: "Don't blog your listings" is poor advice. This is much better advice: Blog listings — your own and other peoples' — with the same thoroughness and attention to detail that you would want to have done for you, if you were the consumer.
It's actually funny that I have to go on about this at this length. We're Realtors. We sell houses. Our job is to show off the inventory. Do that wisely and well and you will have created great weblog content that will bring you a ton of business.

Practical examples: Here are some examples of listings we have promoted in the past. Only one of these was our own listing.
All of those posts link back to web sites we built for the houses. If you want to engage — we want to engage you!

Technorati Tags: blogging, real estate, real estate marketing, real estate photography, real estate training, technology
17 comments