Free the Drones, a saving and investing weblog I read every day, has a post today discussing our practice of building a custom web site for every home we list. I'm thinking that I should write on that one topic at length, because the strategy is more intricate than it might seem at first glance. For now, I want to address the caveats raised by Free the Drones:
When I searched for 1102 West Culver St in Google, the website doesn't come up in the top 50. In fact, the Bloodhound Realty Blog only comes up at number ten with a mention of the street address in the text. What's the deal?
The problem is the word "St", which Google might just as well throw away. Search these three for contrast.
It might be the Google Sandbox
I don't think there is one. If there is, the penalty is measured in days, not months.
It would be a lot better for [that page's title] to be "1102 West Culver St., Phoenix, AZ"
Absolutely right. We do it that way now. (This site was built in January.) We do each page within the site with the headline from that page, as well.
What would I do instead? I'd have a subpage about the house on the main Bloodhound Realty site, buy the domain "http://www.1101westculverst.com," and then do a 301 Redirect, which is a way of sending anyone who types in that web site to the subpage you created. That way you can advertise the house as having its own site, and anyone who tries to go to it will be sent automatically to the place on your site that's about the house.
This might make sense if you were selling your own home, and if you only had one page of content. We are building canonical web sites about the homes we sell. One of their very important purposes is to capture the listing for that one home again and again, every time it sells.
The caveat is that you're going to have to do your own advertising – getting people to know about your site through something like Google is the hard part that can require a lot more technical knowledge.
When all you have is a hammer, the whole world looks like a nail. These custom web sites search very well, but nobody is finding them that way. Why? Because search is either loosely-yellow-pages (vastly generic) or tightly-white-pages (highly specific). No one does a loosely-white-pages search: "Gee, I wonder what's for sale on Culver Street?" We promote the names of these sites on the home's custom signage, on the flyer, on our main web site, in the MLS listing, on Ebay and CraigsList, in our listings aggregator feeds and in thousands of target-marketed announcement cards. In fact, the web sites don't get a huge amount of traffic. But some of the people who come stay for hours — and that's the point.
It's possible someone might remember the house from driving by it. If they were to do a search on Google, what would be the most likely keyword?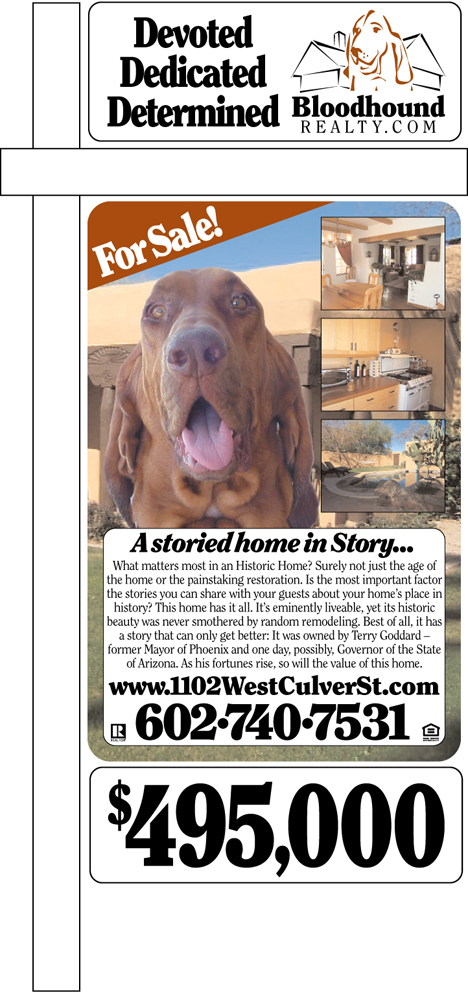 How about Bloodhound real estate Phoenix? In a comment someone asked about the dog. This is why he's there. No one can forget him.
I'm not complaining. Free the Drones could not have foreseen all of our thinking behind these sites — and this isn't everything yet. But of all the reasons for building a custom web site for a real estate listing, how that particular site will Google doesn't figure in…

Disclosure: The sign shown here is a mock-up. We were using a different kind of sign when we sold this home.

Further notice: Free the Drones responds in kind with additional thoughts very worthy of consideration.

Technorati Tags: arizona, arizona real estate, phoenix, phoenix real estate, real estate, real estate marketing
8 comments