"The Barrys" on Real Estate Radio USA have a burning yearning to know just what it is that listing Realtors do to earn their commissions.
It's a question that plagues me, too. As much as I talk here about on-line marketing, we draw a lot more attention from sellers with our real-world marketing efforts. We're all about selling the house, and, oddly enough, this makes an impression on other people who want their houses sold.
But we're deliberately not listing very much right now. We've turned down a bunch of houses we would have liked to have handled, but we will not list a house for sale if we don't feel certain we can sell it. There was a span of eleven days when we turned down over $3 million in new listings — but every one of those homes is still unsold, despite repeated price reductions.
We're gearing up to list 1322 East Vermont Avenue in North Central Phoenix. The house doesn't go live until March 28th, but, because of an Easter-egg hunt in the neighborhood, we're holding it open this weekend in advance of the MLS listing.
We're going to be documenting everything we do to list this home for sale, both as an enduring record of the kinds of efforts we undertake for our sellers and as a step-by-step guide for Realtors who follow BloodhoundBlog.
The house has been repaired, touch-up painted and and staged. Some of the photography has been done, but I have not yet built the home's single-property web site as I write this.
But because we want to have our yard signs up by the weekend, I built the signs today: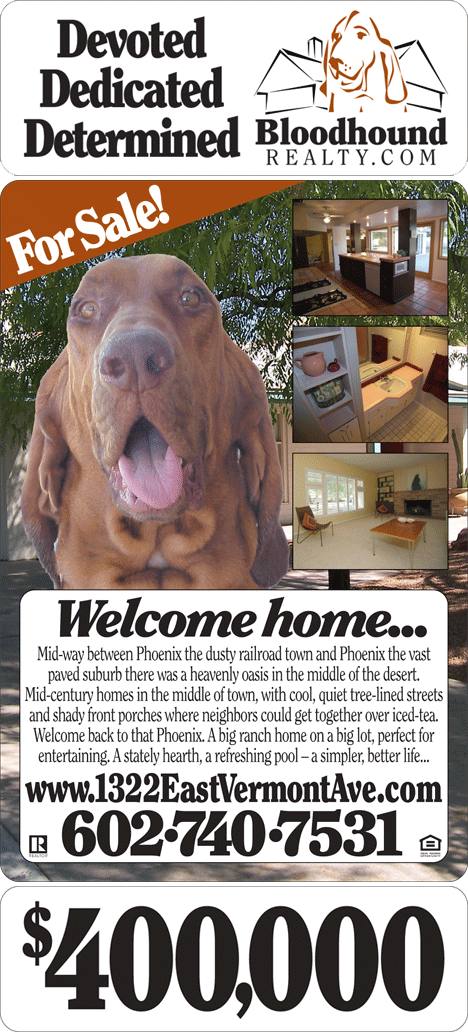 I've built an engenu page with bigger versions of the signs along with a link to an engenu site discussing our sign philosophy in detail.
Our yard signs are just one part of our listing strategy, but they form at least a piece of the answer "The Barrys" are looking for. We believe in marketing our listings, and we do everything we can think of to get them sold quickly and for top dollar. As we build out the engenu site documenting this listing, we'll talk about other tactics we deploy to make that happen.
In the mean time, I'd like to talk some more about real estate signs.
Stifle those yawns! It's a fascinating subject.
I had mail Wednesday from Jim Calabrese of RealEstateSigns.com. Jim made some Open House directionals for us a couple of years ago. Tent signs, heavy duty hinged Reprocor with steel legs, screen printed in Black and PMS 174, BloodhoundRealty.com's corporate colors. Those signs are tough like armadillos — and directionals take a beating. We had one stolen the first time we used them — I suspect Redfin agents 😉 — but the rest have held up very well.
This is what Jim had to say:
My purpose for writing you is not sales related. I just wanted to let you know that I enjoy reading your blog. Partially because you are somewhat of a sign advocate. But mostly because it's a good read. I try very hard to understand the needs of my customers and I've found no better way than following certain industry blogs.
 
I think your marketing ideas are fresh and bold. If you ever want to go over any ideas regarding signs, I'd be happy to give you my perspective – i.e.: you mentioned sign lighting. It is popular and it seems all my competitors are offering someone's add on unit. Problem I see is that they're all expensive, and only work marginally. A better idea would be to internally light the sign, just like illuminated business signs. I think it could be done cheaper and with better results than the current light products.
 
I attend a lot of sign industry tradeshows and I can tell you that we're maybe 3 years away from a technology that would serve a guy like you well. It's kind of like e-paper display films, but illuminating in color. Graphics can be uploaded to it, but once the image is there it doesn't need any computer hardware to run it.  They just haven't made it weatherproof — yet. The Asian producers are bringing the price down to where it could be agreeable for real estate signage. I think the first real estate use could be similar to your listing specific sign, but later it could be interactive. Now that would be cool.
 
There is also a way to make corrugated plastic (we call it Reprocor) act as a loud speaker. Actually a very high fidelity speaker. Combine that with dynamic, illuminated graphics — forget virtual tours — your signs could be the tour.
Man, I love it. Think BIG! The timeline for these innovations could be longer than Jim anticipates, but so what? Nothing changes until we get in there and make it change, and everything new comes to us sooner than we have any right to expect. These are incredibly cool ideas, and I'll be happy to take ten percent down and the rest in installments.
I live in a more mundane world than Jim's, so I'll tell you (and him) what I need from sign vendors right now: On-demand, hands-free, internet-based four-color signage.
The signs you see above are printed on a self-adhesive vinyl material that is then laid down onto an aluminum sheet. The printing itself is done on an all-digital six-color ink-jet sign printer. That printer is not hugely different from a desktop laser printer, and I want to address it in much the same way.
We buy a lot of business cards — thousands for every house we list for sale. My relationship with OvernightPrints.com is utterly ideal: I prepare my files exactly the way I want them, FTP them to their server, pay by credit card — and then worry about my next chore. My cards are often printed within minutes, and the big delay in the whole procedure is the shipping process.
Interestingly — to me — the first time a live human being touches my work is when the finished cards are being packed to be shipped.
I prepare my files for my signs in much the same way — except that instead of using PDF files, for some reason I have to rasterize them as (enormous) TIFFs, an agonizingly slow process. But once that part is done, my files are like predigested pabulum to the sign printer.
Except… I can't move them by FTP. They're not that big — maybe .75 gigabytes total — but the sign vendor doesn't have the horsepower on their server to take files that size. The solution? CD-ROMs and sneakernet, just like 1995.
That's gotta change. Sooner or later, Realtors are going to wake up to the power of custom signage. If Jim is right, the bandwidth demands of interactive signs will be even greater. The return trip is always going to be a problem, since everything moves at the glacial speed of airplanes and trucks. But the inbound trip, moving the data to the printer — and moving the files through the printer — has got to become almost as fast as paper-based printing. My signs don't have to be printed in minutes, but they do have to be printed and shipped back to me same-day.
I won't wait longer than that, and, taking account of the way the world of real estate works by now, I can't wait longer than that.
Give me illumination, give me sound, give me interactivity — yes, yes, yes. But give it to me fast…

Technorati Tags: disintermediation, real estate, real estate marketing, real estate photography, technology
17 comments