I think I have a pretty good track record at picking contributors for BloodhoundBlog. The people who write here are a cut above, clearly, but I think what sets them apart is that they are all so interested in getting better. We're all constantly reading, learning, thinking, inventing, re-inventing, and we all end up driving each other to new ideas. I love this, as you might guess, since it pushes me to do better, also.
Here's a true confession: When Russell Shaw approached me to write with us, I wasn't quite sure what to do about him. It was still just me and Cathy in those days. We knew of Russell, of course — no one who lives in Phoenix does not know of Russell Shaw. I have no idea what Russell's firing clause looks like, but I built our firing clause from the literal words on his radio commercial: "Fire me at any time."
Even so, I would not have thought to trust the Russell Shaw I knew through the radio. I had no reason to distrust him, nothing except the generalized mistrust in which I hold all Realtors I don't know. In truth, there are a lot of genuinely nice people out there, but our business attracts more than its share of crooks, misanthropes and morons. I had no reason to think ill of Russell, but I had no reason to think well of him, either.
Two facts swung the balance for me. Second was Russell's having mentioned that he had read Hugh Hewitt's book on weblogging. Anyone who actually prepares for a new undertaking can't be all bad. But first, I had read in The Millionaire Real Estate Agent that Russell knew that in the previous year his team had gotten 519 listings from 912 listing appointments. My impression of Russell was changed from then on — not the production, but the presence of mind to have tracked the statistics.
You can laugh at me, if you want, for having been so careful about what has turned out to be such a great decision. BloodhoundBlog is what it is because we don't do anything — not even the obvious thing — half-assed.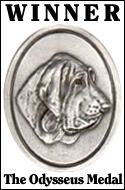 In any case, Russell Shaw is this week's winner of The Odysseus Medal for What Do I Do Now?:
So what to do? Lets start with attitude. Ignore anyone who says or (even worse, without saying) gets you thinking you aren't going to come out of this just fine. Do whatever is necessary to get that kind of crap out of your head and straighten out, blunt or cut any communication line that has you "wondering". It isn't that all of those people have it in for you but as they themselves are failing, it just wouldn't be "right" for you to do real well. Anyone spewing failure, succumb or any of that stuff in all of its various guises can be safely ignored. Whatever the activity, if you don't feel "more up" as a result of doing it or being there, stop it. Real estate offices can be a giant cesspool of contaminating failure. Stop watching the news and stop reading it in the papers. If there is something vital you won't be able to stop hearing about it anyway.  People, places, things and activities that make you happy – do them. A lot. Every day do something just for you.

Production is the basis of morale. You want to have a high morale? Produce. Find a statistic that you can control. That is vital. Find something that can be measured (number of new contacts, for example) that you can control. Every day work on getting that stat up. Do not focus on the deals or listings you don't have, focus on that stat. From the Bible, it is Leads, Listings, Leverage. Right now you are only working on leads. Cut out all "lead generating activities" that cost money that are not productive. If it works, keep it in. If not, change the "button" and make it work or get rid of it. You are in the lead generation business. You have no other job.

This week's People's Choice Award goes to Brian Brady for Zillow Mortgage Bourse: How To Acquire Long-Term Clients and Zillow Mortgage Marketplace: One Way Transparency Like A Bad Online Dating Site:
Two people contacted me, via e-mail, from the Zillow Mortgage Bourse. Both are cost-conscious and both need advice. I directed both consumers to the article I wrote about lock-execution (with my recent performance results) and my article about ARMs. Both customers talked to me on the telephone, this morning.

The first was the customer I feared; the foot-stomping, "you're just a middle-man" brat. The consumer gleaned some free advice, then invited me to "re-quote" my loan recommendation, on the Bourse. That consumer seemed stunned that I wouldn't re-compete for the business. That consumer will lock at the wrong time and it will cost lots of money.

The second consumer is EXACTLY who I want as a client. That consumer valued my advice, was astonished with my track record, and extremely excited to be in relationship with me. The loan solution I offered, Thursday, cost the new client a few hundred dollars more, today. This new client locked the loan, paid the deposit, and was relieved that I would be monitoring future "trade" opportunities.
Because I restricted the Short List to posts about Zillow's Mortgage Marketplace, I'm not awarding a Black Pearl Award this week. But: Here's a Black Pearl to take away: Because ZMM and other forms-based ways of interacting with clients will tend to flatten out the curve for those incidental factors salespeople have always depended on — looks, charm, connections, etc. — you must not ever pass up those small opportunities you have to exercise your sales skills. In the case of Zillow's Mortgage Marketplace, this means that you should take full advantage of the personal remarks section of your quote. What should you put there? How about reasons to believe in you even if you're not the cheapest rate in the hopper? How about links to weblog posts that establish your bona fides. I think about this all the time — I have 680 characters in an MLS listing available for pure selling, and I rarely waste more than three of those characters. How do you make money when everyone is lined up like a platoon of uniformed soldiers? You find a way to stand out from the crowd, that's how.
Also: My apologies that both of this week's winners are Bloodhounds, but I only picked one of them.
If you didn't check out this week's nominees for The Odysseus Medal, you should.
We have a brand new tool for promoting The Long List of Odysseus Medal nominees. The Long List will be shown in that little gizmo until the current week's Short List is announced and then I'll update it with the new week's nominees. This is link-love back from BloodhoundBlog, but my reason for building the tool is to promote the best ideas in real estate any way I can. To that end, read this post so that you can learn how to echo The Long List on your own site.
The Long List also has its very own weblog, a link blog of the latest Long List nominees as they are nominated. Feel free to visit, but probably the best way for you to keep abreast of the best in real estate weblogging is to subscribe to The Long List RSS feed.
And as always, take a chance on untested brilliance and nominate it.
Deadline for next week's competition is Sunday at 12 Noon MST. You can nominate your own work or any post you admire here.
Congratulations to the winners — and to everyone who participated.

Technorati Tags: blogging, disintermediation, real estate, real estate marketing, technology, Zillow.com
1 comment