Update: It seems likely that Vlad's cost to defend himself from this specious claim (if you read the complaint, you will discover that the alleged offense is entirely absent from Exhibit A) is going to start with a $5,000 retainer. It seems unlikely to me that the matter will go to court, but, if it does, things will get really expensive. If you haven't done so already, click on the "Donate" button. You're not defending Vlad, you're defending yourself.

The months' long persecution of real estate weblogger Vlad Zablotskyy by ePerks.com's Ben Behrouzi came to a head today. Behrouzi has served Zablotskyy with a lawsuit claiming that a post on Zablotskyy's weblog caused Behrouzi to suffer "harm and damage."
Behrouzi also claims that Zablotskyy has exposed him to "hatred, contempt, ridicule and disdain." The petition itself is a bad joke, but it is beyond all doubt that that Behrouzi has exposed himself to "hatred, contempt, ridicule and disdain" by the months of ludicrous posturing he and his attorney have engaged in.
At some point the full petition will be available for us to read. [Amending this: You can read the complaint on Vlad's weblog.] In the mean time, Vlad Zablotskyy needs your help. The lawsuit was filed in California, but Vlad lives in New Jersey. He will have to fight a lawsuit seeking compensatory and punitive damages by remote control, paying law firms in both states. The suit itself is a complete joke — a Personal Injury law firm with a drive-up window comes to mind — but it will still cost serious money to defend.
I've set up a Vlad Zablotskyy Legal Defense Fund through our PayPal account — and I'm about to put the bite on you in two ways.
First, click on one of the "Donate" buttons you see in this post or on our sidebar and give as much as you can. I know that many Realtors and lenders are hurting for money right now, but there is no better cause for you to fight for than your own right to speak and write as you choose. If you happen to be flush with lucre or corporately endowed or otherwise awash in cash, don't be afraid to hit the zero key a few times when you're entering the amount of your donation. PayPal nicks donations by about 3% in processing fees. BloodhoundRealty.com, LLC, will make up the difference.
Second, grab one or the other of the buttons shown below to put on the sidebar of your own weblog or web site. To use this code, copy everything inside the text box and paste that where you want it to go. The code is built to inherit your own site's style sheets, so everything should fit in fine.
Volodymyr Zablotskyy is a Ukrainian name, it should come as no surprise. Vlad is survivor of the Soviet Union, where liberty itself was throttled and where the smallest slip of the tongue could result in imprisonment or death. He had every good reason to think things were different in the United States, where the right to free speech is enshrined in our constitution. I hate the thought of anyone being coerced into silence by the abuse of our legal system, but if there is anyone who deserves better from America, it's Vlad Zablotskyy. Glenn Reynolds wrote about An Army of Davids, but we are by now more like Cincinnatus — citizen soldiers who would rather farm than fight, and who, therefore, always fight to win. Together we can show Ben Behrouzi and every would-be tin-eared tyrant what comes of tyranny in the Web 2.0 world.

238 pixels wide: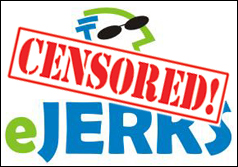 Support Vlad Zablotskyy's Defense Fund
Defend your own right to free speech!

125 pixels wide:


Support Vlad Zablotskyy's Defense Fund
Defend your own right to free speech!

Linking frees slaves: Every bit of back-story…
Missing links? Speak up!
65 comments