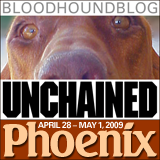 We've got the dates for BloodhoundBlog Unchained in Phoenix: April 28th to May 1st, 2009.
We've got the location: The Radisson Phoenix Airport Hotel North, 427 North 44th St, Phoenix, AZ 85008.
And we've got the game plan: A three-day Guerilla Marketing Boot Camp during which you're going to completely revise your marketing profile — in class. We're not going to tell you how we work. We're not going to show you how we work. We're going to work with you, hands-on, step-by-step as we overhaul your marketing strategy from the ground up.
What are we missing? You. Skip ahead if you're ready to register for the most intense real estate marketing conference you will ever attend.
Got questions? Here are some BloodhoundBlog posts discussing Unchained in Orlando and anticipating the scenius to come in Phoenix:
Want to know even more? Why not. We're in the marketing business, after all.
Who should come to BloodhoundBlog Unchained in Phoenix? If it's part of your job to attract and convert new business, we have what you need. On BloodhoundBlog, we talk a lot about Social Media Marketing, but in our own businesses, we work with Social Media Marketing, Search Engine Optimization, Search Engine Marketing, Direct Marketing and good old-fashioned belly-to-belly sales. We also work directly with internet-based tools from PHP to RSS to CSS — acronym soup.
Why should you come? We'll be going through every bit of this at BloodhoundBlog Unchained in Phoenix. Not lecturing as you race to keep up in your notes, but actually doing the work, hands-on, on your own marketing materials.
How will you benefit? Not only will you completely overhaul your existing marketing profile, you'll learn how to keep everything up-to-date going forward. Our belief is that our kind of broad-based marketing, done properly, should put your business beyond competition.
Is BloodhoundBlog Unchained for everybody? Absolutely not. You don't have to be a total geek to live in our world, but you have to have a geek gene or two. We're going to cover a lot of highly-detailed ground very quickly. We want for you to have to strain to keep up, and we want for you to spend every spare minute refining your work. If your plan is to come to Phoenix to have a rowdy ol' good time — do that. Just don't come to Unchained. But do take note: If you know for sure that we're teaching what you want to know, don't dawdle. We have 75 seats available — total. When they're gone, they're gone, and it could be a year before we do this again. If you want to join us, enroll now.
What's next?
Three quick steps. 1. Enroll for the conference. 2. Book your hotel room. 3. Arrange your transportation.

Step 1: Enroll for the conference
Fair warning: Unchained in Phoenix won't be cheap. If you're looking for the best possible deal, and if you qualify, joining the CyberProfessionals might be your best bet. And if you've entrusted us with your money before, either last May in Phoenix or in November in Orlando, we want to express our gratitude with a special Unchained Alumnus price. But whatever you end up paying, we're going to make it worth your while and then some.
Here's how the prices break out. Just click on the appropriate button to make your payment:
CyberProfessionals: $397
Unchained Alumnus: $497 (you must act on this offer before 01/01/09)
Early-Bird Price: $597 (you must act on this offer before 01/01/09)
Regular Price: $697 (after 12/31/08)
Here's the thing: We know money's not falling from the skies right now. If you need to make payment arrangements, let us know by email, and we'll work something out.
However: We reserve the right to decline your enrollment. We'll be talking to you by email or phone to determine where you're going to fit in our curriculum. If we determine that we're not a good marriage, we're going to refund your money and give your seat to someone else.
Likewise, if you cancel before March 28th, 2009, we will refund your money in full. After that, we're committed — so you're committed.

Step 2: Book your hotel room
Even if you live in Phoenix, you have to stay at our hotel to enroll in BloodhoundBlog Unchained in Phoenix. Why? Because we're building a scenius while we're together, and it won't work if we don't all work together. You're coming to Unchained to get away from your daily distractions. You'll have time to take care of things by phone, but we need your full concentration on the course matter.
Book your room using the code Bloodhound. You'll pay double for the room if you don't.
You'll be staying the nights of April 28th, April 29th and April 30th, 2009. You will be checking out on May 1st, 2009. Your room rate for your three nights should be $109 per night.
Double-occupancy rooms with two queen-sized beds are available, so, if you like, you can arrange for a roommate among other Unchained students. Let us know by email if you need help lining up a roommate.
Here's who you call to make your reservations:
Radisson Hotel Phoenix Airport North
427 North 44th Street , Phoenix AZ 85008
Reservations: (888) 201-1718

Step 3: Arrange your transportation
Phoenix is an easy city to get into and out of. We are a hub city for US Airways, Southwest and Alaska. We are also serviced by dozens of other airlines.
You will be flying into Phoenix Skyharbor Airport. Accept no substitutes.
BloodhoundBlog Unchained in Phoenix will run from 5 pm on Tuesday, April 28th, 2009 until 5 pm on Friday, May 1st, 2009.
You will need to arrive no later than 3 pm MST on Tuesday, April 28th, 2009.
You will need to depart no earlier than 7 pm MST on Friday, May 1st, 2009.
The Radisson Hotel Phoenix Airport North is located less than one mile north of Phoenix Skyharbor Airport. The hotel operates a shuttle bus to and from the airport, so you will not need to rent a car.
That's the drill for now. We'll be in touch to talk to you about the curriculum and how to prepare for your classes. In the mean time, you might give a look to BloodhoundBlog's archives or to Real Estate Weblogging 101. We'll be covering all that and more in much greater depth, but it never hurts to study.
We look forward to seeing you in Phoenix!
Technorati Tags: blogging, BloodhoundBlog Unchained, real estate, real estate marketing, real estate training, technology
1 comment