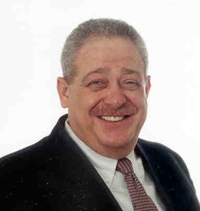 We built BloodhoundBlog to be a brokerage weblog. Obviously, we're in love with Rain City Guide, and, even though we have thought at times about asking people to join us, we had never planned for this to be a group blog. Our plans haven't changed, but we're making space for Russell Shaw to join us.
If you live in the Phoenix-area, you know who Russell is. His "no hassle listing" is a staple of Valley television and radio stations. Russell's team sells over 400 homes a year, and he consistently ranks in the top 30 of NAR members nationwide. Think about that: 1.2 million of us and he is among the first 30 in the line.
Russell's Associate Broker's license is with John Hall and Associates, an 800-agent local brokerage. The work he does here will redound to Bloodhound's credit, of course, but I don't think there is any threat that we'll be stealing business from him.
What we can do is help him get his feet wet as a real estate weblogger and make a name for himself in national blogging circles, in anticipation of his going out on his own. I'm excited about this for a couple of reasons. First, Russell is a living, breathing exponent of the kind of business-oriented ideas I advocate. And second, he will be the first mega-producer real estate weblogger.
Now keeping in mind that this is a man who could write a blank check for Xanadu, what might you suppose is his motivation for weblogging? He has a good-humored disdain for much of real estate training, and he wants to share what he has learned in his almost 30 years as a mega-producing Realtor. We should be thanking him already!
Anyway, he will begin posting shortly. He's learning how to do this, and it's not an easy praxis to master, so help him out as you can. Someday very soon, we'll all be saying, "I knew him when…"

Technorati Tags: arizona, arizona real estate, blogging, phoenix, phoenix real estate, real estate marketing
4 comments