O wad some Power the giftie gie us
To see oursels as ithers see us!
It wad frae monie a blunder free us,
An' foolish notion:
What airs in dress an' gait wad lea'e us,
An' ev'n devotion!
–Robert Burns, To a Louse
In a comment on AG's bribe/gift extravaganza, I said:
And, yes, the Dwellicious campaign stunk to high heaven. It's headed straight for the dead pool, once it actually launches. The same dumbass "idea" has already failed several times. To say anything else is absurd.
That remark turns out to be grossly unfair. Dwellicious is not all-on-its-own to the dead-pool destined, it is a mash-up and mash-note-like send-up of a vast host of future dead-pool denizens.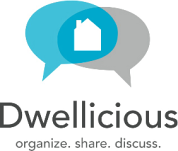 Here's the pitch. People will shop at lots of different Realty.bots, see? So Dwellicious gives them an easy way to organize all the houses they are finding on these various sites. It has social-networking tools built in, since, apparently, social-networking-type homebuyers can't even go to the bathroom without permission from their TwitterButtBuddies. Not only that, but Dwellicious taps into every available Realty.bot and social-networking API, which will possibly prove to be astounding if anyone ever accidentally uses this silly site.
I watched the Dwellicious PR campaign a few weeks ago, assuming that it had to be astroturf, but today is the first time I have paid even one second's attention to the product itself.
It's actually quite an instructive clusterfrolic, if there are web entrepreneurs out there who want to learn how to get just about everything wrong.
Here's the straight dope: Dwellicious seems to have been developed by paying devout attention to the TwitWit echo chamber — without one second or one dollar being devoted to actual market research.
Premise: People will shop at lots of different Realty.bots.
This is almost certainly false. Homebuyers window-shop at sites like Trulia and Zillow. When they get serious, they move to a particular, robust and — important concepts ahead — complete and non-redundant IDX or VOW search engine.
(A subsidiary premise of the entire dead-pool-bound Realty.bot movement is the idea that some strange imaginary people might want to purchase a residence in more than one major city at the same time. It turns out that most people have only one head, and therefore need only one spot for their pillows.)
Conclusion: Dwellicious gives them an easy way to organize all the houses they are finding on these various sites.
But they're not finding houses on various sites. People who are really searching for a residence they intend to purchase are searching on one or at most two sites, none of which have goofy Realty.bot APIs.
The rest of the Dwellicious "idea" is just beyond stupid, since it provides for a whole lot of options and activities for people who are not going to show up in the first place. Whatever reason an actual — non-imaginary — regular user of Zillow or Trulia has for returning to those sites, they have zero reasons to wander off to another site — to effect social bookmarking of the houses they're not searching for in the first place.
In a comment at Sellsius, Tony Arko wonders why a homebuyer would share a prize find in public. It's a good question, except it presumes that buyers will show up at Dwellicious in the first place. They won't.
Dwellicious is all about serving a population of people who don't exist, all while hooking-in every which way to Realty.bots and social media sites that are themselves on extremely shaky financial ground. It would be incorrect to say the site sucks, because I can't see that it has any suction to begin with.
(A note to zombies from boring weblogs who show up at BloodhoundBlog attempting to link-bait traffic by teaching me how to write colorlessly: This essay draws upon an arcane literary discipline known as "style." It's worth looking into.)
So what's with all the Dwellicious hoopla? I rack it up to political tendency, in this case putting beer and friendship before an honest evaluation of what is, in fact, an essentially useless product.
Witness:
Benn Rosales, Agent Shortbus: "It really puts into perspective what is most important in our industry and it doesn't exclude the professional. [….] We hear rumors of a pay as you go Pro Plan that tosses out the idea of long term contracts- Genius like! Also, private party rumors are circling for Inman NYC, as well as some kick ass swag… we all love swag."
Well, that's pretty much a confession of pecuniary tendency.
More:
The WAV Group, whomever that might be: "Like a lime in a Corona, dwellicious is cool and refreshing."
Wonder who paid for the Corona…?
There's a lot more, but it's all pretty embarrassing. I can't but think that the coverage of Dwellicious, so far, has been almost nothing but tendency — bloggers telling fibs for beer or money. That's pretty sad. People will say I'm mean for pointing out the true nature of this idiot site, but it's not as if its idiocy could be kept secret from the marketplace. Once Dwellicious actually launches the secret that the louse is naked will be well and truly exposed.
In the mean time, my take is that developer Greg Robertson's drinking buddies are just making themselves look like nitwits.

Technorati Tags: real estate, real estate marketing, technology
18 comments