This is the front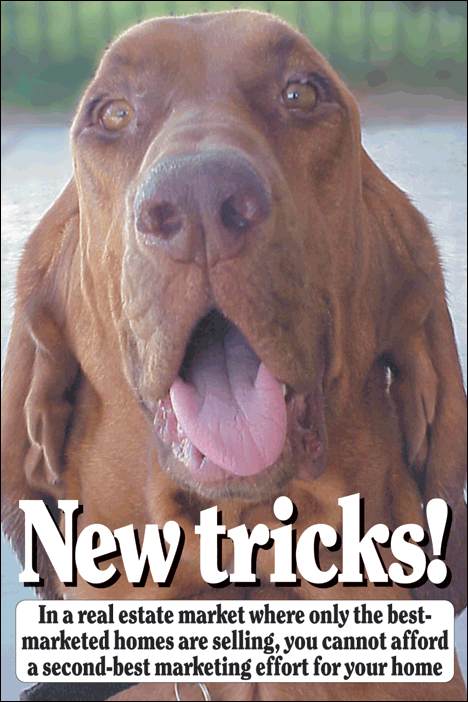 and back
face of a door-hanger we have going out in high-equity neighborhoods starting January 3rd. In most of Phoenix, for now, listing is essentially limited to short sales and lender-owned homes, so most of our time this year will be devoted to buyers. But if this card — or variations on it — can pull the way we want it to, it should be worth around $3,000 a week, net of all expenses. The lord knows we can use it.
Brian and I keep getting mail from people wondering why we're going to be teaching weblogging at BloodhoundBlog Unchained in Phoenix. We're not. All we ever teach is marketing — on-line, on paper and face-to-face. There is a piece to this door-hanger that you're not seeing that should more than double its response rate. That's marketing — and there is no one else in the real estate industry who teaches the kinds of marketing that Brian and I cover as a matter of course.
You can catch a preview of our marketing curriculum in Seattle on February 12th. We'll be doing a free Unchained preview at Zillow HQ, 999 Third Avenue, Seattle, WA, on Thursday, February 12th from 1pm to 5pm. Scott Cowan is organizing the event with help from Drew Meyers and David Gibbons from Zillow. Marlow Harris will be joining us, along with some other Seattle blogging luminaries. The grand finale will be a debate between Redfin.com CEO Glenn Kelman and BloodhoundBlog iconoclast Greg Swann, moderated by Brian Brady, American Real Estate's Number One Marketing Maven.
I gotta go. I'm showing this morning. But I wanted to remind y'all that today is the last day for a couple of big discounts on Unchained tickets. The Early-Bird price — $100 off — goes away altogether today. And the Unchained Alumnus discount will drop from $200 to $100 at midnight tonight. That's $100 in savings, either way, for acting today.
Click the appropriate button below to sign up now.
CyberProfessionals: $397
Unchained Alumnus: $497 (you must act on this offer before 01/01/09)
Early-Bird Price: $597 (you must act on this offer before 01/01/09)
The full price for admission jumps to $697 tonight at midnight. If you're planning to be with us, we're making it worth your while to express that commitment today.
Phoenix? Seattle? Both? Can't wait to see you in 2009!

Technorati Tags: blogging, real estate, real estate marketing, real estate training, technology
5 comments