I had this news last night, under embargo, but I was tied up with geek stuff. The Cliff's Notes: In areas where Redfin.com has MLS reach but does not have its own agents on the ground, starting today it will begin offering client referrals to agents it has screened and whose performance it will monitor and publicize on its website.
What follows is a piece of an email sent me by Redfin.com CEO (and BloodhoundBlog contributor) Glenn Kelman:
Maybe this seems like deck chairs on the Titanic because it doesn't fix sub-agency – which I agree needs to be fixed — but it seems like a step forward to us. I mentioned it when we increased our prices and offered unlimited tours, that we had one more rabbit in the hat.

Starting tomorrow Redfin is going to start connecting folks in outlying areas to real estate agents who work for other brokerages. This has been done many, many times before, and it's something Redfin could have done years ago, given all the traffic we have in outlying areas.

The Redfin twist – and the reason we waited so long — is that we wanted to do in a customer-centric way that also works for agents. Here's what that means:

Data: We suck in data about all the agents' deals for the past year and we survey all their clients and then we publish *everything* — reviews, deals – on a continually updated web page. We survey every new deal too. The reviews we got are mostly good – too good right now – but that's because response rates are low for long-past deals with only happy people replying. We do show every no-response, and every deal where the agent did not provide an email address for a past sale (they can't do that going forward).
Consumer in charge: The consumer is in charge, choosing the agent he wants to work with based on all this performance data (see attached screenshot) & he can fire the agent any time – no procuring-cause, no leads, no fees for leads, & the consumer always knows what he's signing up for.
Referral fee only: we earn a 30% referral fee if the deal closes, but refund half to the client ($1,350 on a $300,000 home).
C-sat bonus: Our referral fee goes down 5% if the agent delivers good service in his first six months, up 5% if he doesn't. Agents earn more for good service. We'll probably just fire the bad agents.
No happy close, no $: We survey every referral. We don't earn a fee if there isn't a closed deal and a happy customer. We fire partners with unhappy clients.
We looked for good agents: We personally interviewed every partner agent to try to make sure the program had good people in it. This was a lot of work. The agents we have seem pretty good to me. They are excited about the program.

Our hope is to build an entire network of progressive agents. And to use our website to do for agent search what we've already done for listing search — show everything and I mean everything, whether it's deals and reviews for agents or days on market, price reduction, last-sales price for listings.

This solves the big problem in Redfin's' model, that it doesn't (as the VCs like to say, they have all worried that Redfin isn't virtual enough) scale. We were tired – I was tired – of only offering Redfin in a few pricey areas, rather than across the U.S., so now we're going to expand a little faster. In the 7 markets we're already in, Redfin's site is, I think, the fastest-growing major real estate website, so making a national play with a national revenue model will change the competitive landscape.

And this ties into a bigger trend, which is that selling customers as leads – like cattle – just doesn't work anymore. A hand-shake and a smile doesn't cut it either, not on the web. People want objective data, complete data on customer service and performance – what have you sold, where and when, was your customer happy?

Our goal is a real free market, with consumers able to make informed choices, and a way to make money from the folks on our site we can't afford to serve ourselves. I have wondered as we built this what you would think about it. We tried to make it a good for everyone, but maybe you see it as a band-aid on a broken system.
Actually, I think this is slicker than whale snot, a killer idea. The Redfin.com web site is better than anything else in the Real Estate 2.0 universe. It's easy to foresee that people would use the site even if they can't use the agents. For Redfin to take what it can of that business, giving the referred client an incentive to participate — along with Redfin's oversight — is simply inspired.
Take a look: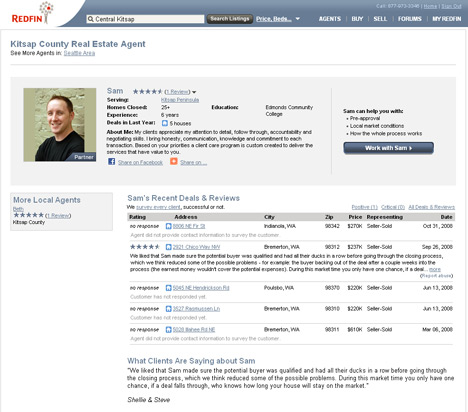 Sam is one of the agents pre-screened for referrals. His sales are at about $225,000, on average, which suggests that Redfin will never be coming to Kitsap. Why? Because the margins are too low: $225,000 x .03 x .5 = $3,375 gross to Redfin, to be split among the agent, the back-office, the programmers and the investors. We've been through this math before, and the numbers everywhere are less than kind to commission-rebate business models right now.
But look at things from Sam's perspective: $225,000 x .03 x .7 = $4,725 to Sam, about the same as he would do with a relo company. And Redfin's cut? $225,000 x .03 x .3 x .5 = $1,012.50 — a cool grand for what amounts to keeping a tight rein on a database.
Realtors: Why do lenders work for so much less per deal than we do? Because the work comes to them at the office, so they can do a lot more deals than we can. If Redfin can make five figures a day on what may not even amount to a single full-time staff line, that's a killer business.
Maybe even such a killer business that it will replace client-representation altogether. Implausible? One of Redfin's planned expansion cities is Phoenix — where our numbers are worse than Kitsap's. Of the RE 2.0 players, only Estately.com does anything like this, but Redfin could go into the referral business virtually anywhere, virtually overnight.
Brian Brady and I are in Seattle tomorrow, and I'll be debating Glenn Kelman on tech versus touch in real estate at around 4 pm at Zillow HQ. Every time we talk to Glenn, he's that much closer to getting everything right. It will be fun to see where Redfin is a year from now.
More at Redfin's blog, TechFlash, TechCrunch.

Technorati Tags: disintermediation, real estate, real estate marketing, Redfin.com, technology
5 comments