Still recovering from two exhausting days in Seattle. Brian Brady and I both had a great time. Taught a ton, learned a ton and met a lot of truly wonderful people.
The Zillovians were excellent hosts, pulling out all the stops for both the BloodhoundBlog Unchained event and for REBarcamp Seattle. They basically gave an entire floor of their offices to the RE.net, with spaces big and small for people to get together.
Zillow's offices are on the 41st and 46th floor of a vast office tower. I would marvel that the building has its own Starbucks, but so does every other structure in Seattle. Here's the view, looking north and east over the Puget Sound: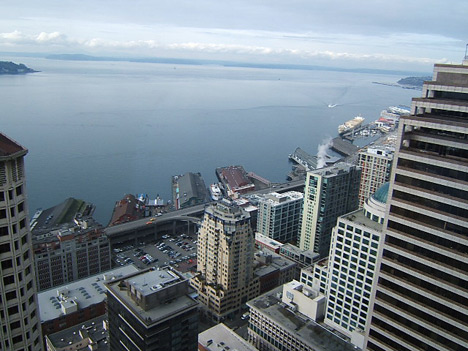 Here's a panel from the Unchained conference featuring Rhonda Porter, Marlow Harris, Brad Coy and Rich Jacobson.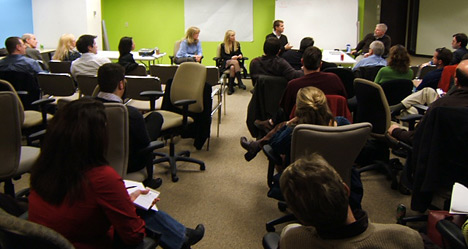 We capped off the day with a debate featuring Glenn Kelman and me. The photo shown here was taken by Marlow Harris. Marlow also shot some video clips, and I may post those later today.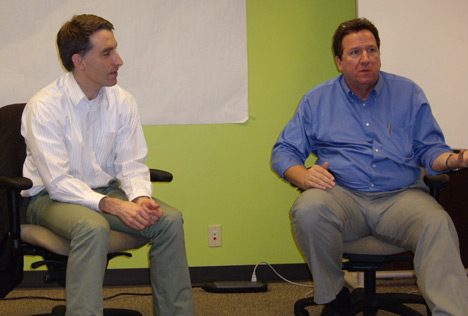 REBarcamp Seattle was a lot of fun for me, mostly because I just did my own stuff and didn't worry about it. Here's Zillow's Drew Meyers delivering the convocation: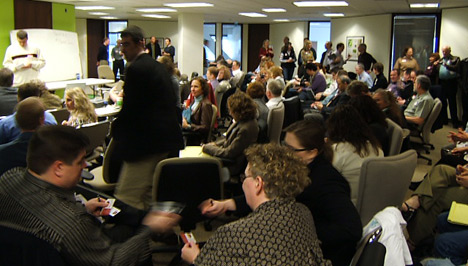 On Thursday night, Scott Cowan approached Brian, asking him if he thought I might have time to talk to him on Friday. Brian laughed at the question saying, "If I know Greg Swann, he's not going to go to any classes. Just grab his ear and ask what you want to know."
Brian knows me better than I know myself. He signed us up to lead a session on group blogging, then later sent me off to teach a class on setting up Scenius scenes (for which I will provide better documentation Real Soon Now). Other than that, I spent my day in small offices (with incredible views) going at things one-on-one with anyone who wanted to talk to me.
Notably…
Al Lorenz is building a media empire in bucolic Lake Chelan, Washington. He wanted to learn how to build a Scenius scene, but he ended up teaching Brian and me a ton of juicy tidbits about Joomla.
Al later drove the computer for my Scenius demonstration, which was well because I cannot type and talk at the same time. Brad Coy was very helpful in that presentation, too, simply by keeping me grounded to an intelligible level of techno-babble.
I talked to a lender, I didn't catch her name, about how to build weblogs for her strongest spheres of influence as a way of staying in front of them without being a pushy, obnoxious salesperson.
I had a wonderful conversation with a Seattle Realtor, again I didn't catch a name, about how to tailor her listing presentation to a declining market.
The sales manager and the owner of a moving-company franchise were there, trying to figure out how to build a Web 2.0 presence as a way of developing an cultivating relationships with future movers. I spent some time talking to them, but it's a real bear of a marketing problem.
The highlight of my day was going through engenu in detail with Scott Cowan. I had intended to do this on Thursday, but I couldn't get enough wi-fi juice to get to my FTP server. We were able to work on Scott's computer on Friday, and we built a site with multiple pages. With Al Lorenz earlier, and later with Scott and Andy Kaufman, I got to talk about how engenu permits you to restructure sites at will — adding, removing, moving or reorganizing sites as events transpire and objectives change.
This is something that I'll be talking about at BloodhoundBlog Unchained in Phoenix — and I will tell you that, if you learn nothing else at Unchained, if you learn how to use engenu it will repay all your costs and then some.
Here's an illustration of what I'm talking about. Suppose you have a family relocating from another state. You start previewing houses for them, building an engenu site so they can see the houses you're looking at. At first the site might look like this:
The Covington Family Home Search

123 Elm Street
751 Oak Street
19-A Pine Street
The top line is just the name of the web site for the search, and then each indented line is a separate web page for each house. That's fine when you have just a few very similar houses. But the Covington's aren't sure those three houses, all in Oakdale, are right for them. So you add more content to the site, but you also reorganize it like this:
The Covington Family Home Search

Oakdale

123 Elm Street
751 Oak Street
19-A Pine Street

Elmdale

7511 Pine Terrace
3516 Elm Circle
4532 Oak Lane

Pinedale

7 Oak Avenue
34 Pine Trace
51 Elm Boulevard
So now you have nine houses organized by town. I like to use Google maps to make it easy to picture what's where. But the Covingtons are ready to come to town, so they send you a short list of their favorites, with the other houses sorted out as possibles an rejects. So let's rebuild the site:
The Covington Family Home Search

Short List

7511 Pine Terrace
3516 Elm Circle
123 Elm Street

Possibles

751 Oak Street
19-A Pine Street
4532 Oak Lane
34 Pine Trace

Rejects

7 Oak Avenue
51 Elm Boulevard
So the Covingtons come to town, and, not surprisingly, they end up putting a contract on a home they thought would really not suit them. The site might look like this now:
The Covington Family Home Search

51 Elm Boulevard
Rejects

123 Elm Street
19-A Pine Street
34 Pine Trace
3516 Elm Circle
4532 Oak Lane
7 Oak Avenue
751 Oak Street
7511 Pine Terrace
We've isolated to the one house we're buying, but we haven't forgotten the others. The new Inspections page might contain a PDF copy of the inspectors' reports, perhaps also with an embedded Youtube video showing the home inspector talking about the condition and health and safety issues of the home.
Suppose the Covingtons want you to supervise the seller's repairs, and also to keep an eye on remodeling contractors they have hired to work on the home after close of escrow but before they can move in. The site might look like this:
The Covington Family Home Search

51 Elm Boulevard

Inspections
Repairs
Remodeling

Kitchen
Bathrooms
Pool and Patio

Rejects

123 Elm Street
19-A Pine Street
34 Pine Trace
3516 Elm Circle
4532 Oak Lane
7 Oak Avenue
751 Oak Street
7511 Pine Terrace
The point of all this is that engenu lets you build and rebuild your sites — very easily and as often as you want. We're literally just adding and moving folders around on the file server, then reinheriting the structure of the site and all of its link relationships — a process that takes less than a second. You can click here to see a site I have built and rebuilt like this.
Cathleen and I used engenu to build 1,400 unique pages in 2008, this on top of everything else we did. Real estate professionals have a publishing problem. With engenu, you can pound out and share new web sites and web pages as quickly as you can collect the content. And thanks to REBarCamp Seattle, the number of people who really understand engenu has doubled — from three to six. 😉

Technorati Tags: arizona, arizona real estate, BloodhoundBlog Unchained, phoenix, phoenix real estate, real estate, real estate marketing, real estate training
18 comments