The News
An upgrade made tonight to Zillow.com's on-line home evaluation system will add the following new functionality:
Owners or listing agents for any of the 67 million homes in Zillow's database will be able to list those homes for sale at no cost.
Owners of any Zestimable homes will be able to post a "Make Me Move" price on their homes, the price at which all objections to selling will have been overcome.
Zillow is creating a real estate wiki to serve as a sort of Wikipedia.org-like encyclopedia of real estate.
From the company's press release:
Leading real estate Web site Zillow.com today announced a major upgrade, allowing homeowners and real estate agents to post homes for sale for free. Additionally, in redefining what it means for a house to be "For Sale," Zillow? is enabling any homeowner to post a Make Me Move? price.

"To date Zillow has created a Web page for almost every home in the country – close to 70 million – on which we've placed public records data and our Zestimate? home valuations," said Rich Barton, Zillow's co-founder and CEO. "With today's new release we are opening up every home's Web page on Zillow.com for owners and their real estate agents to plant virtual 'For Sale' signs in their Zillow front yards for free."

In addition, any homeowner can now post a Make Me Move price. "What number would it take for you to call the movers and hand over your keys?" asked Lloyd Frink, Zillow's co-founder and president. "Make Me Move is our twist on the traditional 'For Sale' sign." A homeowner can easily post a Make Me Move price without exposing any personal information. Zillow then enables interested buyers to contact the owner through an email "anonymizer." There is no charge for the service.

All postings, be they "For Sale" or Make Me Move, provide free uploading of pictures, home descriptions including "what I love about my home," and neighborhood commentary. Additionally, real estate agents who post homes they are representing for sale can publish their own contact information, link to listings on their own Web sites, and upload a photo of themselves free of charge.
More from the press release:
Today Zillow is also launching a new section of the site called "Real Estate Wiki." The wiki is seeded with more than 100 articles by Zillow editors on topics of interest to home buyers, sellers, and owners. As a wiki any visitor can edit an article, comment on an article, or create a new article and publish it for all to see.

Additionally, Zillow has beefed up its mapping and search functionality, allowing customers to instantly identify homes for sale, homes with a Make Me Move price, and homes that recently sold, on top of valuation data on the roof of each home. A user can enter an address, neighborhood or city, and instantly see a satellite map with all of this information. He or she can also sort homes in an area by price, number of bedrooms/bathrooms, size, or in the case of recently sold homes – how recently the transaction occurred.
I have a lot of thoughts on this upgrade, so I'm separating my commentary by topics. Even so, I'm not sure I've plumbed every implication of this upgrade, so I'm eager to hear what other people have to say.
Immediate Implications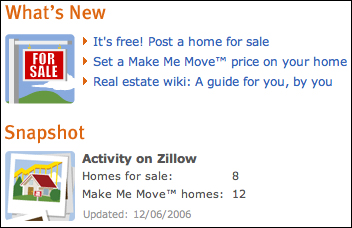 First: I read this as meaning that listings aggregators such as Trulia.com and Propsmart.com are in Critical Condition right now, if they are not actually Dead On Arrival. I cannot think of a single serious feature any of these Realty.bots have to offer that is not duplicated in a much more robust form by this release of Zillow's software. We'll talk more about the fundamental paradigm shift (call it Web 2.0++) that extinguishes a whole class of real estate databases.
Similarly: Google Base has been mustered out of the real estate army and can go home.
Moreover: Realtor.com is going to have a tough time tap-dancing on the one leg it has left to stand on. Zillow's partner, RealEstate.Yahoo.com was already better at most of the things Zillow wasn't already doing. Zillow.com spokesman David Gibbons assures me that Zillow's natural inclination will be to share information with its partners. I read that to mean that it's time to call your broker — and not your real estate broker.
And: Ultimately: We are looking at the embryonic form of a de facto national MLS system. There are wrinkles, and we'll get to them, but there are two things that Zillow.com has by now proved itself eminently willing to do that both the National Association of Realtors and Realtor.com have proved themselves eminently unwilling to do: Change and grow. Zillow may not be the last word in this story, but it has written two very compelling chapters already this year.
Meta-News
The fundamental paradigm shift in the transition from character-based to graphical user interfaces was not the invention of tools like the mouse or the fully-mapped display. The root change was moving from a verb-noun syntax to noun-verb. In Unix, you type "print *.txt" at the command line — verb these nouns. On a Macintosh, you select a file or a group of files and drop them on the printer icon — these nouns are to be verbed. This is a radically different way of thinking, and it is why natural MacHeads can't stand anything Unix- or DOS-like, and why many former Unix or DOS fanatics are still uncomfortable in the GUI world — even with a hopelessly DOS-like GUI such as Windows.
Right under our noses, Zillow.com has effected a similarly radical shift in the way we think about real estate databases. All of the dead-bots-walking I named above — Trulia, Propsmart, Google Base, Realtor.com, and every local MLS system — every one of them treats data in the same way: There is an on-going application that will be effected using temporarily-stored data.
The Zillow.com paradigm is exactly the opposite: We are accumulating a database of permanently-stored data that can be deployed for any number of temporary, interchangeable applications.
The Zillow model is exactly the same paradigm you use with your own Contact Management system: The database is forever. The Christmas Card list is old news as soon as the cards are mailed.
This is a simple enough idea that all of us should be saying, "Duh!" But it remains that, of every kind of real estate database we can name, only Zillow's — and those of its close competitors — is based on the premise that any particular house will still be the same house the next time it is sold. Want a Zestimate of that house? Done. Want to see how the owner disagrees with the Zestimate? Done. Want to put it up for sale? Done. Want to put a dream price on your home to see if someone wants it even more than you do? Done. A potentially infinite number of applications all from the same one, permanent database.
And it is this last aspect that seems to me to put Zillow so far ahead of everyone they're competing against. The Realty.bots are toast, period, as is any vendor that treats its real estate database as a temporary nuisance. But the move they're making into listing, and it is a very strong move, puts Zillow far out in front of the pack of recent AVM (Automated Valuation Method) entrants.
Earlier this year, with respect to AgentEarth.com, I said:
The competitive viability of any one of these incredible tools is measured in microseconds.
I was reflecting on the fact that, as soon as any new Realty.bot tool is released, half the users will be playing with it while the other half are figuring out how to reverse-engineer it. By now, Zillow has proved itself to be fast, first and best with added functionality, pushing the bar so much higher with this release that the national map-based real estate interface game may be effectively over. In other words, every national site offering home search or home evaluation may end up running a Zillow Application Programmer Interface (API).
Cathleen Collins and I were briefed on these changes earlier this week by David Gibbons. At the time, my instant meta-reaction was that Zillow.com, by becoming the Google of real estate, hopes to eclipse the YouTube.com buy-out price. I don't know that these changes add $1.65 billion to Zillow's value, but the company is much more valuable tonight than it was last night.
I myself have had issues with Zillow.com in the past. I have also defended the company from what I consider to be a blatant shake-down. With respect to the former position, my desire to see Zillow.com openly disclose that AVM results are inherently unreliable is diluted by all of Zillow's new competitors, none of whom are making this disclosure. The new features announced tonight could result in as many as four numbers being applied to a particular house: The Zestimate, the owner-supplied corrected estimate (which we call the Pestimate), the list price of the home if it is for sale, and the Make Me Move price, analogous in this case to the "Buy Now" price on EBay.com. Having other prices besides the Zestimate associated with the home will deprive it of what otherwise might appear to be a canonical authority. Even so, my position on both issues is unchanged: I want for Zillow.com to put a prominent disclosure near every Zestimate, and I want for the National Community Reinvestment Coalition to get out of the race-baiting shake-down business.
There is more to this though: I believe that the owners and employees of Zillow.com are decent people. My impression is that they are completely part of the transparency movement we — meaning the weblogging community — have created as a secondary consequence of these other things we are doing. I believe in the essential morality of commerce, that the long term effect of capitalism is improvement in every sort of quality — better, faster, cheaper and more ethical everything. I see Zillow.com as being an exponent of this, perhaps even an exemplar, despite my differences with them. I know what they're after, and it's a motivation I embrace and endorse.
Meta-Speculation — the Realtor News
I think the big fear among Realtors has been that Zillow.com might put them out of business. Here's news: If your listing strategy is not very different from a FSBO, you're probably done for. And good riddancegod's blessings to you, too. On the other hand, if you're delivering value for your sellers, Zillow is offering a lot of added-value for free.
On the second day of BloodhoundBlog's existence, I said:
If the Realtor is going to do no more than that which can be done on a remote file server – sloppily and haphazardly – the seller might as well go with the file server. The typical lock-box-and-a-prayer kind of MLS listing might work marginally better for now, but in the long run it won't matter, particularly if aggregators are permitted to combine MLS listings with listings from other sources. In the battle of the baseball cards, the biggest shoe-box wins.

The point is this: If marketing a home is no more than compiling a baseball card, a table of stats to which the buyer must bring every bit of meaning, then the game is already lost. Representation can easily be uncoupled from the transaction – for example by fee-for-service billing, hourly billing or simply by taking the whole pile of paperwork to a title company or an attorney. But if marketing is more than this – and who with eyes can doubt that this is so? – then it is a skill that Realtors must master if they hope to survive.
So who will sell their homes on Zillow.com?
FSBOs for sure. Every other FSBO site just joined Trulia and PropSmart on the unemployment line. Zillow will offer a fairly comprehensive listing with as many photos as the seller wants, along with a link back to the seller's web site.
If there turn out to be any Make Me Move sellers — and there could be as this technology shakes out — these will probably also be disintermediated transactions. At first, the Make Me Move prices will probably be absurd, numerical belches intended to be read as, "A billion freakin' dollars, okay?!" But in due course people will settle down to realistic numbers. I can see professional investors working these homes door-to-door: Even if the price isn't right, the overture to Make Me Move indicates at least some motivation to sell. In any case, I don't see these as being represented sales.
Cathleen Collins has strong objections to the idea of putting one of her listings on Zillow.com if her list price is higher than the Zestimate. Her fear is that buyers will completely ignore these listings, or, at best, come in with the Zestimate as a low-ball offer. This may actually prove to be the case for represented homes, but I can think of some counter-arguments:
As above, there may be as many as four prices associated with one home, robbing any single price of its potential power.
A strategy like range pricing can be used to combat the Zestimate.
In the long run, Zestimates may become the de facto market price.
Listing homes on Zillow.com may become so uniform a practice that listing agents will not be able to refrain from doing it, no matter how much they might rather not.
All this notwithstanding, listing on Zillow.com will have upsides for working Realtors: As above, you'll be able to post as many photos as you like. Your own photo will be shown, along with a link back to your web site. As a means of promoting your listings, Zillow.com offers many of the strengths of Realtor.com — plus the map interface, the Zestimates, neighborhood Zindices, etc.
David Gibbons told us that one of the challenges Zillow.com faces is in learning how to be an advertising-funded site. The background of the founders and staff is all in products and other transferable values, so they are having to learn how to make advertising work as a profit center. At some point in the future, Realtors will be able to place AdWords-like advertising, targeted by zip code. Yes, this is very much like Realtor.com selling you the opportunity to promote your listings, with the signal difference being that Zillow.com charges you nothing for the listing itself, where your local MLS dues are the first of many bills you will pay to Realtor.com.
Hi-Tech Speculation
Here are a few things I expect to see from Zillow.com in fairly short order:
An API to permit brokerages to feed listings to Zillow by XML. The other Realty.bots do this, and there is no reason for Zillow not to do it. Moreover, since Zillow will require sellers or agents either to change their listings periodically or to acknowledge by email that they are still active — this to avoid the accretion of sold or cancelled listings — an XML feed can serve as a similar sort of confirmation.
I anticipate that Zillow.com will allow you to turn a search you have made into a savable, reusable search, much like saved searches on IDX/MLS systems.
From there, we are a very short leap to being able to automate those searches and distribute them on a schedule as an RSS feed.
And from there, we have the ability for any web site or weblog anywhere to syndicate a selection of available listings. Every Craigslist wannabe out there can have real estate listings, even if it has no contributors.
Zillow's API team has been so active so far that I expect to see many new applications built on this data. For example, imagine an investor's site that trolls listings for homes listed substantially below the Zestimated value. These homes are not necessarily bargains — and it would be fraud to represent that they are — but they might well warrant further investigation.
Wish List
Because we have had a few days to think about this upgrade, we have a wish list for added features.
On the phone with David Gibbons, we talked about Amazon.com's "notify me when this becomes available" feature. For example, I am on the list of people to be informed when Kenneth Branagh's Hamlet is finally released on DVD. We envisioned a similar feature as a companion to Make Me Move: Notify me when this one particular home either goes on sale or is graced with a Make Me Move price. In other words, let me know when I might be able to buy this home.
I've been chatting back and forth with David Gibbons about the ability to link to virtual tours. For now, I would be happy to be able to add one or more virtual tour links, in addition to the already provided web site link. In the long run, it would be great if Zillow could interface directly with major virtual tour vendors, just as Realtor.com does now.
Finally, I would like to see Zillow mimic RealEstate.Yahoo.com's general feature set. I think they have the potential to become a true one-stop-shopping national real estate web site, and, from this point, I'd like to see them pursue that objective.
Deep Thoughts
I think this is a net boon. A national real estate database like Realtor.com is no substitute for a true MLS database, and neither is the newly-upgraded Zillow.com. But the features present in Realtor.com that are absent, for now, from Zillow.com, seem to me to be of smaller moment than the features Zillow has that Realtor.com lacks. Moreover, Zillow demonstrates by these major upgrades that it is committed to doing as much of the job of a national MLS system as it can master, where Realtor.com seems to me to demonstrate that it is committed to nothing except extracting the greatest number of dollars from Realtors — dues-paying members! — for the least attainable effort.
In any event, the local MLS system — data-rich and inscrutable — is still the bread and butter of Realtors. It may be that Zillow or some other vendor will come up with something truly better. In that event, the Realtors who have trained themselves to deliver value in excess of their costs will still have a job. The rest will have time to talk about how Trulia was truly the better map-interface, back in the halcyon days of 2006.
Nota Bene: I have not played with any of this yet. It's that new. But: The thrill of living for me is a feeling of intense anticipation. I can't wait to see what happens next…
More: Ardell at Rain City Guide, TechCrunch, Zillow.com's Drew Meyers, Inman News ($). Drew Meyers is tracking further posts and articles as they come in. The third Inman article is excellent, as is this GigaOm analysis. And: At 23:45 PST, the site actually went live with the capabilities I am describing here… Galen Ward, brilliant and then some, at Rain City Guide.
BloodhoundBlog's team coverage of the Zillow.com upgrades:
Technorati Tags: disintermediation, real estate marketing
50 comments