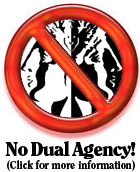 Quote: "Double-dipping isn't very far from double-dealing, and dual agency has always been the Achilles' heel of the real estate industry." That's me in today's Arizona Republic. Here's a more permanent link. And here is the BloodhoundRealty.com policy on dual agency. The topic is important enough to us that I want to quote the entire article here.
Dual agency benefits neither buyer nor seller

Imagine you're in a lawsuit. You're representing yourself, but, as the suit progresses, you realize your opponent's attorney is particularly good – thoughtful, incisive, attentive to detail.

At an appropriate moment, you say, "You're doing such a good job representing his interests, I know you could do just as well representing mine too."

You now understand what's wrong with dual agency in real estate.

Dual agency is the fanciful idea that, at the same time that I am zealously and faithfully representing all of your interests as the seller, I can perform the exact same services for the buyer of your home.

In fact, if I am acting as a dual agent – fully disclosed and consented to by both parties – I can't provide zealous representation to either party.

Instead, I become a facilitator, a go-between, a messenger. I can't advise one client in a way that would hurt the other. I owe the same, insanely limited duties to both parties.

This applies even if two different agents from the same brokerage are involved. The contracts are with the broker, not the agents. The broker represents both parties.

The individual agents should act as facilitators. In reality, each will act as an advocate, actively betraying the interests of the broker's other client.

So how much will the broker get paid for this farce of his fiduciary duties?

Double.

All of this predates the idea of buyer's agency altogether. When brokers represented only the seller, the buyer was never represented. If the listing broker could scare up a buyer on his own, he didn't have to split the sales commission with a cooperating broker.

Double-dipping isn't very far from double-dealing, and this has always been the Achilles' heel of the real estate industry.

So, even now, when buyers have full representation, brokers are still trying to cling to this antique idea in order to cling to the double commissions.

Eventually, dual agency will be outlawed. It's unethical in principle, impossible in practice. Until then, you should deal only with brokerages with a firm and fast policy against dual agency.
11 comments