We use the term "drive-by listing" to refer to the kind of listing you get with almost no human contact: "The key's under the doormat. Look it over and tell me what we can get. Email me the paperwork." I have five of these right now, investor-specials that came in over the transom.
DriveBuy Technologies makes a cooler use of the "drive-by" sound, though. BloodhoundRealty.com is an official DriveBuy client as of yesterday. I had built a sign on Wednesday, and I put the ad for that sign together today.
Here's the sign for the property: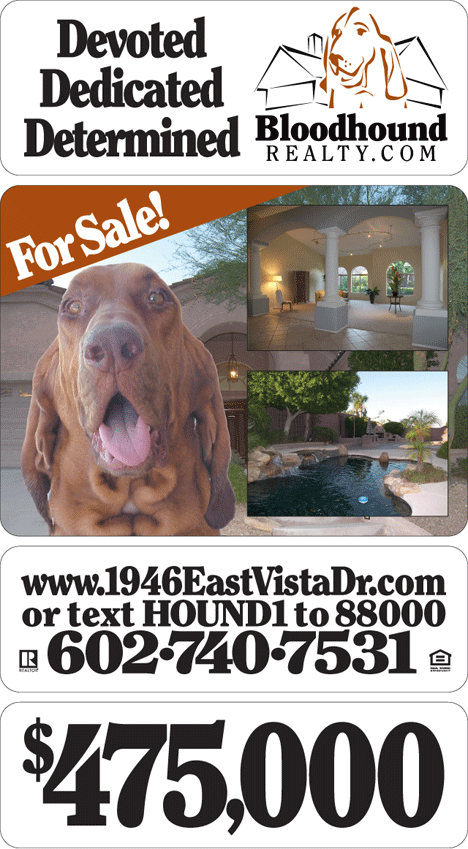 We're in a sign-restrictive HOA, so we had to do things differently. On our normal signs, the DriveBuy ad-code would go on the big sign, along with the phone number and the URL for the web site.
The editing process on the DriveBuy web site was a piece of cake. Everything is template based, so, while your choices are limited, so are your opportunities for screwing things up. If you're more adventurous than I've been, so far, you can learn the DriveBuy CSS and build your own mobile-browser pages.
But: If you do work with the templates, adding or revising your SMS ads and their respective web pages is a chore you can offload to whomever is already doing your Zillow and PostLets stuff. There is nothing there to to flummox your assistant.
This is the main web site for 1946 East Vista Drive, and this is the DriveBuy site I built this morning. Obviously, the mobile-browser site is a lot more limited (and you'll note that it looks a lot like the demo page Ian Greenleigh of DriveBuy made for us). But Cathleen had no trouble pumping in a dozen photos, and the page features all the mission-critical information, along with a link back to the main web site.
I'm in love with this already, and the DriveBuy folks are interested in hearing ideas about how to improve the product. Over the weekend, I'm going to play with building a page for my investor-special listings. My rating so far: Totally rocks.
3 comments