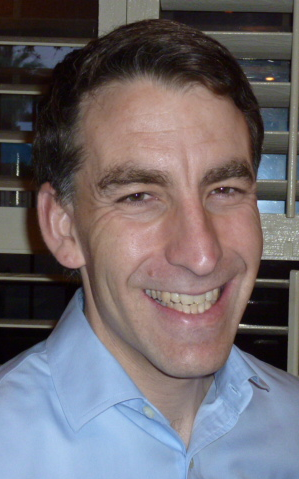 Redfin.com CEO Glenn Kelman is in Scottsdale today and tomorrow for the MLSCOVE Conference, a gathering of MLS executives from all over the country.
Glenn made time for Cathleen and me this morning, buying us breakfast and regaling us with stories of the not-always-smooth path Redfin is traveling.
In real life, the man has a sweet and gentle — even beatific — nature. We saw this when he spoke at the first BloodhoundBlog Unchained event, winning a hostile audience over with a quiet, unaffected honesty.
That shone through again this morning, and, allowing time for Glenn's son and our pets, we spent most of our time talking about real estate marketing issues: REOs versus short sales, new builds versus resale, the prospects for recovery, etc.
It's funny, actually, to talk this way, because Glenn Kelman is a star in the real estate firmament, but in person he is fun and personable and very empathetic. Whatever our past differences, I respect and admire what he has been able to achieve with Redfin in such a short time. It was an honor to be able to spend some time with him.
Related posts:

What happens when a lion of the industry sticks his head in the lion's own mouth? Glenn Kelman joins BloodhoundBlog as a contributor
2 comments