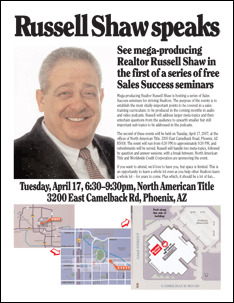 Mega-producing Realtor and BloodhoundBlog contributor Russell Shaw is is hosting the second in his series of Sales Success symposia for striving Realtors. The first event was a huge success.
The purpose of the seminars is to establish the most vitally-important points to be covered in a sales training curriculum, to be produced in the coming months in audio and video podcasts. Russell will address larger meta-topics and then entertain questions from the audience to unearth smaller but still important sub-topics to be addressed in the podcasts.
The second of these events will be held on Tuesday, April 17, 2007, at the offices of North American Title, 3200 East Camelback Road, Suite #150, Phoenix, AZ 85018. The event will run from 6:30 PM to approximately 9:30 PM, and refreshments will be served. There is no charge to attend. Russell will handle two meta-topics, followed by question and answer sessions, with a short break between. North American Title and Worldwide Credit Corporation are sponsoring the event and will make short presentations.
Who should come? A striving Realtor is one who has learned how to stay afloat in this business but wants to learn how to build a bigger, more profitable business. In other words, if you're a brand new agent or if you're happy with your current level of production or if you're already a top-producer, these symposia are not for you. Because Russell is building the curriculum for a full-blown Sales Success training course, his goal is to hear from the Realtors who want most to learn the lessons he has mastered in his career.
Click here for a poster you can hang up in your office to let other agents know about the seminar. All the details plus driving directions.
If you want to attend, we'd love to have you, but space is limited. This is an opportunity to learn a whole lot even as you help other Realtors learn a whole lot — for years to come. Plus which, it should be a lot of fun…

Technorati Tags: real estate, real estate marketing
Related posts:

3 comments