This came in by email:

I find myself commenting on more and more of your blogs, because of my respect for some of your writers.

My concern is who are your readers?

How large is your audience?

Are we dealing with real estate professionals or the general public?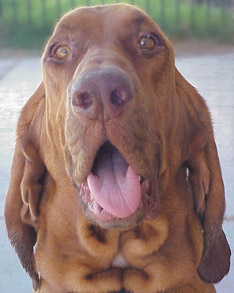 BloodhoundBlog is eleven months' old today. We're whipping up the batter for a first-birthday cake that — I assure you — Odysseus will be more than happy to eat.
Who are our readers?: Real estate professionals, by an overwhelming margin.
Weekdays are strong, weekends are weaker, but we average around 1,200 unique visitors a day. Those are click-through visitors, people who are actually landing on one or more of our pages. The overwhelming majority of them come from sites we know, mainly other real estate weblogs. A significant portion come from search engines, this because we tend to score very high on certain industry-related searches.
In addition, we have a very strong RSS subscriber base. How strong, precisely, I do not know, this because I don't like routing traffic through third-party vendors. On top of that, we add new email-based subscriptions every day. For these latter, I see actual email addresses, so I know for sure we are appealing to real estate professionals.
There's more I could say. For example, Google Analytics tells me that our readership is extremely "sticky": Thousands of people have visited BloodhoundBlog hundreds of times. Since last August, when I installed Google Analytics, more than 42,000 individuals have visited us 9 or more times. Over 20,000 people have come here 51 or more times. Again, this ignores RSS subscribers. We are talking to a large, growing and very loyal audience.
Why does it work so well? I don't suffer the curse of modesty, so I'll tell the bald truth: We are as popular as we are because we deserve to be. We write wisely, wittily and well about things that matter to real estate professionals. We don't divide our attentions trying to serve two divergent audiences, and we are so far-flung as to be completely location-independent. We are philosophically and temperamentally diverse, and yet we are able to engage in intramural debate without rancor. Here's the kicker, the sine qua non, the ne plus ultra: We write very, very well.
I'm very grateful to share credit fifteen ways and then some, but I have no objection to taking any blame entirely upon myself. I'm getting a reputation for being able to scout out great writers, but, in truth, I recruit people I enjoy reading. I think writing together here makes us all stronger, a synergistic side-effect.
What we have are contemplative, communicative people who have something to say and have a large and growing podium from which to say it. We are fiercely independent, and we are very proudly beholden to no one. We don't take advertising. We don't traffic in leads. We don't get in bed with vendors. We don't kiss ass. We don't necessarily absolutely always suffer fools badly, but we call everything by its true name.
That dog at the top of this post is not a pet or an illustration or a symbol. It's an ikon, an imagic concept encapsulating in a single glance an entire philosophy — not just of commerce but of life. Odysseus cannot think, but neither can he betray himself. We are better Bloodhounds because we have better minds, but we are better, too, because we can consciously live up to a Bloodhound's integrity.
Here's what you can do as an expression of that Bloodhound spirit: Tell your friends. We can't talk to every real estate professional, but we can talk to everyone who is wired. A secondary consequence of the work we're doing at BloodhoundBlog is helping Realtors, lenders, investors and other industry pros become more net.savvy, more transparent, more responsive to wired consumers. If you will tell your friends and colleagues to get their butts over here, we'll all be that much closer to taking over the real estate industry.
In the meantime: Not bad for eleven months. There are plenty of worlds left to conquer, but well-begun is half-done. We could not possibly be more delighted to have all of you here with us. But: You ain't seen nothin' yet.

Technorati Tags: blogging, real estate, real estate marketing
Related posts:

19 comments