We write a lot about real estate weblogging. We have categories on Blogging, on Blog Carnivals, on the Carnival of Real Estate and on Weblogging 101, with much of what we've written on real estate weblogging having been repurposed into a blog-book on the subject, RealEstateWeblogging101.com.
Truly, weblogging is a self-referential medium, but there is so much on the subject here that I am going to add only two items to that mass.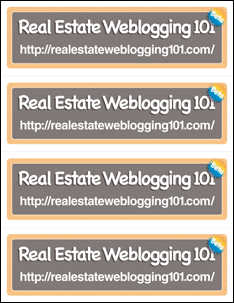 First, if you are graced with the opportunity to speak about real estate weblogging at your company sales meeting or whatever, if you like you can print out some of the bookmarks I made for the Southwest Real Estate Blogging Conference. They're built to print four-up on a letter-sized sheet, with faint gray lines where they should be cut apart. The book is a very thorough introduction to the art of real estate weblogging, so your colleagues might get themselves off to a better, faster, less-costly start.
Second, I thought I would take a moment to show you where we came from. This pitiful mess, not a Bloodhound but simply a mangy old mutt, was the second of our failed attempts to start a real estate weblog. The first failure — even worse — was incinerated long ago. The posts you see there were sucked into BloodhoundBlog by WordPress, giving us a history before we had one. The first BloodhoundBlog post was People power, categorized under Blogging and Disintermediation and establishing a number of themes to which we have returned again and again. I wrote about the pre-history of BloodhoundBlog about a month after we started. The point of this is, if we've come this far in a year, you can, too.
Thanks for being here with us.

Technorati Tags: blogging, real estate, real estate marketing
Related posts:

2 comments