During all my running around today, I had meant to buy a silly little party hat for Odysseus to wear to celebrate BloodhoundBlog's first birthday… but I never got around to it. And by the time I had picked up Ophelia from doggy-day-care, I'd missed my opportunity… can't leave a dog in a 110&176; car. So on the way home I thought of the balloons Kris and Steve had sent us to commemorate the occasion (and show off their slick marketing swag… oops shouldn't have said "show off"… didn't I read that showing off is bad?). Anyway, when I got home, Greg voiced what I was already thinking, but he in a much more practical way, "Don't be silly! Don't go out any more tonight! Use Kris' balloons, take your picture, write your post, then let's raise a couple of glasses of Bushmills!" You see, I needed some sort of prop to take a photo of Odysseus because I love photos of my pets, and didn't I read somewhere that you should always use photos on your blog posts? 'Course neither hat nor balloon could guarantee a good picture, not when we're talking about getting one dog to look into the camera long enough without other dogs and cats breaking his concentration or outright getting in the way. Anyway, here's the best we could get: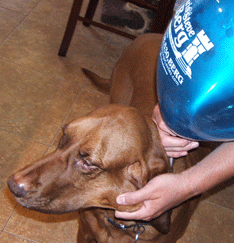 (Sorry Kris and Steve, we couldn't get one that shows your phone number, but you can see "erg" and the castle.)
All this just to illustrate (poorly I fear) my pure joy with being a part of this wonderful site and fabulous group, as we enter Year Two. If you've put up with me this far, I ask you to stay awhile longer as I share my favorite moments during the pup's first year.
Yesterday, Greg wrote about our humble beginnings, so I'll fast forward from there to my first honor here… being featured in Zillow's inaugural edition of the Carnival of Real Estate. During the next few months Greg wrote a lot, I wrote a little, and Greg incorporated posts from an earlier failed blog by attributing them to Odysseus.
By September, Greg had earned a reputation among real estate bloggers as being a prolific and interesting writer, and when Ardell DellaLoggia challenged him to a "blog-off," I encouraged him to accept. I'm not certain about Ardell nor Greg, who each posted over 100 articles in less than 24 hours, but I had a blast! The challenge was especially funny through the Property Monger, Jon Ernst's, play-by-play chronicle.
Another gift that this pup has brought is Russell Shaw. I was tickled to sit down to chat with him, and thrilled beyond words when he agreed to become a contributor on BHB. This led us directly into the Dual Agency Smack-Down. Because he had commented in opposition to Greg's and my view on dual agency, we asked Jeff Brown, from BawldGuy.com to join BHB as a guest, arguing on the side of Russell for dual agency, against Greg and me. Jeff honored us by staying around.
Once there were five of us (including Odysseus), we asked a few more friends of ours, who are interested in real estate, and who were sharing really interesting ideas with us via email, to contribute. Most notably, Richard Riccelli, a direct-marketing guru, wrote some brilliant articles on marketing.
In October, BloodhoundBlog hosted the Carnival of Real Estate for the first time. I think we made a lasting contribution to the CoRE that week. Being the judges was so much fun, we got to continue our campaign for more meaningful judging when we hosted the CoRE again in February.
Also in October, Greg heard from Mark Nadel, from AEI-Brookings Joint Center, who had written a white paper on real estate commissions.
Soon afterward, Greg Defended Zillow in an article that made me very proud of him, especially after his article Debunking Zillow had brought so much attention to BHB. Both articles demonstrated his veracity, with no concern about whose ox might be gored.
The energy of the group blog was exhilarating. We wanted more! Greg, who doesn't shrink from anything (except housework), reached out to some of the most inspired bloggers in the nation, and soon we were joined by Kris Berg and Doug Quance, and then Dan Green!
Now that the Bloodhounds were a minority on BHB, we agreed on making our home a more civil one. Greg and Russell can take all kinds of heat, but I always hated what I considered graffiti in comments. So I was really pleased when BHB instituted a rigorous Comments Policy, which made it clear that we welcome guests to share their opinions, but ruffians are not welcome. With all the differing opinions that exist among our authors, a different point of view is not an insult, but an insult is…
For Christmas we got a wonderful gift: Brian Brady! And the New Year kept on giving with Michael Cook. Jeff Turner and Norma Newgent joined us briefly to leave some real gems in this treasure chest.
Then just when we really needed him, Allen Butler came on board as we began exploring podcasting. Just in time to pull Kris' music out of her interview of Glenn Kelman from Redfin. Just in time to capture the gifts that Russell gave us with his Sales Success Seminars.
And on the tail of sound came movies! Starting with Greg's interview on Fox News Channel, complete with a Director's Cut!
And our family continues to grow. James Hsu lends us his technical views, Morgan Brown is our mortgage industry crusader, Lani Anglin gives us the down-home point of view of the consumer, and Jeff Kempe gives us yet another, fresh rebel-Realtor point of view.
And then there's Teri Lussier. What an inspiration she's been. So much so, that the work she has done with Greg evolved into the web's first BlogBook, Real Estate Weblogging 101!
As I say goodnight to our baby blog on this celebration of its first birthday, there's one last note I want to congratulate it on: I love the serendipity that on BHB's first anniversary, InmanNews announced that we are among the finalists for this year's Most Innovative Blog.
It's been a great year. Thank you all for joining us!
Related posts:

6 comments