Responding to Dustin's offer to help Ardell during the Sellsius 101 Blog-a-thon (Yikes, Dustin! I know it's the home team and all but 1. that woulda been cheating; and 2. you shoulda had more faith in Ardell; and 3. you don't write like Ardell; and 4. that woulda been cheating!), Ardell nobly responded that she was so busy she never even saw his offer till after she had reached her goal, and even had she seen the offer she wouldn't have accepted.

The risk of having RCG go down in the middle of competition was weighing heavy on me. Also, it wouldn't have been fair to Greg, unless he allowed Christine in, and then we'd have to deal with Dustin wrote 35 % and Christine wrote 33% translating into something that would cloud the achievement.
She was right, of course, even if she did get my name wrong ;). But for my part, I wouldn't have tried to help Greg out even if Dustin disguised as Ardell (picture that in your mind's eye!) had peppered himself throughout Ardell's Seattle Area Real Estate Blog. Why not?: 1. that woulda been cheating; and 2. I have absolute faith in Greg doing what he says he'll do; and 3. I don't write like Greg; and 4. somebody had to do some money work around here on Tuesday.
Actually, beyond helping out with his desk work on Tuesday, I did pitch in to wash the puppies out of the Technorati tags when those pesky critters showed up instead of Sellsius 101. But at about the time Greg was posting his 72nd entry, I was walking out the door to go to an inspection.
And about the time he was writing his 76th post, I was sitting on the side of the freeway, praying that today of all days, I wouldn't be carted off to jail!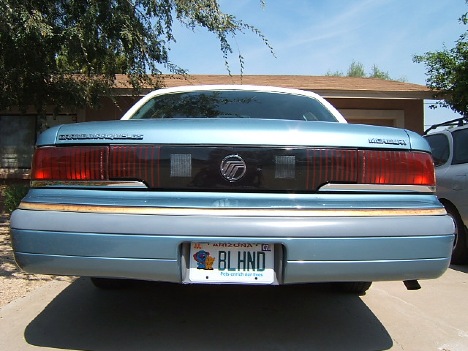 You see, I recently got new plates for my car. My new Pet Friendly plates cost more than the old plates. The difference goes to a fund to help defray the cost of spaying and neutering cats and dogs whose owners are having trouble affording to do this on their own. Now I am actually capable of unscrewing the screws that were holding my old plates on the car, placing the new plates over the holes and screwing the screws back in. In fact, whenever there's handy work to be done around the house, it is me who handles it. If it's beyond my skills, then it's beyond the guys' skills, too. But Greg got us these new license plate frames, with holes that don't fit right on my car, and he wanted to see whether there was some way for him to fix that before giving up the frame.
Like I said, I have absolute faith in Greg doing what he says he'll do… eventually. So there I was driving around with my old plates on. I had my new registration in my glove compartment, so I figured that if I got pulled over, I would suffer inconvenience, but not for long — that I would be on my way as soon as I demonstrated compliance with having paid my tag fee.
But I was wrong… There were cars in front of me and cars behind Tuesday afternoon, all of us speeding, but all at the same rate. I saw the state trooper riding next to me and figured she was just getting us to moderate our speed. So I was surprised and annoyed at the inconvenience when she singled me out and pulled me over. The plates hadn't even crossed my mind till she asked the question, and I hated sounding like a dumb blonde when I told her that I owned the plates, but it was just a matter of getting my husband to attach them to the car.
My heart dropped when she explained that having invalid plates on my car is not a traffic violation, it is a criminal offense! So on the side of the highway I sat waiting for her to run me through the computers to see whether I had any outstanding warrants. I called my client, and I called the inspector to let them know I'd been detained. Then I sat there stewing that if I were taken off in handcuffs to the city jail for not having the puppy plates tailing me, Greg wouldn't even know about it till after midnight, after he finished competing in his rassafrassin Blog-a-thon! I didn't dare call him. I just text messaged him, so he'd know what the story was, just in case…
It got a little scarier when the trooper came back to see whether I had an alias. There is a local woman with the same last name and same date of birth who has outstanding warrants. I waited some more, praying, while she did whatever she did to satisfy herself that the warrant-woman and I are different people. And of course, I had a happy ending, getting off with a stern warning to put my plates on myself if that what it takes to stop being a criminal!
I caught up with the inspection, ran some errands and got home without event. And the next day, put my criminal behavior behind me.

Technorati Tags: arizona, sellsius 101
Related posts:

8 comments