Because of my long-time affiliation with Tom Horton, I got to write the inside-front-cover copy for Outrageous Good Fortune, Tom's biography of Ed Robson, founder and owner of Robson Communities, which builds active-adult communities all through the Sothwest.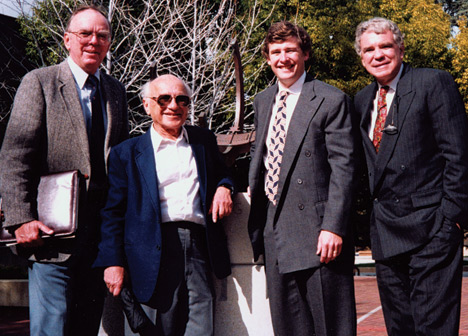 From left to right, author and publisher Tom Horton, Nobel Prize-winning economist Milton Friedman, Mark Robson (now a real estate devloper in Southern California) and Master Builder Ed Robson.
Here is the copy I wrote for the Robson biography:

Here's a trek for the intrepid: Take the I-10 Freeway south from Phoenix, Arizona, and get off on the Riggs Road exit.

If you drive west into the Gila River Indian Reservation, you will see some of the extent of Ed Robson's legacy. In the reservation, the land is dead flat nothing for miles in every direction. Not beautiful, mountainous desert. Just desert, the kind that kills unprepared wanderers every day.

Now turn your car around and drive east into Robson's Sun Lakes. You'll find rolling hills, man-made lakes, golf courses, clean-lined stores and churches and compact, elegant homes — a model suburb.

But we're not finished yet. Because when Ed Robson first set foot on the land that became Sun Lakes, the land he stood on and the entire southeast quadrant of the Valley of the Sun looked just like the reservation.

It was Ed Robson's Sun Lakes that led the way as the southern corridor of Maricopa County was transformed from scraggly desert and struggling agriculture to very beautiful, very prosperous suburbs.

And Sun Lakes was just the beginning. Ed Robson spread his ideas about building master-planned active-adult communities throughout Arizona and into other states. As the Baby Boomers march en masse toward retirement, it will be Ed Robson who builds their homes — homes sturdy in construction and rich in luxuries, with the kinds of activities and amenities that make retirement an adventure.

Did Ed Robson get rich doing all this? Oh, you bet! But he has enriched us all along the way. Not just the people who live or work in his communities, but also the people who live and work in the surrounding communities, communities that would not even exist if Robson had not pioneered the land. And by bringing ever newer, ever better ideas to the active-adult market, Robson has helped to transform what were once the leaden hours of the so-called 'golden years' into a truly golden sunset to happy, productive human lives.

We should all rejoice in his Outrageous Good Fortune. It is our good fortune, too, thanks to all the riches Ed Robson shed in his rich life.
Technorati Tags: arizona, arizona real estate, phoenix, phoenix real estate, real estate, real estate marketing
Related posts:

When your best beloved tells you that you're moving, she doesn't need the MLS system to figure out where . . .
2 comments