Archive for March, 2013
Markets go up. Markets go down. But the whole house of cards is built on the idea that population will grow. What happens when it doesn't?
From Business Insider:
It's what I like to call "the most depressing slide I've ever created." In almost every country you look at, the peak in real estate prices has coincided – give or take literally a couple of years – with the peak in the inverse dependency ratio (the proportion of population of working age relative to old and young).

In the past, we all levered up, bought a big house, enjoyed capital gains tax-free, lived in the thing, and then, when the kids grew up and left home, we sold it to someone in our children's generation. Unfortunately, that doesn't work so well when there start to be more pensioners than workers.
The entire welfare state is built on the idea that young people can be milked of their wealth because they're too busy being young to notice.
Alas, the welfare state also awards adults either for not reproducing or for reproducing in only the most wealth-destructive ways. The consequence (entirely foreseeable) is that the number of dependents-by-choice goes up while the number of de facto slaves declines — by people either opting out of producing wealth or opting in to the welfare state's "free" benefits or, as here, by not being born in the first place.
This will not end happily…
5 comments
Among the most pervasive, and arguably pernicious, notions of the past decade has been that the "creative class" of the skilled, educated and hip would remake and revive American cities. The idea, packaged and peddled by consultant Richard Florida, had been that unlike spending public money to court Wall Street fat cats, corporate executives or other traditional elites, paying to appeal to the creative would truly trickle down, generating a widespread urban revival.

Urbanists, journalists, and academics—not to mention big-city developers— were easily persuaded that shelling out to court "the hip and cool" would benefit everyone else, too. And Florida himself has prospered through books, articles, lectures, and university positions that have helped promote his ideas and brand and grow his Creative Class Group's impressive client list, which in addition to big corporations and developers has included cities as diverse as Detroit and El Paso, Cleveland and Seattle.

Well, oops.

Florida himself, in his role as an editor at The Atlantic, admitted last month what his critics, including myself, have said for a decade: that the benefits of appealing to the creative class accrue largely to its members—and do little to make anyone else any better off. The rewards of the "creative class" strategy, he notes, "flow disproportionately to more highly-skilled knowledge, professional and creative workers," since the wage increases that blue-collar and lower-skilled workers see "disappear when their higher housing costs are taken into account." His reasonable and fairly brave, if belated, takeaway: "On close inspection, talent clustering provides little in the way of trickle-down benefits."
Rotarian Socialism doesn't work? Not even when you geyser those subsidies at really hip, pomo Rotarians? Who knew…?
Comments are off for this post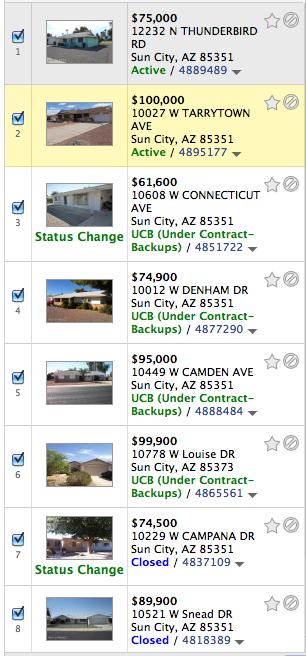 My note to her: "Trulia and Zillow both present inactive listings as though they were active to fool the public into thinking that they have more inventory than the agents they exploit for advertising money, even though their listings come straight from the MLS systems. Mere real estate brokers would be fined out of business for pulling these stunts."
Despair you nothing, though, hard-working dogs. Every time Trulia or Zillow are caught pulling these bait-and-switch stunts, one more active real estate shopper is turned off of their sites forever. Nice going, suits…
11 comments