Want to stay ahead of the pack in your marketing? Come to Phoenix next May and master The Art of the Bloodhound
Here's where we start: Brian Brady had an idea for a BloodhoundBlog Conference about truly contemporary guerrilla real estate marketing, the tactics real grunts on the ground are using right now in the jungles we find ourselves in. Three days in Phoenix, for a start, with intensive classes on how to make the stuff that really works really work for you right now.
David Gibbons, bless his eager mind, came up with this in a comment on the blog:
My primary takeaway from NAR was that the social media marketing opportunity in RE is misunderstood and largely ignored. Yet, I'm more convinced than ever that SMM can revolutionize real estate. I actually had a fleeting thought yesterday as I walked the expo floor that it would have been cool to have a booth dedicated to Real Estate Weblogging 101 and that "Bloodhound" might well become a premier REALTOR (or agent?) designation/qualification.
It doesn't seem to work as a designation. Our world moves too fast. To say, "I have arrived," is to announce that you have volunteered to be left behind. But an annual Bloodhound badge to put on your web site would be a potent testament to your valor as a guerrilla marketer.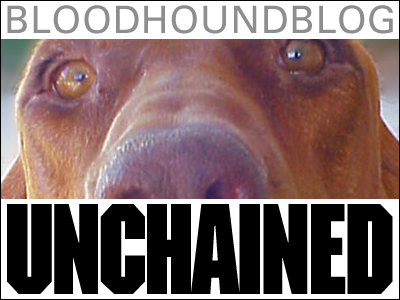 We have dates: May 18-20, 2008. After that, things get nebulous. But: All work and no play makes for a boring Bloodhound, so we'll do something fun Saturday night, May 17, if you fly in early. Then maybe a networking/cocktail party Sunday night. There might be time for a round of golf on Monday morning. We might also set up real estate tours at that time, so you can get some product knowledge while you're here. Or you can swim and sunbathe while the weather in Phoenix is still ideal — hot and dry.
But keep in mind that we're only leaving time for leisure because we plan to work very hard. This is an event for people who already understand why we're doing this stuff and want to learn how to do it better. We always want to push things farther and faster than anyone else. We always want to be at the head of the pack. Don't be surprised if our instructors assign homework, you should expect that more than one brand new Black Pearl will come out of the event.
This is going to rock. We'll keep it inexpensive, because the idea is to put money into your pocket, not take it out.
True fact: We've never done anything like this before. But we have two reasons to be sanguine notwithstanding. First, we're Bloodhounds. We never do anything half-assed. And second, we always attract the talent we need where and when we need it. You can be sure we'll be talking more about this as we go along.
In the mean time, mark your next year's calendar for the 18th, 19th and 20th of May. You're going to be in Phoenix learning The Art of the Bloodhound.
< ?php include ("GuerillaInterestForm.php"); ?>
36 comments