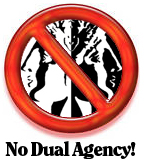 No Dual Agency!
Dual Agency is the process by which one real estate broker represents both the seller and the buyer in a transaction. It is legal in Arizona, provided it is fully disclosed and consented to by all parties. It is also of questionable ethics – at best! – and impossible to effect fairly in practice. In consequence, BloodhoundRealty.com agents are forbidden to engage in Dual Agency.
Dual Agency in real life...
Here's what you're apt to think of, when you think of Dual Agency: An agent lists a home for sale, you see it at an open house and sign a contract on the spot. The agent represents the seller. Does he also represent you? If he does, his role is reduced to that of a transaction facilitator. He carries messages back and forth between you and the seller, but he is forbidden by the Dual Agency to advocate for either of you. He may be completely scrupulous in his performance, but the chances are excellent that either you or the seller – or both of you! – are going to feel cheated at the end of the process. If "your" agent isn't working in your interest, he must be betraying it instead. This may not be the truth of the matter, but it's a suspicion that leaps readily to mind.
But here's how Dual Agency usually works out. Your agent from Behemoth Realty takes you to a number of homes, including some that are themselves listed by Behemoth. You select one of these. Your agent is not the listing agent of the home you picked. It's listed with a different Behemoth agent. So there's no problem, right? Wrong. Your Buyer Broker Agreement is with the broker of Behemoth Realty, not with "your" agent. The Listing Contract is with the broker of Behemoth Realty, not with the seller's agent. Both agents are themselves sub-agents of the broker of Behemoth Realty, who is "your" representative and also the seller's. This is almost always worse than one agent representing both parties. In that circumstance, the agent will usually at least try to be fair. When both parties are represented by two different agents from the same brokerage, it almost always works out that each agent will advocate for "his own" client, which means that broker will be actively betraying the interests of both of his clients – probably without even knowing that this is what is going on.
So why does Dual Agency even exist?
Because brokers want to double-dip on their own listings. In the bad old days, the buyer was not represented at all. "Your" agent would act like your champion, but he was always the sub-agent of the listing broker, even if he worked for another brokerage. Every agent was working for the seller, and nobody was working for the buyer. It made no difference to the buyer who sold the home. The buyer was without representation anyway. But it made a lot of difference to the listing broker. If he could sell his own listings, either he himself or his agents, then he wouldn't have to split the sales commission with a cooperating broker. Now that we finally have true buyer brokerage, full representation for buyers, brokers have invented a fig-leaf called Disclosed Dual Agency in order to cling to the doubled commissions.
A little bit faithful...?
Agency is fidelity. When we act as your agent, we are obliged to put your interests ahead of all others, including our own. How could this ever be possible in a Disclosed Dual Agency? It can't. If we are truly faithful to your interests, we are necessarily betraying those of the other party, and vice versa. If we are mute transactions facilitators, we are robbing you of the expertise of our counsel and advice – which is what you hire an agent for. In ordinary circumstances, the sole purpose of Dual Agency is to make sure that the real estate broker gets paid double for betraying the interests of both of his clients. Whose interests are actually being served ahead of all others? The broker's – and no one else's.
So, if not Dual Agency, then what?
This is our policy: If we represent the seller, we represent only the seller. If our marketing efforts yield a buyer, as they often do, we refer that buyer out to another brokerage. If we represent the buyer, we represent only the buyer. If one of our buyer clients decides to buy one of our listings, again, we refer that buyer to another brokerage. We love our clients, but we love them too much to help one at the expense of another – or even to seem to have done so. No man can serve two masters, and no one should get paid double for failing to serve two masters.
But wait... Isn't this a disadvantage to the seller? No. We do a lot more than our competitors to drive traffic to our listings. The fact is, even though many Realtors don't do very much for their sellers, most of that pitiful effort is directed to attracting buyer clients to the Realtor. If one of those buyers happens to buy the seller's house, so much the better, but the purpose of the yard sign, the advertising and the open house, if any, is so that the listing agent can meet buyers, to whom he can sell something, not necessarily your house. Still worse, agents at big brokerages will promise to promote your listing in their offices. That sounds good, but what it means is that your home could be sold out for bottom-dollar before it even meets the test of the marketplace. Everything we do for you as the seller is about selling your particular house. You know that's true, because we will not represent the buyer under any circumstances.
On the other hand, if you're planning to buy a home in a neighborhood where most properties are represented by one or two huge brokerages, we're your best assurance against the risks of Dual Agency. You'll have the solace of knowing that we represent you and you alone.
What should you do?
This is about ethics, first. We do what we do in the way that we do it because we believe this is the right way to do things, and we never, ever do anything except what we believe is right. But this is also about liability limitation. Dual Agency is the source of a huge number of lawsuits against real estate brokers – for good reason – resulting in huge judgments for damages – for good reason. We do well by doing good, and we're doing everything we can to stay out of court. But, ultimately, this is about marketing. Everything we do is about marketing, because everything we do is about doing the absolute best work we can do for our clients – and telling them about it. Forbidding Dual Agency is the right thing to do, ethically. It's the safe thing to do, legally. And, in natural consequence, it's the profitable thing to do, commercially.
So what should you do? If for some reason you're not going to work with us, you should certainly put some serious questions to the agent you do end up with. "What happens if I buy a house represented by your brokerage?" "If an agent from your brokerage brings a buyer to my house, how can I be sure your brokerage will be fair to both of us?" "If we are in a situation that could result in a Dual Agency, are you willing to bow out, letting another brokerage earn the commission, to make sure my interests are faithfully represented?" "Have you ever done that in the past for another client?" "If you are willing to engage in Dual Agency, whose interests are you really putting first?"
In the long run, Dual Agency will be outlawed in Arizona. For now, your best bet is to work only with real estate brokers who forbid Dual Agency.

More information: There is extensive discussion of dual agency on BloodhoundBlog, our real estate weblog.