Who we are and
what we're all about...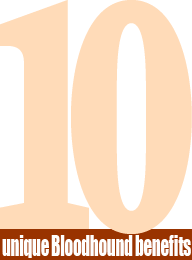 BloodhoundRealty.com is a team of Metropolitan Phoenix/
Scottsdale real estate professionals working together to rewrite the rules of real estate sales and service. We combine a high-tech sensibility with high-touch sensitivity – an excitement for the modern with a reverence for enduring values. The internet, surely, is the second best tool a Realtor can deploy – and we use the internet better than any of our competitors. But the best tool – always – is integrity, and without integrity there is nothing.
We believe in clear, detailed, complete communication – and who could doubt that after reading this web site! Where other Realtors hope to dazzle you with pretty pictures, we bend over backward to tell you the whole, unvarnished truth about real estate transactions – how they succeed and why they sometimes fail. It can be a comfort, at times, to 'leave it to the experts'. But real estate decisions can have very costly, life-long consequences. If you want to know every detail about your transaction, we're here to share it.
Our passion is to do the best we can do, to find the best house at the best price, to find the best-qualified buyer for your home, to negotiate the best terms, to help our clients reach the best decisions, making the best possible investment. We're not about doing deals, we're about forging relationships. We want for you, as our client, to be so delighted by our efforts that you cannot conceive of working with another Realtor.
Above all, we are about family – yours and ours. And while we might be a small business, there is nothing small – or small-time or small-minded – in the way we do business. We want to be your Realtor for life. We will do everything we can to make that happen.
Who is whom?

Greg Swann, ABR, CBR, CRS, E-Pro, GRI, is a Realtor and the Designated Broker for BloodhoundRealty.com. He is an Accredited Buyer's Representative, a Certified Buyer's Representative, a Certified Residential Specialist, an E-Pro Internet Certified Realtor and a Graduate of the Realtor Institute. He speaks frequently on real estate issues and writes a weekly column for West Valley sections of the Arizona Republic. Greg spent many years in hi-tech print and direct-mail advertising production and web-site development before becoming a Realtor. He is a mumbling Latinist, a stumbling applications programmer and a bumbling poet.

Cathleen Collins, GRI, in addition to being a first-rate Realtor, is our transaction coordinator. She keeps the schedules and verifies the details, making sure that transactions close when and as planned. She holds the Graduate of the Realtor Institute designation and is working toward the Certified Residential Specialist and Accredited Buyer's Representative designations. Cathleen's first career was in financial technology, putting Bloodhound at the technical cutting edge. She devotes most of her spare time and all of her spare money to rescuing unwanted animals – including our Spokesmodel, Odysseus.

Our son Cameron Swann is our programmer. Working primarily in the PHP programming language, his software produces many of the web pages a site like this requires. Cameron is a full-time student, an incipient Saint Mary's Knight.

Odysseus the Spokesmodel is the Bloodhound behind BloodhoudRealty.com. He is the model for our advertising, but also the model for our behavior: Devoted. Dedicated. Determined. He is one of thirteen adopted animals in our home, but he's the only one who pays his own way. Click here for a Glamour Shot of Odysseus the Spokesmodel.
Our valued partners
A real estate transaction is a complicated process drawing upon the talents of many dedicated professionals. While the choice of whom to employ is always yours, these are some people we have had great success working with in the past:
Mortgage lender:
Logan Hall
SallieMae Home Loans
602-445-0391
Escrow agent and title insurer:
Fidelity National Title Insurance
602-346-3500
Home warranty insurer:
Jennifer Brown
Old Republic Home Warranty
800-445-6999 x1264
Home inspector:
Mike Elsberry
Premier Inspectors of America
480-922-9002
Wood inspector:
Mark Deermer
Pest Control Solutions
480-963-2077
What does it all mean?
We're not a one-man band. Inside BloodhoundRealty.com, Greg Swann and Cathleen Collins bring a broad array of business and technical skills to the table, along with years of practical business experience. Our Partners add their talents – and we only work with the most talented professionals. Together we form a team committed to excellence. Devoted to perfect performance. Dedicated to your interests. Determined to succeed. Absolutely everything we do is devised to exceed the standards that have obtained, until now, in the real estate industry. With every atom of everything we produce, we seek to convey that we are not the same old thing. It is not just our goal, it is our plan and intention to be your Realtor for life...
Ready to get started right now?
You can make an appointment to meet in your home or our offices. Or you can request a Comparative Market Analysis of your home's value. You can fill out our detailed questionnaire to find your ideal new home. Or you can just pick up the phone and dial 602-740-7531. (Outside of Arizona? Dial 1-800-508-5430.) Either way, we're at your command, devoutly loyal, smart, frisky and eager to please...

Selling | Buying | Investing | Relocation | Current listings | About us
Find your ideal new home | Get a Market Analysis of your home
Search MLS listings | Make an appointment | Our offices
Tell your friends about us | Email Bloodhound | Home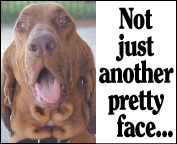 Put a Bloodhound Realtor
on the trail right now:

Outside of Arizona?
Dial 1-800-508-5430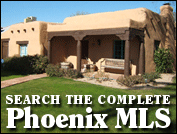 Hassle-free search of the complete Phoenix-area MLS system

Metro Phoenix/Scottsdale, AZ
Saturday, December 16, 2017

Success Stories...
"The world of real estate is changing rapidly, and no one pushes for postivie consumer-centric changes harder than BloodhoundRealty.com. Don't believe me? Take this quote from their blog:
"Like all Bloodhounds, we are smart, frisky and fiercely independent. We are committed to an idea of excellence that will flush the bums, the con-men and the crybabies out of the real estate industry. If you yearn to have your failures excused, your moral lapses absolved or your boo-boos kissed, seek elsewhere. But if you are sick to death of mediocrity -- welcome home."
Greg and Cathy push Realtors on a national level, but they put their best practices to use in their own backyard, right where their clients can benefit the most." – Teri L
"When I first met Greg Swann, he was helping a friend of mine find a house in the Phoenix area. During the weekend they were looking, I found a situation on my own with another company that was pitching a rent-to-own scenario. I wasn't comfortable enough with the situation to know if I was being told the truth, or was I getting a scam. That afternoon, when Greg returned with my friend, I told him as much about it as I could, hoping that he would answer my questions. Instead of just answering my questions, Greg accompanied me back to the agent I had spoken to, and proceeded to start asking questions so fast that I got lost in the details of the conversation. After we left, Greg explained what he was able to ferret out from the other agent and then gave me a few suggestions and recommendations to point me in the right direction. During this entire time Greg never asked to be paid for his time or expertise, and would not even let me buy him a cup of coffee.
Before the weekend was over, Greg had helped my friend make an offer on a house they had looked at. It was then I decided to enlist Greg's help once again, only this time I asked him to represent me as well. That evening with Greg acting on my behalf, we were able to make an offer of our own to the other agent, which a few hours later was accepted. Without Greg's help neither of these transactions would have occurred or have been possible.
But the story doesn't end there...
Greg helped set up the necessary inspections, assisted with the paperwork, helped place the financing, was always diligent and attentive to my needs, and was willing to go the extra mile with a smile. He made everything seem easy.
I thank him for his efforts and cannot say enough about his attitude and professionalism. I have recommended Greg to other members of my family, whom he has taken care of as he did me, and I continue to recommend him to anyone that has a need for an agent or needs any help in the real estate business." – John R
"Fantastic! I see that once again you have missed no details. Carola and I thank you for the excellent job you did for us. Everyone I spoke to about how you facilitated this whole house-buying process was just as impressed with your thoroughness and dependability as I was. My conversations with relatives in Arizona who have recently bought homes made it really clear that this level of service and competence is outstanding; well beyond the norm. People are just amazed by the fact that we could initiate this from Germany, come to Arizona for a week one month later and go away with the house deal basically in the bag. You delivered exactly what we wanted." – Mike M.

Click here for more testimonials
or submit your own success story.

Our Valued Partners
Mortgage lender:
Logan Hall
Sallie Mae Home Loans
Title insurer:
Fidelity National Title Insurance
Home warranty insurer:
Old Republic Home Warranty
Home inspector:
Premier Inspectors of America
Wood inspector:
Pest Control Solutions

Visit Our Real Estate Newsletter
News and views about the
booming Phoenix residential
real estate market

Homeowner's Library
Buyer Tips
How much home can
you afford to purchase?
Great Schools.net ~ Free online guide to K-12 schools
Arizona Association of Realtors Home Buyer's Advisory
100 Questions and Answers About Buying a New Home
Seller Tips
Home seller's Guide to Success
Tenant Tips
Financing
Regulatory Resources
Arizona Department of Environmental Quality
Arizona Department of Real Estate (ADRE)
Environmental Protection Agency ~ Mold Resources
Home Inspector Info: ASHI/NAHI
Structural Pest Control Commission (SPCC)
US Department of Housing and Urban Development (HUD)
Fair Housing
HUD's Fair Housing/Equal Opportunity Web Page
National Fair Housing Advocate
Homeowners' Associations