Archive for February, 2011
Everything we do as Realtors is informed by two simple ideas:
We want to do everything we would want done for us if we were the buyer or seller, not the agent.
We want never to do the things we hate when we see other agents doing them.
That's a pretty simple ethic, a hard target to miss. And it is the philosophy we will deploy as we enter the property management business.
Despite many requests from our investors over the years, we've avoided doing this, primarily because we have never liked the way that other companies handle property management. Real estate is an active pursuit, best undertaken out in the world, where property managers have always seemed to me to be much too interested in working office hours and taking weekends and holidays off.
But that creates a market niche, doesn't it?
We bring years of careful thinking to our representation of suburban Phoenix rental home investors. We go to great pains to find the right houses in the right neighborhoods, homes that will rent easily and stay rented to premium tenants, and then we prepare those homes to make sure they will be appealing to those tenants. I don't blow smoke up anyone's nose, and I don't let the investors I work with make profit-killing mistakes. We have gotten so good at this, over the years, that the homes we are involved in routinely command the highest tier of rents, among comparable properties, attracting their first tenants in less than twenty days on market.
And we want to bring that same level of commitment to the property management business. We know what we don't like, in the way this business has been done until now in metropolitan Phoenix, and we know what we would want done, if we were the landlords or the tenants. So now we're going to put our philosophy to the test, to see if we can't reinvent property management, just as we have reinvented investor representation.
We're starting with one house, a four-bedroom ranch home in Avondale's Coldwater Springs. We represented the buyer in the purchase of the home, and we got it at a deeply discounted price, because no one else wanted it.
Handyman of Phoenix Mark Deermer whipped the home into shape, and we were able to put in on the MLS system just a week after we had closed escrow.
Do you want to take a moment to sharpen your pencil? The home was leased for two years at full price in twelve days on market. We got $1,050 per month in rent, even though there are two competing homes in Coldwater Springs in that exact same floorplan languishing on the market at $995 and $895 a month. We had our choice of applicants, and the house was showing so much I took the lockbox off once we signed the lease.
Your mileage may vary, of course. Every house is unique, and no one hits a home-run every time at bat. But we've always been able to select and prepare houses that rent well and stay rented, and we are confident that we can apply the same kind of intelligence and diligence to the job of keeping our tenants happy and our landlords profitable.
Even so, this is a work-in-progress, and we're boot-strapping the business, rather than trying to take on hundreds of properties all at once. But the systems we're putting in place will be unprecedented in the Phoenix real estate market. As an example, every landlord and every tenant will have a page on our computer system. Tenants can log-on to post maintenance requests — or to pay their rent electronically. Landlords can check into the system to see an up-to-the-minute accounting of their funds. Every dollar of inflow and outflow will be accounted for on-line, with instantaneous posting. No more waiting to find out where your money is. No more float games with your proceeds.
There's more — and more to come. You can see our Property Management Agreement by clicking this link. We'll be working with the court-tested Arizona Association of Realtors Rental Lease, modifying its terms with our custom Lease Addendum, which you can review by clicking this link. The bottom line is, we're going to do property management the way it's never been done in greater Phoenix — happy landlords, happy tenants, happy neighbors.
I would love to talk to you more about this. We can discuss taking on the management of your existing rental properties, when their current management contracts come up for renewal. Better yet, we can go out shopping for suburban Phoenix rental homes and put them under Bloodhound Realty's management from the first tenant. If you want to explore your opportunities, contact me by email or give me a call at 602-740-7531.
No comments
…with Phoenix being the most beautiful and the most affordable, of course.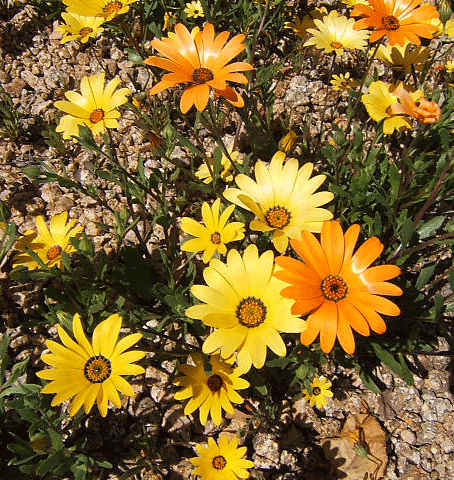 If you're snowed in, stuck at home with nothing to do but surf the internet, the movie linked below will show you a better way of living…
Distinctive Phoenix, The Movie
[ 38:05 ]
Play in Popup
|
Download
No comments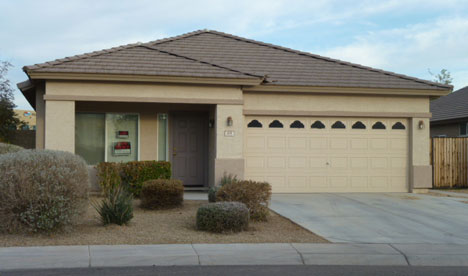 That's a nice looking home, isn't it? It's in Coldwater Springs in Avondale, Arizona, one of my favorite subdivisions in one of my favorite suburbs of Phoenix. I have sold many homes in Coldwater Springs, both to owner-occupants and to rental home investors, always with happy results.
So what's wrong with this wannabe rental home? A lot, as it turns out.
For one thing, the home is facing straight west. The entire front of the house is going to get blasted by the brutal desert sun all summer long. That means much higher air conditioning bills. Tenants can glower at their bills just as well as homeowners. The result is that west-facing homes in Coldwater Springs sit vacant an average of 21 days longer than comparable north- or south-facing homes. That's three extra weeks on market — if you're lucky — every time the house goes vacant. Money talks: Call it a $750 loss in real cash money every time the home has to find a new tenant.
That's a bad mistake on the investor's part, but here's a worse one: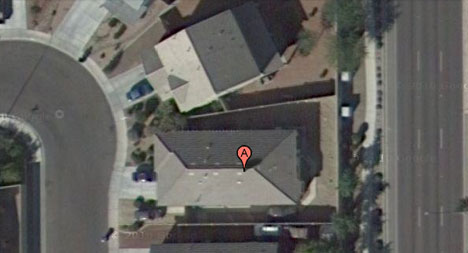 Yes, that's a major thoroughfare right behind the home. The house will always suffer from traffic noise — but never quite so much as when potential tenants are rejecting the home and moving on to the next candidate on their shopping list.
It gets worse. The house is oriented toward the corner in such a way that anyone heading south at night will flash their headlights right in the living room window. Dozens of times a night, every night. Tenants may learn to ignore the traffic noise, but they're never going to learn to love having headlights in their home all the time.
There's more. Check this out: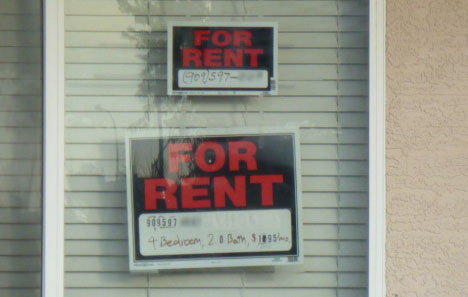 At $1,095 a month, this rental home is overpriced, but not by a huge amount. Facing north, without the headlights and traffic noise, it would be worth around $1,050 a month. Discounting for the truly awful location, it's going to rent for less — maybe $975 if the landlord gets very lucky.
So what's the benefit of pricing this house at least $120 a month over the rent it can reasonably be expected to earn? No pesky phone calls — to the landlord's phone in Riverside County, California. The "marketing strategy" of posting two hardware-store signs in the window is just the icing on the cake.
Just think! Tenants can over-pay on the rent in order to have a home in a poor location. They can suffer traffic noise and headlights in the living room all night. They can pay at least $1,000 more a year in air conditioning costs. And they can deal with a remote-control landlord who, to all appearances, is committed to demonstrating in his every decision that he can't get anything right. Why would they ever even consider renting another home instead?
In real life, the only tenants who will apply to lease this home will be the folks who have been turned down by every other landlord they have approached. All of the premium tenants — good jobs, good credit, good rental history — will be living in premium homes, while the tenants who land in this home could easily be slow-pay — or no-pay — candidates for forcible eviction. And remember, this home will cost an extra $750 in vacant days, on average, every time it goes vacant.
All of the identifying details about this property have been obscured to avoid humiliating the guilty party. But this exercise is a slam-dunk demonstration of the reasons why rental home investors need representation — expert representation.
I'm a salesman, that's a fact. I make my money selling houses. But I don't ever sell the wrong house, and I don't ever let my investors make even minor errors, much less boneheaded mistakes like these. I have lots of ideas about how to make money investing in rental homes in the suburbs of Phoenix. If you would like to explore every idea I have for getting things right — buying the right house in the right location and then marketing that home to premium tenants, all at very substantial annual cash-on-cash returns — drop me an email or give me a call at 602-740-7531.
1 comment