The Bloodhound way of listing: Five unique strategies we deploy to sell your Phoenix-area home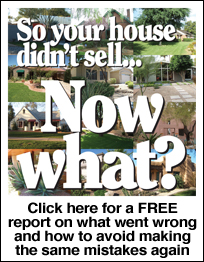 Here's the thing: We strive to be excellent real estate listing agents. But there's more to it than that. We want to be so good at listing real estate that no one can compete with us. The idea of selling "by-owner" pales in the light of what we do, but we want to be so effective, and so thorough, that not even our fellow Phoenix-area Realtors will be able to compete against us.
Before we get to the list of five strategies, there are a couple of lists of three to consider. First, a successful listing praxis consists of three parts: Contracting with the seller, marketing the home and servicing the transaction. We'll be addressing marketing tactics below, but our first job is to come to a complete meeting of the minds with the seller. We can only sell the houses that will sell — and whose owners are willing to sell — so we work hard to make sure we're all on the same page.
Second, contracting a real estate listing actually entails three sales. We work very hard to sell the house with our marketing, but, before we can do that, we have to sell the sellers on working our way. And, as an ancillary consequence of working our way, we are going to sell a certain portion of the neighbors on working our way in the future. We don't use our listings to market ourselves as listers. But the very things we do to draw attention to our listings tend to draw attention to us as listing Realtors. A pervasive attitude among the general public is that listing agents don't do very much to earn their commissions. Whether or not this impression is justified, our outsized efforts attract the notice of homeowners who are paying attention to the work we do and the results we achieve.
So what is that work? There are dozens of things we do — some large, some small, some common, some unique — but we're going to talk about five things we do that no one does, five killer tactics that sell our houses, in turn selling future sellers on our value as listing agents.
Why are we willing to share these ideas? Wouldn't it be better to hoard them as secret strategies? Actually, no battle plan survives contact with the enemy: Everything we're doing is inescapably evident to the senses. There is nothing that prevents our competition from reverse engineering our marketing, whether or not we choose to talk about it. But, guess what? They don't. Either our philosophy seems too odd to them, or our practices seem like too much work, but it remains that no one does the kinds of things we do to promote our listings.
Such as what, exactly?
Here's the fun part of working this way: The accumulated work product for a listing this intense might be five or six gigabytes of data. The web site alone will run to 100 megabytes. Why don't other Realtors compete with us to provide this kind of value to sellers? Doing these things takes a lot of work, a lot of time, a lot of knowledge, a lot of hardware and software. More than that, though, you have to believe in the efficacy of the approach — and you have to be efficient at and undaunted by huge tasks. We are pretty confident that no other Realtors in our market will try to compete against us by doing any of these things. But, if they ever do, by the time they get around to copying these ideas, we will be doing vastly different things. We want to sell houses, but we want to sell houses at an incomparable level of skill, moving — incrementally, to be sure, but by every means we can conceive — toward abstract perfection. There is more to listing a home than marketing, but we want to perfect our praxis at absolutely everything we do.
Every time we hit the ball out of the park, we make new converts to our way of thinking, and homeowners come to us pre-sold not just on us as listers but on the ideas we've discussed here. We tell everyone everything, just as we're doing right now, so the people who are paying attention in the neighborhoods we work in know exactly what we're doing. The Realtors don't get it, but the sellers all understand.
How about you? We're going to talk more about the kinds of work we do to list a home for sale, but the five points we've covered so far ought to be enough to earn us an appointment to talk about your unique situaiton. Give us a call at 602-740-7531 and we'll get together to discuss selling your home. (Outside of Arizona? Dial 1-800-508-5430.)
Selling your Phoenix-area home: A perfectible praxis…
Take a look at this web site.
This is the site we built for a house we recently listed in the F.Q. Story historic district of Phoenix. It happens that the home was owned by one our favorite clients, but that's beside the point: This is the work product we deliver for all of our full-service listings. We love working with buyers, but it is in listing that our real estate practice can become a praxis, a perfectible process, steadily more effective. We're already doing far more than our competitors, and we are barely begun exploring what more can be done.
How did we do? The house sold in four days, where competing listings are languishing for months.
This is about added-value. When you sell your Phoenix or Scottsdale-area home, you will spend an enormous amount of money as marketing expense–the sales commission. It only seems reasonable that you should get a marketing effort for that money. We want to market listings more completely than the Real Estate industry has ever done this before. Not just a sign, a listing and a prayer, but a complete marketing campaign built around the unique benefits of your home.
So we start with a custom web site just for your house. It will feature a vast array of photos of the home, plus a virtual tour, the complete MLS listing and an Adobe Acrobat PDF version of the full-color flyer for the home.
The web site is cited everywhere in the marketing campaign: In the MLS listing, on the flyer, on the yard signs at the house.
You can find out more about our yard signs here. We're bigger by a lot, but we're better by an entire marketing philosophy–something that has never been done with Real Estate signs before.
Hanging from the yard signs will be a third sign telling you the sales price of the home in no uncertain terms, along with Open House information and, yes, the address of the web site for the house. Real Estate has always been a business of secrets–"I have access to information that you can't have without paying me first"–but our practice is to be completely transparent. We're not going to play games with the biggest financial transactions in your life.
Also hanging from the sign post will be a flyer box, filled with full-color flyers. As with our signs, we're expressing a brand new philosophy with our flyers, and with our descriptive text generally. Ordinarily, Real Estate copy is all about features. Step by step, house by house, we are giving birth to a style of copy that is all about benefits–not the what but the who and the how. The listing will answer the questions about features, but if the descriptive text does not help buyers find their lives in your home, then we have failed as marketers.
There's more. We buy a home warranty to take away any fear buyers may have about wear and tear. We market heavily on the internet, since this is where the vast majority of buyers are found in today's Real Estate market. We even promote our listings when we promote our business: We're doing it right now!
Marketing is not advertising. Marketing is doing absolutely everything necessary to bring a transaction to fruition, to bring the proceeds to the seller. Everything we do is about successful marketing. We've even developed software to help you weigh multiple offers, to determine which one best serves all of your objectives. And of course, we'll stay on top of all the details through the escrow process so you don't have to.
The point of all this is this: We are excellent listers. If you have a home in the Phoenix/Scottsdale-area and you're ready to sell, we're eager to sell for you. If you know someone who needs to sell a home, we would be delighted to compete for the business. We think about every little last thing we do, and we never stop thinking about how to improve our marketing. The results we produce are simply better, in strict bottom-line terms. Better than the discounters. Better than the Big Names. Ultimately, as we perfect out praxis, better than anyone, ever.
Not just another pretty face…
What do you want from a Realtor? A pretty picture? Pretty clothes? A big, fancy car? Some Realtors must think that's what you want, since that's the information they convey in their advertising and on their web pages. At BloodhoundRealty.com, we subscribe to the radical idea that what you really want from a Realtor is for your home to be sold — at your price and on your timetable. Everything we do is devoted to drawing attention to your home — not to our pretty pictures. When you make a listing appointment or request a Comparative Market Analysis of your home's value, we'll discuss all the ways we've discovered of driving qualified traffic to our listings.
No pretty pictures. No fancy cars. No big promises followed by a six-month vanishing act. Just what you really want from a Realtor — your home sold at your price on your schedule. Give us a call at 602-740-7531 and together we'll work out a unique marketing strategy for selling your home. (Outside of Arizona? Dial 1-800-508-5430.)
Real tools, real tactics, real results…
The real estate business is rife with little secrets — and we will happily divulge them all. Here's one no one wants you to know: Transferring ownership of real estate in Arizona is not difficult, it's just complicated. You don't need a Realtor in the way that you need a surgeon — someone to do for you what you could not do for yourself even if you had his decades of schooling. You need a Realtor in the way you need an auto mechanic or a computer programmer — someone who does for you things you could do for yourself, if you had the time, the knowledge, the resources and the experience. Realtors are not magicians, reciting mystical incantations they have sworn to keep secret from you. We are simply specialists at effecting real estate transactions. We can't do your job as well as you do it. And you can't sell your house or buy another by yourself as easily and painlessly as you will with us. So that little secret goes up in smoke.
Here's another one: Newspaper and magazine advertisements featuring listed homes generally do not sell those homes. Most resale homes are sold by cooperating buyer's agents, not by the listing agent. The most potent advertising medium in real estate is not the newspaper, not the freebie magazine at the supermarket. The most powerful advertising tool in real estate is the Multiple Listing Service. That's where buyer's agents go to search for homes that meet their clients' needs, and that's where they will discover your home. When a listing agent 'features' your home in his printed advertising — with a thumbnail-sized photo and a forty word description — he is not selling your house. He is selling himself. The purpose of those chock-full-o'-listings ads is to generate calls from potential buyers and sellers. If your house just happens to match the needs of one of the buyers, so much the better. But that would be nothing more than a happy accident. The ad is not intended to sell your house. It's intended to sell your listing agent.
So why don't we get real instead? What really works? What really drives qualified traffic to your home? To your home, not just any home. We have a lot of great tools for making your home more attractive to buyers — a free web site, a free virtual tour, a free home warranty — but the most important thing we can do to sell your home is to generate interest in your particular home. Not in your house and eleven others — indiscernible from the picture and with none of its best features detailed. We're looking for your buyer — not our next client. We know that we can keep our clients for life — by delivering on our promises.
When you entrust us with the marketing of your home, these are our objectives:
To get as many qualified buyers as possible into your home until it is sold.
To communicate the results of our activities to you continuously.
To assist you in getting the highest possible dollar value for your property with the least number of problems.
To constantly look for the best possible methods of exposing your property to potential buyers in the market.
We'll go into even greater depth in a moment, but first consider this question: Having read this far, have you come to the conclusion that we know a little something about markeing? If so, why don't you make a listing appointment so we can talk about the unique marketing strategy we will deploy on your unique home?
Why not just sell it yourself?
The fact is that most For-Sale-By-Owner homes do not sell until they are listed by a Realtor. Selling a home, especially for the maximum attainable return, requires a full-time, professional marketing effort. But there is an even better reason than this to let BloodhoundRealty.com sell your home: Legal exposure. The Arizona Association of Realtors Residential Purchase Contract is carefully designed to balance the interests of sellers and buyers equally. It is based on court-tested principles of law, to minimize your risk of lawsuit. And consider the Lead Paint Disclosure form, mandated by the Federal Environmental Protection Agency. If you make mistakes filling out this form, you can be fined $11,000 — per error. Selling your home with a Realtor costs money, that's true. But selling your home without the expert advice we provide can cost a whole lot more. The best news is, you pay nothing for our services or those of any Buyer's Broker until your home is sold and escrow is closed.
A free home warranty takes away the buyer's fear — and yours…
When we list your home, together we become a combined marketing team. A big part of the staging of your home is your responsibility, of course: Keeping things super clean and clearing out of the house when buyers are coming. But selling is about overcoming objections, and one of the biggest stumbling blocks in selling a resale home is the buyer's fear of costly repairs. That's why we provide a free home warranty with all of our full service listings. The warranty covers you during the listing period, and then it extends a full year of coverage for the buyer. What's more, if you buy your next home with us, we'll provide a free one-year home warranty for that house as well. Both you and your current home's buyer can rest easy, knowing that your investment is protected.
Marketing homes in the age of the internet…
The internet is revolutionizing the home shopping process. Technically adept people shop for homes just the way they shop for everything else: By going to the internet first, to see what's out there. That gives a huge advantage to sellers who work with technically savvy Realtors like BloodhoundRealty.com. Every Realtor will give you a sign in your front yard and a lockbox. And an MLS listing, of course, since he knows that your home is most likely to be sold by a buyer's agent. Most Realtors will also prepare a flyer for the home, and, if you're lucky, it might even be attractive and informative. You might even get a virtual tour. The unanswered question is: Will any of this be available to internet users shopping from home?
We build a full-blown web site for each of our full service listings. Not just a photo and an address, but a full marketing presentation: Digital photos, a printable flyer, the complete virtual tour, all the listing details, along with every benefit your home offers to buyers, all presented professionally and persuasively. And each of our full service listings is promoted in the national home search databases — with the photos, with the virtual tour. You can tell by looking at this web site that we know how to sell to internet shoppers. We can sell your home to internet buyers just as well…
A sign of success…
We think in depth about every little last thing we do. Our belief is that too much Realtor marketing is money-see, monkey-do: Every random Realtor imitating every other random Realtor because none of them have thought about what it is they actually hope to achieve. We don't work that way. We want to do the jobs we promise to do. And we want to make sure that the tools we deploy to do those jobs actually work. Our yard sign is an example of the depth of thought we bring to the real estate marketing problem.
Where other Realtors post what amounts to a prayer that people will notice your house — a prayer that instantly absolves them for forgetting all about it — our sign very aggressively demands that passersby stop, look at, learn about and buy your house. How? Find out by reading the marketing philosophy we used to design our signs. This white paper not only explains our thinking in detail, but shows you the actual sign we will post in your yard.
(You'll need the Adobe Acrobat Reader, which you can download and install by following the instructions from the link above, if you don't already have it.)
Nothing draws a crowd like a crowd, and nothing sells a house faster than competition among multiple buyers. The Bloodhound sign is just one way we have of generating crowds interested in buying your home. To learn more of our in-depth thinking about home marketing, make a listing appointment or request a Comparative Market Analysis of your home's value. Our sign is a sign of our success, but our success is a sign of the value of our thinking.
The leverage of brains…
For now, at least, the Phoenix/Scottsdale-area real estate market is red hot. If one of our listings is priced right and presented right, it can generate multiple offers, better-than-full-price offers, so many offers it makes your head swim. Because of this, on top of all of our other great marketing ideas, we've developed custom software that gives you an at-a-glance, side-by-side, apples-to-apples comparison of your offers, so that you can pick the best one in complete confidence. We'll bring you more buyers — more-motivated, better-qualified buyers. And our custom software will show you which offer will work best for you.
Still not convinced?
Take a moment to request a Comparative Market Analysis of your home's value. There's no cost to you, no risk or obligation. When we talk about the price we can get for you home, you can grill us about every last detail of our marketing programs. We're tough dogs. We can bear up to the pressure. After all, we're not just another pretty face…
Ready to get started right now?
You can make an appointment to meet in your home or our offices. Or you can request a Comparative Market Analysis of your home's value. You can fill out our detailed questionnaire to find your ideal new home. Or you can just pick up the phone and dial 602-740-7531. (Outside of Arizona? Dial 1-800-508-5430.) Either way, we're at your command, devoutly loyal, smart, frisky and eager to please…

Selling | Buying | Investing | Relocation | Current listings | About us
Find your ideal new home | Get a Market Analysis of your home
Search MLS listings | Make an appointment | Our offices
Tell your friends about us | Email Bloodhound | Home
Comments are off for this post