Oct. 6, 2006: The Greater Phoenix real estate market is slow, but it's not on life support
The nationally reported real estate news is dire, of course -- bad news trumps good news.
The locally reported real estate news is largely defined by year-over-year comparisons, which tends to make things look worse than they really are. Is our market in excellent shape? Far from it. But neither should it be put on life support.
For the kinds of homes common on the west side of the Valley, September was a repeat of August, itself a repeat of July. Prices flat, sales slow but not awful, discounting moderate. Days on market is climbing, but available inventories of newer suburban homes are declining. (You can read more about these results at bloodhoundrealty.com/MarketBasket.php.)
But as interesting as those results are -- and as promising for the recovery of our market -- they speak only of sold homes. What about the homes that are not selling?
I'm looking at houses right now for an investor. He picked out one he was interested in, and, as a matter of course, I searched every similar listing in that subdivision -- active, pending and sold -- going back to May.
I found 10 active listings with that floor plan in that subdivision. This is as close as you can get to identical comps, like little plastic Monopoly houses, each one the twin of the next.
All of them were built between 2002 and 2004, all by the same builder, of course. All upgraded to some degree, none to the ultimate degree. No premium lots, no view lots, no pools.
What's the spread of prices for these nearly identical homes? They run from $245,000 to $360,000, a difference of $115,000.
Which ones will sell?
The best-kept houses at the low end of the price spectrum will sell. The others will not. They won't even be shown.
The nature of this market is that people are still seeking prices for their homes that would have been outrageous a year ago, as we neared the end of our housing boom. Whatever they might say, these people are not motivated to sell their homes right now.
---
Greg Swann is the designated broker for BloodhoundRealty.com, a full-service Metropolitan Phoenix real estate brokerage. This article originally appeared in the West Valley regional sections of the Arizona Republic.
Spread the word: Click here for a printer-ready version of this column.
Or: Steal this book: I've written over 200 of these real estate columns. They are consistently one of the most popular features on our blogs. Many of them are dated and/or entirely Phoenixocentric. But many others are timeless and generic. If you want to use any of my columns on your weblog or web site, feel free. Three rules: Don't change my text, credit me as the author and give me a link back to http://www.bloodhoundrealty.com/ with appropriate anchor text. Something like this, perhaps:
<a href="http://www.bloodhoundrealty.com/" target="_blank">
Phoenix Realtor Greg Swann</a> suggested I share this with you:
Am I link-baiting? You bet. The
quid pro quo
is free content for your site that pulls eyeballs and excites interest.

About BloodhoundRealty.com: Who we are and how we work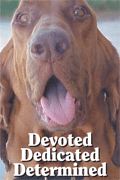 Why do we deliver so much more value for our clients? For one thing, it's a great strategy for marketing our real estate brokerage. But even before that, we love selling real estate, and we want to do the best job we can for our clients.
BloodhoundRealty.com is a boutique real estate brokerage working in Phoenix, Scottsdale, Paradise Valley and the Phoenix suburbs
. We would love to help you
buy a home in Metropolitan Phoenix
or to
sell the Paradise Valley home you already own
. If you're
relocating to Scottsdale
, we'll show you some hi-tech tactics we've discovered to save you time and money. And if your goal is to
invest in Phoenix-area rental homes
, we've helped dozens of investors realize their financial goals.
We work a
lot
harder than the agents we compete against. As an example, take a look at
everything we do to list historic, architecturally-distinctive and mid-century modern luxury homes for sale
.
No one
does the kinds of things we do, and we're just as detail-oriented -- and exuberant! -- when we work with buyers. Day by day, task by task, home by home, we want to get as close as we can to
perfect
performance as Realtors -- a virtual virtuosity in real estate representation.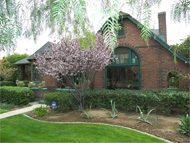 We write, too -- could you have guessed?
BloodhoundRealty.com is our main Phoenix real estate weblog
, but we also publish
Distinctive Phoenix, which is devoted to historic and architecturally-distinctive homes in Central and North Central Phoenix
, and
Distinctive Paradise Valley Homes, which is focused on the incomparable luxury real estate to be found in Paradise Valley
. Our most famous weblog, though, is
BloodhoundBlog, our nationally-focused real estate industry, marketing and technology blog
-- which puts us in the vanguard of hi-tech real estate brokerage.
But that's all just credentials. We're thoroughgoing Realtors, contemplative Realtors, innovative Realtors,
very
hard-working Realtors. We're definitely hi-tech Realtors, and the internet, surely, is the second best tool a Realtor can deploy -- and we use the internet better than
any
of our competitors. But the best tool -- always -- is integrity, and without integrity there is nothing.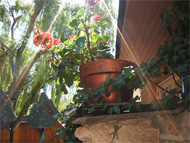 We believe in clear, detailed,
complete
communication. Where other Realtors might hope to dazzle you with pretty pictures, we bend over backward to tell you the whole, unvarnished truth about real estate transactions -- how they succeed and why they sometimes fail. It can be a comfort, at times, to 'leave it to the experts.' But real estate decisions can have very costly, life-long consequences. If you want to know every detail about your transaction, we want to share them with you.
Our passion is to do the best we can do, to find the best house at the best price, to find the best-qualified buyer for your home, to negotiate the best terms, to help our clients reach the best decisions, making the best possible investment. We're not about doing deals, we're about forging relationships. We want for you, as our client, to be so delighted by our efforts that you could not
conceive
of working with another Realtor.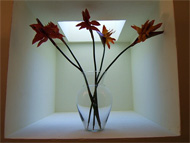 Above all, we are about family -- yours and ours. And while we might be a small business, there is nothing small -- or small-time or small-minded -- in the way we
do
business. We want to be your Realtor
for life
. We will do everything we can to make that happen.
Want to find out more?
Please do!
You can visit our main Phoenix real estate web site at BloodhoundRealty.com
or you can pick up the phone and dial
602-740-7531
. (Outside of Arizona? Dial 1-800-508-5430.)
Either way, we're proud Bloodhounds at your command -- devoutly loyal, smart, frisky and eager to please...
Our Current Listings
These are the homes we currently have listed for sale:
Ack! Our cupboard is bare!
Our listings sell faster and for more money than homes listed by other Realtors. Why? Because we market our homes. We use the time-tested strategies used to sell cars, vacations, jewelry and cosmetics to make our houses irresistible to buyers. Want to know more about how we can help you get the best possible results for your home? Call Cathleen Collins at 602-369-9275 to set up a listing appointment.
You don't need for your home to be LISTED for sale. You need it SOLD!
Click through to discover the marketing tools, tactics and techniques we deploy to sell our homes – strategies none of our competitors use. Our results? Our listings sell at the top tier of prices among comparable homes. Days on market? An average of 43. Our quickest sale was 3 days, our longest 65 days. This is the toughest market for sellers since the Great Depression, but we can't hang onto a listing. Click here to find out why.
Some of our favorite past listings
These are some of our favorites among the many homes we've listed for sale in the past:
Luxury, elegance, simplicty... 2001 East Marshall Ave, Phoenix, AZ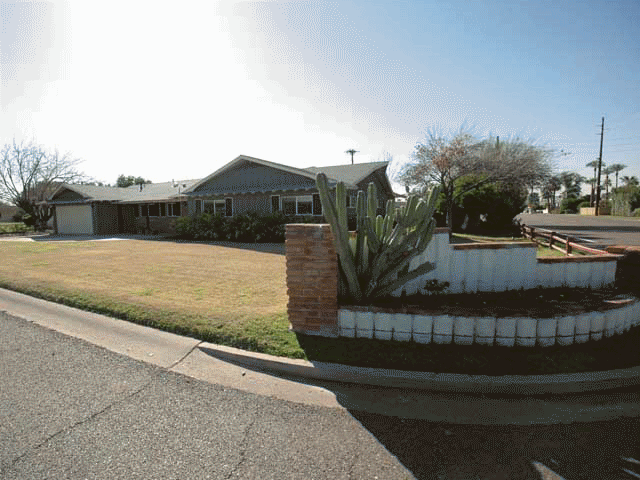 True luxury, true elegance is not a vast accumulation of shiny trinkets, a mass of dazzling distractions. The artifacts of genuine wealth are streamlined, refined, stripped down to the essence. Simple. Unaffected. The best expression of your limit-less lifestyle is a home that serves as the jewelry box for the precious treasure that is your family...
Click here for list price, interactive floorplan and more information.
Straight to the top! Welcome to 1946 East Vista Drive, your practical executive home in the exclusive Lookout Mountainside community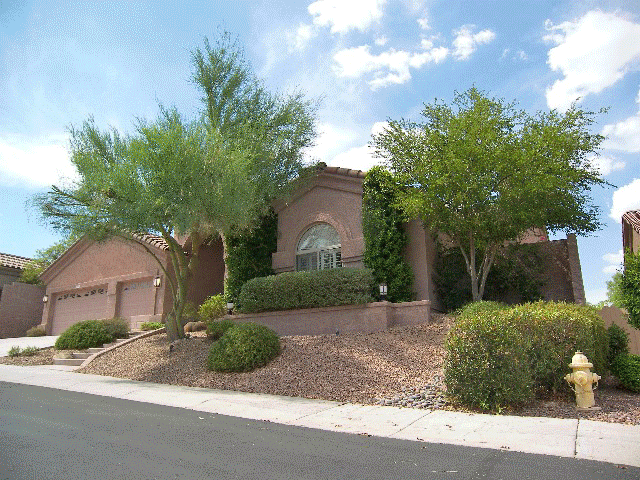 You bearded the lions a long time ago. Slayed the dragon. Wooed the princess. You set a course and sailed, you followed your sword into battle, you blazed a trail where no one before you had ever gone. You barged your way into the workplace a long time ago, fully confident that there was a world there to be won. This home is that world, both the reward for your efforts and a symbol of your success. You have quite literally shot straight to the top – in all those hours and weeks and years when you were too busy working to notice. What have you been working for, really, if it's not the style of life a home like this confers upon you? This is a trophy of your success. Home and hearth, kith and kin – a fitting place for an intimate family dinner or a stately dinner party. A home small enough to envelope and blanket you, large enough to entertain all your guests, regal enough to speak in silent awe of your enterprise, your thoughtfulness and your understated good taste.
Click here for list price, interactive floorplan and more information.
Welcome home... to 56 West Willetta Street, Phoenix, AZ 85003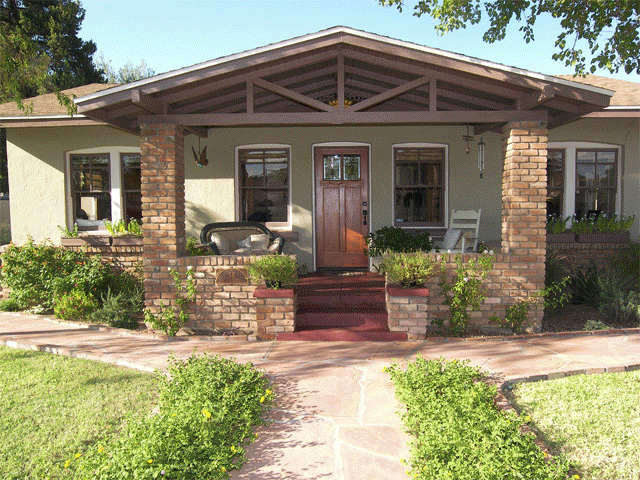 This is a Phoenix that time forgot. A roomy, luxurious 1920 Craftsman bungalow on a lot-and-a-half in the Roosevelt Historical District. A quiet, tree-lined street. A shady porch. A stately hearth. A heated pool and spa. Inside you'll find a gourmet kitchen and a huge master suite with a jacuzzi in the master bath. And yet the home has kept its historical integrity. Beautiful maple hardwood floors, double hung windows, all with Craftsman attention to detail. And a beautiful, professionally-landscaped yard. Are you exiled in some vast suburb, lost in a sea of sameness? No, you're right in the heart of town! Your home is a unique gem set in a bucolic splendor - and yet you're just a few steps away from the library, the art museum, the light rail. A simpler, better life awaits you here. Make this unrepeatable home your own today…
Click here for more information.
Welcome home... to 1322 East Vermont Avenue, Phoenix, AZ 85014


Welcome home. Mid-way between Phoenix the dusty railroad town and Phoenix the vast paved suburb there was a lush oasis in the midst of the desert. Mid-century homes in the middle of town, with cool, quiet tree-lined streets and shady front porches where neighbors could get together over iced-tea. A Phoenix where children attended excellent schools and played together in the street in the late afternoon sun. Where homes as open and inviting as the horizons seemed to find their perfect completion in poolside cook-outs. Welcome back to that Phoenix. A big ranch home on a big irrigated lot, perfect for entertaining. A stately hearth, a refreshing pool. A simpler, better life.
Click here for more information
A golf resort all your own... 12214 West Madison Street, Avondale, AZ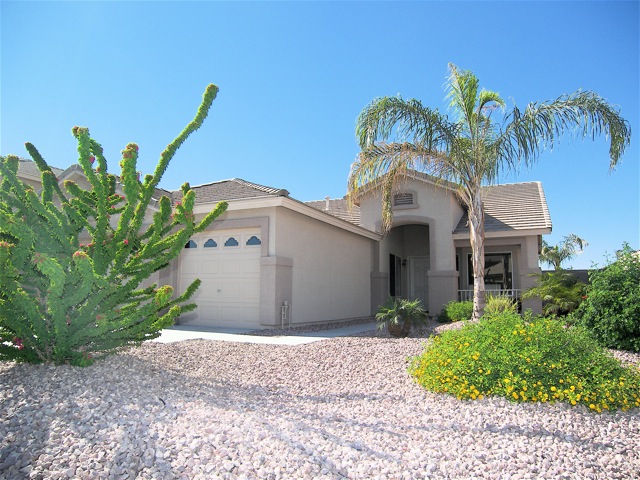 Too much of Arizona gets lost in the crush of events. Work, school, errands, rush, rush, rush. Where are the mountains? Where is the desert? Where are those boundless horizons, those awe-inspiring desert sunsets? Good grief, where's the pool? We came here to find paradise, but it got lost in the shuffle... Until now. Here, at last, is paradise found, an oasis of spacious luxury, a vast redoubt against the chaos of modern life. From the boundless golf course views to the pool to the immense Master Suite to the perfectly-appointed kitchen, this home is Arizona redeemed. Make it yours today...
Click here for more information
Welcome to 10309 West White Mountain Road: Your own private golf retreat in the heart of Sun City...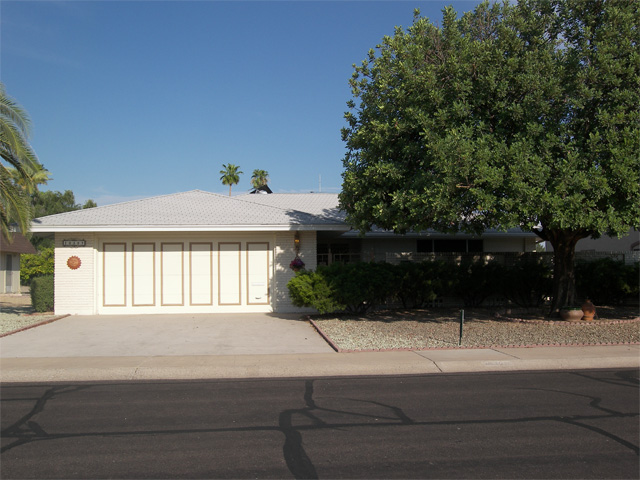 Welcome home! This is where you will write the next chapter of your life's adventure. You'll have a deliciously shady front patio from which to connect with your neighbors. And you'll stand in awe of the unlimited horizons of what you would think is your own private golf course. This home has everything – including three full bedrooms, so you'll have plenty of room for guests. All it's missing is you...
Click here for more information
Your country estate – in town... 909 West Culver St., Phoenix, AZ 85007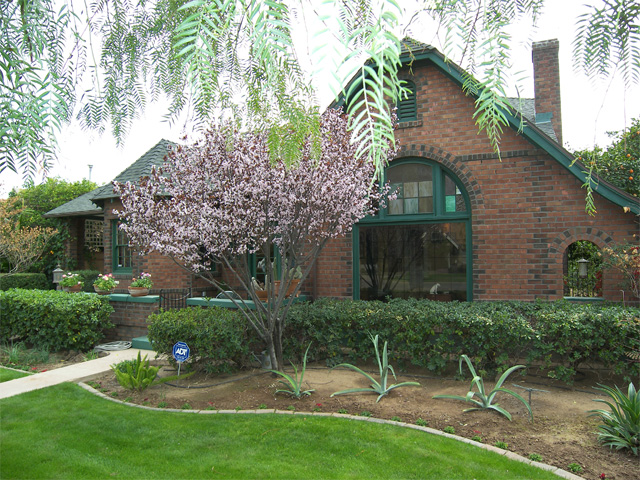 Get away from it all - right in the heart of everything! You'll revel in quiet, cosy, country comfort in your brick English Style Bungalow - mere minutes from Downtown Phoenix. The structure is 1931 - undiluted. But the creature comforts are delightfully modern. And where so many historic homes are at war with the sun, your new home stays pleasantly cool even as it basks in the light. The grounds are lushly planted - yes, that's a Plum tree in front - and there is plenty of room in back for a pool or spa. This is eminently livable history.
Click here for more information
A modern classic in Chris Gilgians in North Phoenix: 718 West Oregon Avenue, Phoenix, AZ 85013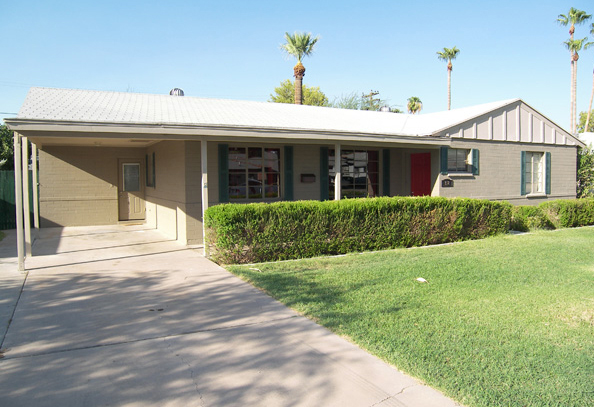 In our endless push for growth, there's a Phoenix we almost forgot, the Phoenix of our parents' paradise – mid-century modern homes built for mid-century modern families. The best of that newly-reborn Phoenix is here, in Chris Gilgians in the heart of North Central Phoenix. You couldn't ask for more from the neighborhood, walkable and bookended by a park and a drive-up Starbucks. And this home is the perfect expression of the mid-century modern ideal – luxurious but affordable, with beautifully-landscaped grounds, a suburban retreat in the middle of everything.
Click here for more information
A storied homestead in F.Q. Story... 1102 West Culver St., Phoenix, AZ 85007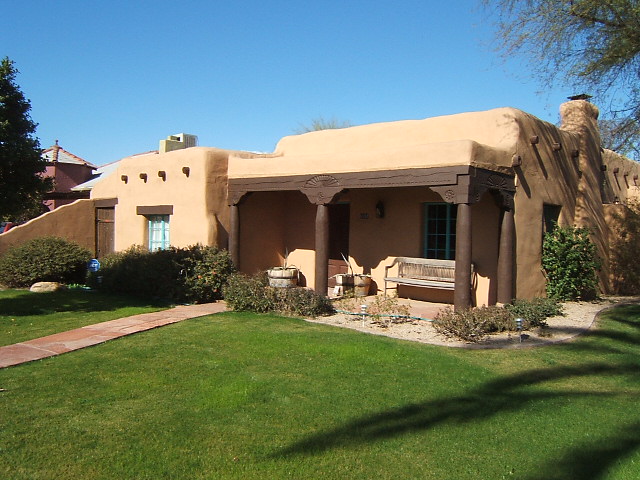 What matters most in an Historic Home? Surely it's not just the age of the home – no matter how uncomfortable it might be to live in. Is it a matter of painstakingly accurate restoration? Or is the most important factor the tales the home can tell, the stories you can pass along to your guests about your home's place in History-With-A-Capital-H?
Click here for more information
Chaminade Perfected... 6509 West Misty Willow Lane, Phoenix, AZ 85310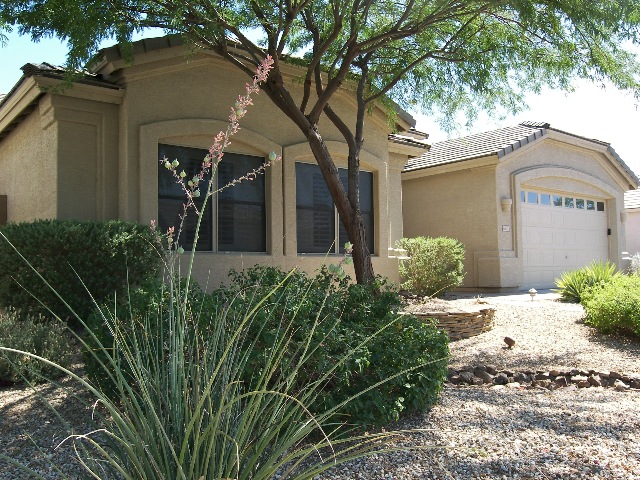 Chaminade is as close as we can come to perfection on this Earth: Gated mountainside luxury. But imagine a perfect Chaminade home built and owned by perfectionists: A floorplan that combines stateliness with comfort, spaciousness with a warm, cozy togetherness. Picture thoughtful decorator touches gracing every room. Envision a backyard that is the perfect desert oasis – a shady patio, a masterfully-appointed outdoor kitchen, a beehive fireplace with conversation pit, and a playfully-perfect PebbleTec pool. Imagine all this and so much more. It's so close to perfect you'll never want to leave your new home...
Click here for more information
A fairytale cottage in FQ Story... 1134 West Culver St., Phoenix, AZ 85007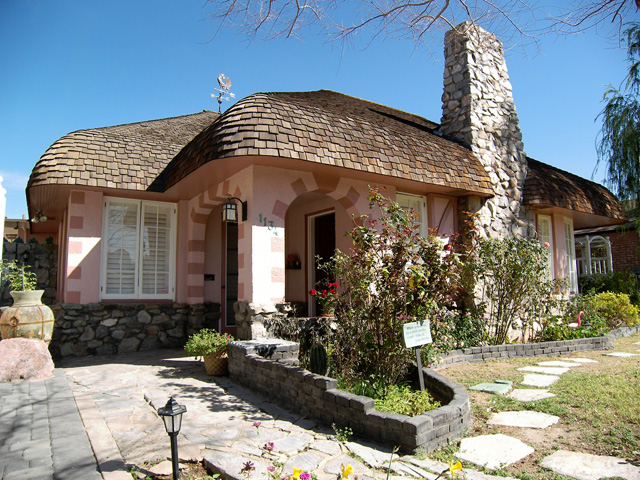 Own a one-of-a-kind Cotswold Cottage like the Anne Hathaway Cottage in Stratford-upon-Avon... There simply is no other home like this in the Phoenix area. Built in 1931 in the Cotswold Cottage Revival style, it harkens back to Shakespeare's England and before. The home has been painstakingly restored to its original glory. This website features over 500 photographs of the home, so you can see it before, during and after its restoration.
Click here for more information
Paint the vision of your futureon this classic canvas from the past... 922 West Culver St., Phoenix, AZ 85007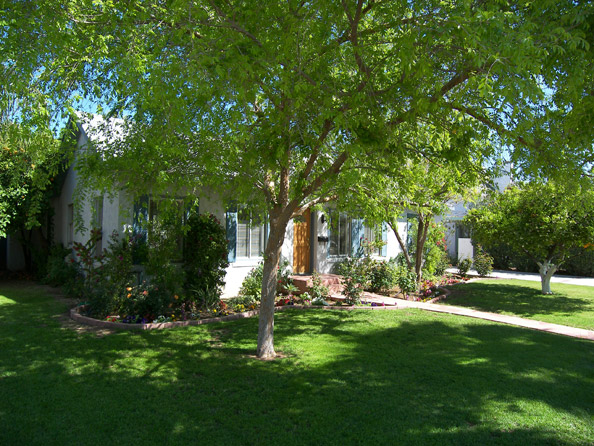 Carefully-maintained over the years, this stately ranch home in the F.Q. Story Historic District offers you the space – and the spare bathrooms – you don't often find in Historic homes. Built in 1936, the 1,766 square feet of livable space comprise 2, 3, or 4 bedrooms, depending on how you divide the space – and this doesn't even include the huge enclosed Sun Room. The back yard is expansive, and there is a spacious Tool Shed in back. This home is eminently livable as it is, but the real challenge may be for you to take it to the next level. This is your chance to get into a Story home with 'great bones.' You'll be free to make cosmetic upgrades without having to worry about the underlying structure. This is a home that will resound with memories – from its past and from the future you will build here...
Click here for more information
Why are we showing you our past listings...?
We love these homes, and that's reason enough. But there's this, also: We list harder, better, more effectively than any of the Realtors we compete against. They'll give you an MLS listing, a sign and a lockbox, maybe a flyer if you're lucky. We'll build a full-blown marketing strategy for your home. Our objective is to attract more buyers, more-qualified buyers, better-motivated buyers. The result is that our homes sell in less time for more money. Click here to discover the marketing tools, tactics and techniques we deploy to sell our homes – strategies none of our competitors use. What's the implication? Don't list your home for sale without talking to us first – 602-740-7531.