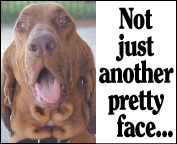 Put a Bloodhound Realtor
on the trail right now:

Outside of Arizona?
Dial 1-800-508-5430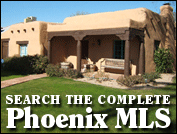 Hassle-free search of the complete Phoenix-area MLS system

Metro Phoenix/Scottsdale, AZ
Tuesday, September 2, 2014

Success Stories...
"I can't imagine more thorough and helpful service than was given to us by Greg and Cathleen. They both went far above and beyond what was expected. They even went above and beyond 'above and beyond.'
The listing on their website, the sign, the flyers... all of it was tremendous. I pity the foo' who doesnt use these two pros!" – Dave F
"I like to report on good service I receive whenever I can. As I've blogged, we recently sold our home. One of the motivating factors was to use some of the profits to invest in other real estate.
Phoenix, AZ, happens to be the hottest appreciating market in the country, right now, and even though the run-up in prices in the last year precludes positive rental cash flow (unless you go in with lots of equity), appreciation should far outstrip the outlay I'll have over the next three years, which is my anticipated holding period.
So, I contacted my friend Greg Swann, of Bloodhound Realty. Told him I wanted three rentals, but not just any rentals. I wanted relatively new houses, stucco, tile roofs, in nice suburban neighborhoods. In short, I want houses that will attract the cream of the crop in tenants and command market rental rates, even though I may set the price slightly below just to rent them quick. We'll see.
I also told Greg that I did not want to travel to Phoenix -- not now, not ever! (not really) No, I just want to be able to do everything remotely.
I'm happy to report that he runs a fantastic turnkey operation for out-of-state investors. First, he referred me to a loan professional who specializes in investor loans. Then, Greg searched out 16 prospective properties and took lots of photos of each. He then recommended three, and, because I'm smart, I went with his recommendation 100%.
This one, this one, and this one.
Greg drafted the contracts on Friday, we signed them on Saturday morning, and by Sunday afternoon, we had firm deals on all three. Inspections are scheduled, loans are proceeding, property management will be established very soon.
All is proceeding very smoothly." – Richard N.
"If you want your house sold, you will not find a better listing broker than Bloodhound Realty. Greg and Cathleen are the best I have seen in over 20 years in this business. They don't howl about how great they are, they put their noses down and get your house sold. Don't believe me? Go to ABetterListing.com and see the comprehensive marketing strategy they deploy for every listing. Every day I thank my lucky stars I don't have to compete with the Bloodhounds here in Houston.
Greg and Cathleen do not take listings to decorate the internet, they take them so they can put up their famous Sold Sign. I hope you get the chance to get that Sold Sign on your home." – Thomas J

Click here for more testimonials
or submit your own success story.

Our Valued Partners
Mortgage lender:
Logan Hall
Sallie Mae Home Loans
Title insurer:
Fidelity National Title Insurance
Home warranty insurer:
Old Republic Home Warranty
Home inspector:
Premier Inspectors of America
Wood inspector:
Pest Control Solutions

Visit Our Real Estate Newsletter
News and views about the
booming Phoenix residential
real estate market

Homeowner's Library
Buyer Tips
How much home can
you afford to purchase?
Great Schools.net ~ Free online guide to K-12 schools
Arizona Association of Realtors Home Buyer's Advisory
100 Questions and Answers About Buying a New Home
Seller Tips
Home seller's Guide to Success
Tenant Tips
Financing
Regulatory Resources
Arizona Department of Environmental Quality
Arizona Department of Real Estate (ADRE)
Environmental Protection Agency ~ Mold Resources
Home Inspector Info: ASHI/NAHI
Structural Pest Control Commission (SPCC)
US Department of Housing and Urban Development (HUD)
Fair Housing
HUD's Fair Housing/Equal Opportunity Web Page
National Fair Housing Advocate
Homeowners' Associations