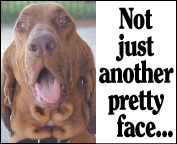 Put a Bloodhound Realtor
on the trail right now:

Outside of Arizona?
Dial 1-800-508-5430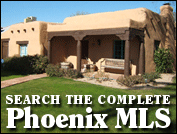 Hassle-free search of the complete Phoenix-area MLS system

Metro Phoenix/Scottsdale, AZ
Sunday, September 21, 2014

Success Stories...
"If you want your house sold, you will not find a better listing broker than Bloodhound Realty. Greg and Cathleen are the best I have seen in over 20 years in this business. They don't howl about how great they are, they put their noses down and get your house sold. Don't believe me? Go to ABetterListing.com and see the comprehensive marketing strategy they deploy for every listing. Every day I thank my lucky stars I don't have to compete with the Bloodhounds here in Houston.
Greg and Cathleen do not take listings to decorate the internet, they take them so they can put up their famous Sold Sign. I hope you get the chance to get that Sold Sign on your home." – Thomas J
"If it were the beginning of the 20th century, and you wanted to get from here to there, would you give a listen to a guy named Ford trying to sell you a Model T instead of that year's latest, greatest buggy on wheels?
What Ford did for automobiles, Greg Swann of BloodhoundRealty.com is doing for real estate. Reinventing the idea. Using the latest technology. And creating a truly new and better, practical and "duh!"-obvious way to get from here to there.
If you are selling, you'll get a higher price. And a quicker sale. If you are buying, you'll get better property for your money. And you won't spend the first night in your new house awake sick with regret in a cold sweat over what you just did.
Now there are a few things to know before you visit BloodhoundRealty.com. You'll immediately notice nobody is doing real estate this way. Given the stakes involved, it's only natural to wonder why. So you have to do a little reading. You need to check out Bloodhound's common sense methods against your own experience. And you should pay close attention to the documented and verifiable results Bloodhound gets. Un-fudge-able facts like average days on market. Percentage of asking price attained. Sold-for versus appraisal.
If you are like most, at some point you just won't care why everyone else in real estate doesn't get it. You'll just want to use all the cards Bloodhound puts in your hand to win every pot in this particular game of real estate poker.
Of course there is the anxiety of being first and among the vanguard. Traditional brokers will tut-tut you and say "now-now, this is not how real estate works around here." And skeptical neighbors and friends may raise doubts by calling Bloodhound "a little gimmicky." Or "too risky." Or "untested."
Right, just like that thing Henry invented.
The fact that the rest of the real estate industry hasn't yet caught on creates an overwhelming asymmetry that so favors BloodhoundRealty.com's clients--you--that it's actually unfair. It's like that scene in Raiders of the Lost Ark--YOU are the one bringing a gun to a knife fight.
This advantage will not last. Eventually realtors will get up to speed and move to the Model T. But they haven't yet. And in the meantime, BloodhoundRealty.com has built something closer to a Lamborghini. Hop in. The road ahead is free and clear." – Richard R
"We would just like to tell you how much we appreciate all the hard work you have done on our behalf. You have helped to make this an easy transaction that was a good learning experience and efficient as well. We will definitely refer anyone we know who is looking to buy in Phoenix. Thank you again for all your help. We look forward to seeing you again the next time we are in town." – Brian and Kristen M.

Click here for more testimonials
or submit your own success story.

Our Valued Partners
Mortgage lender:
Logan Hall
Sallie Mae Home Loans
Title insurer:
Fidelity National Title Insurance
Home warranty insurer:
Old Republic Home Warranty
Home inspector:
Premier Inspectors of America
Wood inspector:
Pest Control Solutions

Visit Our Real Estate Newsletter
News and views about the
booming Phoenix residential
real estate market

Homeowner's Library
Buyer Tips
How much home can
you afford to purchase?
Great Schools.net ~ Free online guide to K-12 schools
Arizona Association of Realtors Home Buyer's Advisory
100 Questions and Answers About Buying a New Home
Seller Tips
Home seller's Guide to Success
Tenant Tips
Financing
Regulatory Resources
Arizona Department of Environmental Quality
Arizona Department of Real Estate (ADRE)
Environmental Protection Agency ~ Mold Resources
Home Inspector Info: ASHI/NAHI
Structural Pest Control Commission (SPCC)
US Department of Housing and Urban Development (HUD)
Fair Housing
HUD's Fair Housing/Equal Opportunity Web Page
National Fair Housing Advocate
Homeowners' Associations