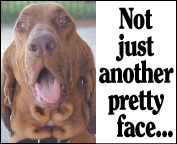 Put a Bloodhound Realtor
on the trail right now:

Outside of Arizona?
Dial 1-800-508-5430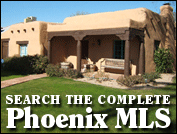 Hassle-free search of the complete Phoenix-area MLS system

Metro Phoenix/Scottsdale, AZ
Friday, August 28, 2015

Success Stories...
"It's Sunday... I didn't expect to hear back from you until Monday. You're an animal! I know a bigfoot executive at a big brokerage here in Atlanta, and when I discussed all the information you've been giving me she got jealous and said she wished just 10% of her agents worked as hard as you. I don't know if that's just the way it works in Arizona or if you're the hardest working Realtor in the state... but I appreciate it." – Ronan D.
"I met Greg Swann when he was a guest speaker in my real estate class. My husband and I met Cathleen Collins soon after and were impressed by her, as she was one of the nicest, hardest-working and most generous people we'd ever met. Greg was dynamic, energetic, and extremely knowledgable about the housing market. When the time came--about two weeks later--for my husband and I to sell our houses, I knew there was no one else that I would rather have as my Realtor than Greg Swann. I told my husband how impressed I'd been, and he was skeptical, or course. And I admit, I had to wonder as well if Greg was going to be as great as he seemed in class--talk is one thing, but would he be able to help us sell our two houses AND find the right house without taking forever?
The answer was a definite YES! Greg sold both our houses in less than a week, and Cathleen helped us find the perfect house in the best location for our money--all without feeling frustrated. They both really paid attention to what we were saying and what we wanted. With all the fast action, I had to drop my real estate class to move and pack, but I will definitely NEVER drop Greg or Cathleen as our Realtors. They both went above and beyond the call of duty with everything. If you think you can find a better realty company then Bloodhound Realty, I would ask you: How can you improve upon the best?" – Dr. Mohammed and Mrs. Melissa A.
"Greg and his wife Cathleen are not only outstanding real estate agents, but genuinely nice people as well. If you are looking for a hardworking, honest agent (I know, easy jokes here) then look no further than Bloodhound Realty for your housing needs. Greg and Cathleen have helped me and a close friend close 5 properties in the Phoenix area over the last few years, and every time it goes smoothly and Greg makes sure that we are well taken care of. I can honestly state that I will never use another agent in Phoenix unless he retires and tells me who he would recommend. It's hard to find business people that go out of their way to ensure that YOU are taken care of first, and themselves second, but that's exactly what Bloodhound does." – Mike B

Click here for more testimonials
or submit your own success story.

Our Valued Partners
Mortgage lender:
Logan Hall
Sallie Mae Home Loans
Title insurer:
Fidelity National Title Insurance
Home warranty insurer:
Old Republic Home Warranty
Home inspector:
Premier Inspectors of America
Wood inspector:
Pest Control Solutions

Visit Our Real Estate Newsletter
News and views about the
booming Phoenix residential
real estate market

Homeowner's Library
Buyer Tips
How much home can
you afford to purchase?
Great Schools.net ~ Free online guide to K-12 schools
Arizona Association of Realtors Home Buyer's Advisory
100 Questions and Answers About Buying a New Home
Seller Tips
Home seller's Guide to Success
Tenant Tips
Financing
Regulatory Resources
Arizona Department of Environmental Quality
Arizona Department of Real Estate (ADRE)
Environmental Protection Agency ~ Mold Resources
Home Inspector Info: ASHI/NAHI
Structural Pest Control Commission (SPCC)
US Department of Housing and Urban Development (HUD)
Fair Housing
HUD's Fair Housing/Equal Opportunity Web Page
National Fair Housing Advocate
Homeowners' Associations