Pomp and circumstance...
There's all kinds of real estate news we could link to. It's all bad news, as usual, but--who knows?--some of it might even be true. Too many sellers chasing too few buyers, bubbles bursting with a barely-audible hiss, starving Realtors sleeping on sidewalks and eating in soup kitchens. O, the humanity!
We could link to all that news, but our own purely local news puts the lie to all of it: We have been very busy, and our plan is to get a lot busier.
One of the ways we work to get busier is by working to get better educated. We're required to accumulate 24 hours of Continuing Education credits every two years. In practice, we do over 200 hours. Cathleen recently obtained her Graduate of the Realtor Institute designation. Both Greg and Cathleen just put in the classroom hours to qualify for the Accredited Buyer's Representative designation. This summer, we're both taking the classes for the E-Pro designation. Greg has completed the requirements for the Certified Residential Specialist designation.
We obtain all this extra education--it's not required, and it costs a good deal of time and money--in order to deliver a better standard of care to our clients. And the better we get at doing this job, the busier we get. Go figure...
CRS the hard way, with a little help from our friends...
Greg got the Certified Residential Specialist designation the hard way: All the classwork plus 75 transactions. Because we had to document the transactions, we learned some things about our business that we had known viscerally, but had never pinned down in numbers.
Greg spent his first two-and-a-half years as a licensee doing mostly rentals. Because of this, of the 75 homes he sold to qualify for the CRS designation, he sold all but eight in the last 29 months. Of those 67, over half are from referrals or repeat business. Six of them--plus several more still in process--can be attributed directly to one client, Ronan Doyle.
Ronan saw very early the kind of business we are striving to build, and he spread our story far and wide. He continues to do so, from faraway Boston, and we continue to grow on the strength of the work we did with him.
Techtopia...
In the midst of everything else, we've been upgrading our technology tools. We've added a more robust MLS search here. You can save your searches or request more information about specific properties, all from within the search tool. In the long run, we're looking for something quite a bit more powerful, but this is what there is for now.
We also took our virtual tours in-house. We had been paying a third-party vendor, but we weren't happy with the results we were getting. Now we can have everything we want, with full control, and we can update and revise our tours as needed. The two listings shown above have links to our new tours.
If you click here, you'll see a tour we built for Val and Tony Fredericks, our friends and clients, promoting a getaway rental home they own in Coldwater Springs. That tour is interesting because it makes use of almost everything the VisualTour software can do.
Greg has also recently upgraded our real estate weblog, adding new content, a comments section and an RSS feed. We've been paying close attention to new marketing paradigms in real estate, and he is writing quite a bit about that. Feel free to post your own thoughts.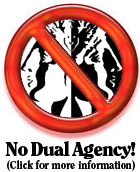 No dual agency...
Dual agency--one agent representing both the buyer and the seller in a transaction--is one of the biggest sources of the public's mistrust of Realtors--and one of the biggest sources of lawsuits. It's something we've always avoided, although we have done it from time to time--for investors and once for a buyer making a particularly difficult transition. We decided earlier this year to forbid it entirely to Bloodhound agents. The reason is simple: While it is possible, in principal, to effect a dual agency ethically, nevertheless Caesar's wife must be above reproach. As a buyer or seller, you have to know with absolute confidence that we represent your interests and yours alone. If you click here, you'll see our explication of this policy.
Otis, R.I.P.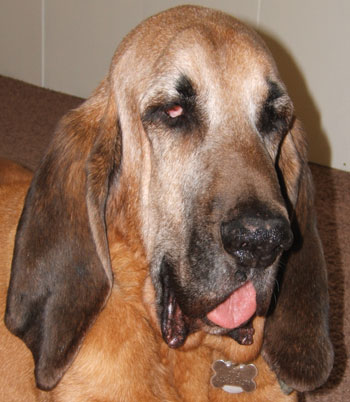 About 20 months ago, we adopted an older Bloodhound named Otis. He was twelve-years-old when he came to us, very old for a Blood, but he was always the most puppyish of our dogs, a devout cargo cultist who never doubted that he could conjure dog food by bellowing at the laundry-room door. Otis passed on a few weeks ago. He stopped eating and within days was little more than a fur-covered skeleton. We had him put down, holding and comforting him as he died. He was a great dog. We miss him.
La vida Vegas...
As usual, we're skipping off to Las Vegas to celebrate our wedding anniversary. Our files and laptops will be with us and the fax line will be forwarding, so if you need something, don't hesitate to ask. If we don't hear from you, have a Happy Independence Day!
Meanwhile...
Here's the news about the news: When the real estate market is going great guns, you need professional advice, but errors are easily borne, easily overcome. It's when the market gets rough that you most need thoughtful, experienced, well-informed advice--and when the absence of wise counsel is most keenly felt. We are going to keep doing everything we have been doing--compounding our knowledge, honing our skills, perfecting our praxis and adding always to the arsenal of weapons we use to defend and protect our clients and confound our competition. We're good and we're always working to get better. And we are but barely begun. Tell your friends...

Working like dogs
to build your wealth...
Whether it's your home or an income property, real estate is the best arrow in your investment quiver. Higher potential yields, more reliable yields, huge tax benefits and incredible long-term wealth-building potential. All that and you get a place to park your car! If you're ready to explore real estate as an investment – as a landlord or an owner-occupant – let's get started. You can make an appointment to meet in your home or our offices. Or you can request a Comparative Market Analysis of your home's value. You can fill out our detailed questionnaire to find your ideal new home. Or you can just pick up the phone and dial 602-740-7531. (Outside of Arizona? Dial 1-800-508-5430.) Either way, we're at your command, devoutly loyal, smart, frisky and eager to please...

Selling | Buying | Investing | Relocation | Current listings | About us
Find your ideal new home | Get a Market Analysis of your home
Search MLS listings | Make an appointment | Our offices
Tell your friends about us | Email Bloodhound | Home



Voted
Real Estate

Excellence
Award

BloodhoundRealty.com, LLC | Designated Broker: Greg Swann
Webmaster: Greg Swann | © 2006 BloodhoundRealty.com